Former Rangers & Cowdenbeath forward Kane Hemmings made his debut as a trialist for Orlando City in a friendly against AS Roma. Hemmings was the lone striker in the starting lineup & played 65 minutes before being subbed out.
Hemmings almost had a dream debut, slotting home a goal in the 39th minute but it was called back for a questionable offsides call.
Reuben Walker who covers Orlando City  for Rip Roaring 11 was at the match & talked to Rangers Report about Hemming's performance.  "Hemmings looked sharp.  Good hold up play and combination play with our midfielders."
"We play a 4-2-3-1.  He put in 65 minutes as the lone forward and had a legit goal called back for offsides.  He almost also got on a few crosses."
Hemmings played the anonymous role of a trialist in a foreign country & became known as #themanwithnoname by Orlando fans on Twitter.
Orlando City is an ambitious club that will be joining MLS in the 2015-16 season.  They have most recently been linked to Brazilians Kaka & Robinho; additionally Joe Cole has been rumoured to be a target of the club.
While Kane Hemmings certainly doesn't carry the same gravitas as that trio, he does appear to be a viable option for Orlando City.  If he were to sign with the club Hemmings would be eligible to join the team in it's assertion to MLS.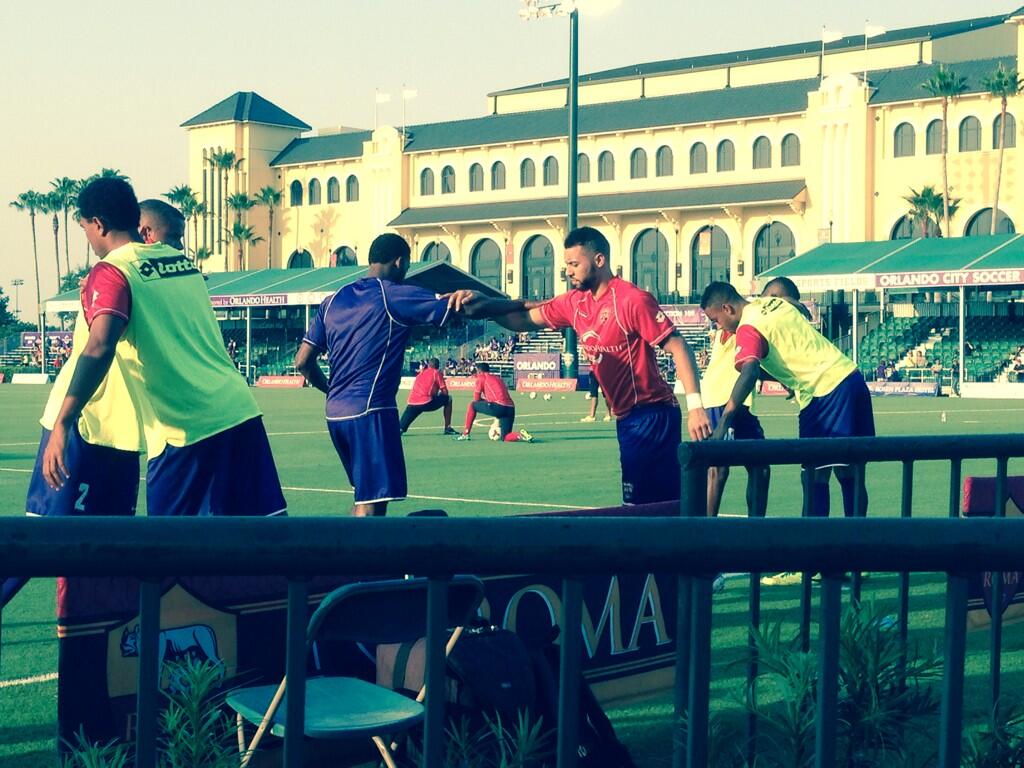 Walker explained, "We only have two forwards on the team and in my opinion neither will go to MLS with us.  So Hemmings has a great chance."
Even though Orlando City, along with Claudio Reyna's New York City FC,  will technically join MLS as an expansion team – they can sign players to MLS contracts so the club can start building its squad now as it competes in the third tier of American soccer.
"We can sign Hemmings to an MLS contract now.  Currently five players on this year's team have MLS contracts.  Probably eight or nine of the 2014 team will go up to MLS.  We will pick up the rest of the team from the expansion draft and signing designated players – along with a few college players that are on our  U23 team now."
There is a great deal of hope that Orlando will become a Floridian soccer hub as Orlando City has been a huge success in its brief history.  The club was formed in 2010 & has successfully established itself as an exciting entity in  the community.  The club averaged 8,000 fans per home game last season & played in front of 20,000 in the USL championship game.  Both are impressive numbers given the Lions play in the third tier.
Walker added, "Orlando is a big market with lots of different soccer fans from Americans who have grown up with the game to British expats and immigrants from every country in South and Central America.  Lots of Brazilians also live here."
"They have all taken to the team & the general public is starting to jump on the bandwagon now so next year will be exciting."
There were 5,029 fans in attendance for Orlando's friendly with AS Roma.  The lone goal scorer in the match, Francesco Totti, was impressed by what he saw.  Via The Orlando Sentinel he said, "It didn't seem like a friendly match.  Orlando City had four or five players that were very fast with quality."
From Orlando's official website, Roma manager Rudi Garcia added, "I really like the way that Orlando City plays.  They play very European with short passes and they try to keep everything on the ground."
There is no word yet on how long Kane Hemmings' loan period with the Lions will be.  Former Everton midfielder Adrian Heath is Orlando's manager & he will likely give Hemmings another chance in the team's upcoming US Open Cup fixture with the Tampa Bay Rowdies  on May 28th.
Hemmings has also been linked to Blackburn Rovers, Dundee, Kilmarnock, & Hearts.