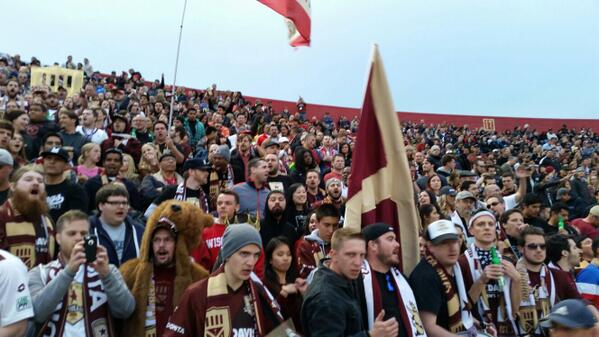 When Rangers announced their summer tour of the United States & Canada it provided the opportunity to bring some attention to the remarkable story of Sacramento Republic FC, who Rangers will be facing on July 19th.  The club is in its infant season, is playing the third tier of American soccer & already are averaging more supporters at their home games then each & every club in Scotland outside of the Old Firm.  They routinely get upwards of 20,000 fans at their games – compared to the 14,000 that Hearts get & the 12,000 that Aberdeen get.  For some context, that's more then nearly half of the teams in Major League Soccer.
Note:  Tickets go on sale on June 11th for the match with Rangers.  The game will be played at Sacramento's new 8,000 seat stadium – Bonney Field.  This game will sell out.
So far Rangers Report has profiled the club's success by asking a local blogger to introduce readers to the club & interviewed the club's technical director about their success in Sacramento, the match with Rangers & the club's aspirations to join MLS.
Now we have reached out to a R.J. Cooper,  president of the club's independent supporters group – The Tower Bridge Battalion – who have given the club its personality which is making headlines throughout the footballing world.
Rangers Report:  There has been a lot of buzz around the launch of the Sacramento Republic…why has the club been such an instant success?
R.J. Cooper:  Sacramento is quietly a great sports town.  While the support of the NBAs Kings' is pretty well known, the American football Mountain Lions of the UFL drew close to 20,000 for some of their games & that league was always kind of a joke. I think living in the condescending shadow of San Francisco and Los Angeles, people here have a lot of pride in their city and their community. That manifests itself through sports support, and Republic has ticked all the boxes when it comes to becoming a part of the fabric and identity of this community.
People recognize that and have responded accordingly.   It doesn't hurt that everyone plays soccer here.  But the truly amazing part of Republic's success is that it hasn't come at the expense of our Triple A baseball team, the River Cats.  Both clubs have sold out the same day this season on multiple occasions.
RR:  When did supporters begin organizing?
RC:  We were founded March 2013. (The club was founded in December of 2012).
RR:    How would you explain the burgeoning culture of support for the club?
RC:  The passion, as explained above, was already there.  Supporter culture just gives people a bigger, louder, more satisfying outlet for that passion.  Once you break yourself of Jumbotron culture, stand for 90 minutes and become that soundtrack to the game yourself, it's hard to go back to your seats.
It's also a more interactive experience with the club. When people see the appreciation the players have for the support, I think that fuels the fire and makes them feel like we're all doing our part not only to win on Saturdays, but to bring MLS here to Sacramento.  It's our contribution to the movement, and people have embraced that.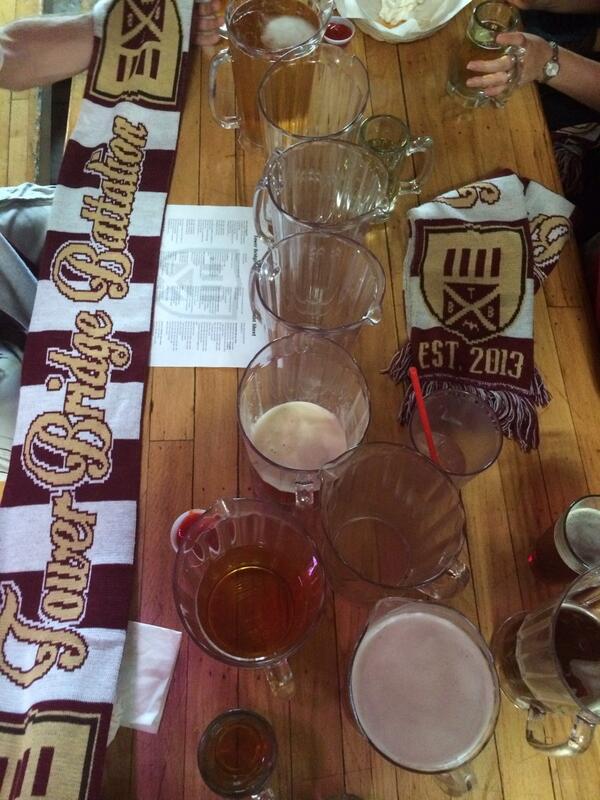 RR:  What is the atmosphere like at games?
RC:  Raucous. It's one big party — especially since the club hasn't lost since April 26.
RR:  What is the likelihood that Sacramento pushes for a chance to join MLS in the future?
RC:  The support is there.  No other non-MLS city can come close to our attendance numbers, and we're surpassing many MLS clubs.  It's a question of money and investment.  The city is building an arena for the NBAs Kings, so public investment in a stadium is going to be tough.  We don't have a billionaire NFL owner waiting in the wings to fund the project.
I think we can find the money, but maybe not as much as say a Minneapolis, which is bankrolled by Zygi Wilf.  It really just depends on what MLS values – but we believe when it comes to fan support, we're the best choice.
RR:  What has the response been to the news of Rangers coming to town?
RC:  I think people are excited to see a recognized global brand coming to Sacramento, but it would be nice if Rangers would re-establish their American pipeline to follow in the shoes of Reyna, Bocanegra, Edu, Beasey, and Bedoya.  But people are very fired up about Republic.  Rangers coming adds to that, but we're not content to see European opposition show up.  We want to win.
RR:  Would you expect a sellout?
RC:  We sellout for the Harrisburg City Islanders – so yeah it'll sellout.
RR:  Which players have stuck out so far for the club?
RC:  Justin Braun, when healthy, has been great.  He's a big target forward who can hold up the ball and spring the runners.  Rodrigo Lopez is our creative midfielder, the guy who can calm a game down and dictate tempo.  He starts on the left but pops up all over the field.  When things get sloppy, he's always there to calm things down and has some flair as well.
Those are the big two, but Nemanja Vukovic provides some width and attacking prowess from the left back spot.  Octavio Guzman has had some bright moments in the No. 6 role, breaking up attacks and getting us started on the counter, and both keepers — Dominik Jakubek & Jake Gleeson (a Portland Timbers loanee) have been good.  Finally, Thomas Stewart, who is from Northern Ireland, has scored some big, big goals when Braun's been out.
You can follow the exploits of the Tower Bridge Battalion on Twitter @Sac_Battalion & familiarize yourself with  some of the Battalion's songs at their website.