Former Rangers midfielder DaMarcus Beasley became the first American to appear in four World Cups as he took the pitch as Jurgen Klinsmann's starting left back.  Ghana looked to exploit Beasley – but with the support of Jermaine Jones, Beasley was able to survive the onslaught from Ghana.  Beasley, however, did struggle at times through the match & will have to be much better in the United States' next match-up with Cristiano Ronaldo & Portugal.
Here are his player ratings from various sources:
Brian Sciaretta, The New York Times
4.5 – Beasley, playing in his fourth World Cup, is new to the left back position after moving there in the past year. Ghana made an effort to attack down his side, and Beasley was exposed on multiple occasions. Still, they could not break him.
Blake Thomsen, American Soccer Now
5 – In fairness, Beasley was left isolated one-on-one again and again, which in itself is not his fault.  However, he failed to convince defensively and didn't do too much getting forward either.  To be honest, it looked like his cleats were letting him down, as he slipped at least four times throughout the game.  It's an issue he'll need to address before the next game.
4 –  Had trouble keeping his feet, and did little to prevent the steady stream of crosses coming from his side.  Improved in the second half but will need to improve against Portugal.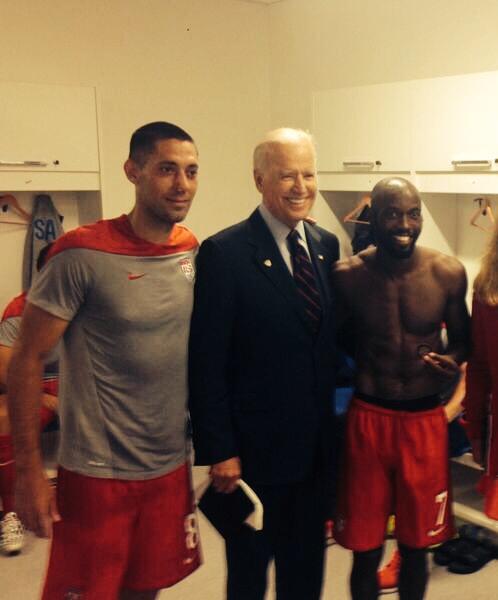 Jerrad Peters, Bleacher Report
7 – The 32-year old dealt with Ghana's wide threat admirably while continuing to defy the aging process.
Ben Valentine, The Sporting News
3 – To put it bluntly, Beasley was roasted on the left.  Ghana identified him as a weakness and attacked him over and over again as a result.  It's worth wondering if an uncomfortable Timmy Chandler might even be better, especially since it will get no easier facing Nani against Portugal.
5 – The 32-year old is playing in his fourth World Cup & looked to be lacking some pace as Ghana doubled up on that flank, but fortunately for him the final ball was poor.
Greg Seltzer, Major League Soccer
5 – The left back did not match his defensive intensity from the Nigeria friendly, leaving crossers on his side far too much space.  He did improve in this area after the break, though.  Beasley typically moved the ball along safely without great impact.
AVERAGE RATING:  4.78
Beasley played the full 90 minutes- committing two fouls, while being fouled once.
How would you rate Beasley's performance vs. Ghana?