Many of you will be waking up to the headline blaring from The Herald that Rangers have targeted former Bayern Munich sporting director Christian Nerlinger to be the club's Director of Football – a position that was promised by Graham Wallace upon the completion of his 120 day review.  Nerlinger has ties to Rangers, having playing for the club from 2001-2004, & has the type of management acumen that the club desperately needs.
Ironically, back in April I published a post that proposed hypothetical candidates to be a replacement for Ally McCoist (morale was pretty bleak back then).  The caveat in the post was that I was looking at former Rangers players who were not British – to look to the continent to shake up Rangers approach to football.  To be honest there was a playful tone to the article because I realized that some of the names were wishful thinking.
One of the candidates I felt was the biggest stretch in my speculative writing was Christian Nerlinger.  Given that the focus of the piece was on finding a manager, it kind of negated the suggestion of Nerlinger – given he has no managing experience.  But I did reference that he would be an intriguing choice as a technical director, if Rangers ever caught up with the times & went that route.  His experience at Bayern Munich, his philosophy of long-term planning, & most importantly his business acumen intrigued me.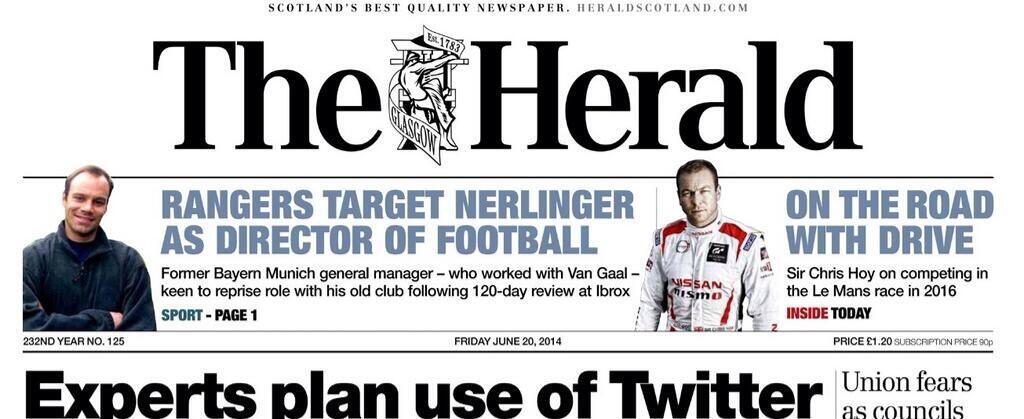 Here is what I wrote back in April…(remember the context was as a potential manager):
No chance, I know….you don't go from being the sporting director of a massive club like Bayern Munich to managing a financially crippled club like Rangers.  But this list is meant to be a distraction from the malaise on the pitch & the boardroom dramas – so let's take a trip to Imagination Land.

Besides his experience as general manager & sporting director at Bayern Munich (2008-2012), one of the most appealing aspects of Nerlinger's resume would be his studies at Munich Business School.  Imagine someone with business savvy leading Rangers!  Mind-blowing, I know…

Many have addressed Rangers need to follow the lead of other clubs around Europe & hire a technical director to oversee football operations & then hire a manager who will ostensibly be answering to the director.  Nerlinger has no managerial experience but would be an intriguing choice as technical director.   This is all fantastical of course – even though he recently has expressed an interest in returning to football.  So there's that.

Nerlinger has a reputation for brashness & a a stubborn belief in his own excellence (but didn't Graeme Souness share those some traits)?.  Samrin Hasib of The Bleacher Report labeled Nerlinger's demeanor as "brash arrogance."  However, what is appealing to Rangers fans would be Nerlinger's goal of long-term success being what ruffled the feathers of Bayern's president, Uli Hoeneß,who was more focused on the immediate achievements of the club.  It appears that Nerlinger wanted to take a meticulous, deliberate approach to running the club while the team's leadership wanted to be more frugal in their spending.

Nerlinger's business acumen would be exactly what Rangers need in their approach to building a competitive squad.  His time with Rangers was mostly a bust.  So maybe – in this imaginary scenario – it would be his chance at redemption.
This is obviously still a developing story & who nows how valid the report is…but here are some immediate reactions.
Christian Nerlinger is the ideal person to run the club & in order to be effective he would have to be given absolute power to run Rangers from behind the scenes.  From the youth structure, to the development of a scouting system, to evaluating transfer targets, to the cultivation of a football philosophy — it should be the Director of Football's job to create a culture that permeates throughout the club.
The club's spending would be streamlined.  In a 2012 interview with Goal.com, he said – "It's the easiest economic rule:  Don't spend more than you earn.  This is something that certainly all clubs need to follow."
It would mark the beginning of the end of Ally McCoist as manager.  Change would not happen immediately given the public relations risk…but it is extremely unlikely that a Director of Football could stand to have someone he did not hire run the football club on the pitch.  It may take a year or two, but at some point Nerlinger would want to hand pick the manger of his football club.
This would be tabloid gold….the meticulous German vs. the banter of McCoist.  Hopefully, Nerlinger would have the foresight to massage the relationship to still find a place for McCoist at the club – he's too important to Rangers history to let the situation erode to another soap opera.
Of course, all of this could be for naught…this could be another headline that captures the imagination of supporters.  But, I sure hope this one is true.  I'll have my prophetic post from April framed & put on display for all to see!