written by – Rangers Report
This is the second part of a brief series looking back at Rangers failures last year through the lens of advanced statistics.  My goal for the upcoming season is to make Rangers Report a valued source for fans to gain access to a variety of statistical information on Rangers & on the rest of the Scottish Championship.  This is my initial foray in writing using analytics so your patience is requested.  Also, this is my first go-around with creating charts & graphs – so they're going to be sloppy/experimental. 
As you can see, in the series of six play-off matches, there was not a significant difference between Rangers & their three foes when it pertains to  shots or shots on target.  In fact, Rangers even though Rangers managed less shots- they were able to get more on target.   Rangers got 52% of their shots on target, while their opponents only manage  to truly threaten the goalkeeper 44% of the time.
Another number that sticks out is the goal differential.  Of course, those numbers were skewed by the six goals scored by Motherwell in the final two matches.
When you transfer those numbers to shooting percentages you see a serious chasm develop.  Rangers shooting percentage as a team was .214, while their opponents enjoyed a .346 shooting percentage (only shots on target are included).
How much of the enhanced shooting percentage of the opponents is on Cammy Bell?
Obviously whenever you begin to discuss goalkeeping statistics it is important to note that preventing goals from being scored is truly a team effort.  If the players in front of the goalie struggle at marking their opponents it heightens the risk of goals scoring chances.  Rangers defensive efforts were pretty amateurish at times & that needs to be considered when evaluating the play of the goalie.
Of course, the lasting memory of the Rangers goalkeeper's performance will be….
That was one unfortunate moment – every goalkeeper has them at some point – Bell just picked the absolute worst moment to have his.  This was one shot on target out of 26.  How did his performance stack up over the entirety of the play-offs?
| | | | |
| --- | --- | --- | --- |
| SOT | GA | SV | SV% |
| 26 | 9 | 17 | 0.654 |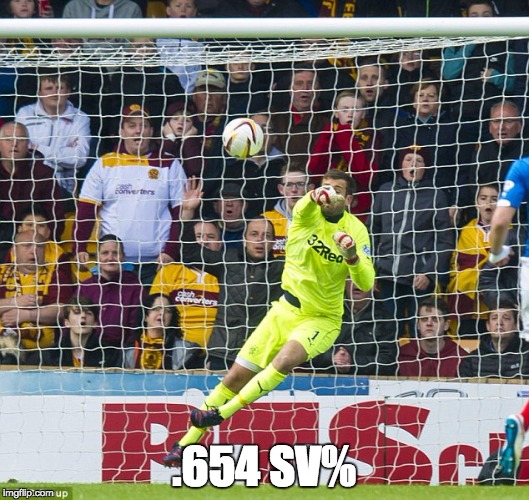 In the six matches, Rangers faced 26 shots on target -nine balls got past him & 17 were saved.  That equates to a  .609 save percentage.
That's not good.  In comparison, opposing goalies had a .769 save percentage.
To enhance how we examine save percentage, it is important to consider how difficult the shots faced were.
This is my first attempt at developing a system to do this so I have simplified shots into three categories:  low danger shots, medium danger shots & high danger shots.  These three zones are based on where the shot originates.  Like many of the advanced stats that I will be using, the idea is based on a similar system for evaluating shots on goal in hockey.
High danger shots:  any shot that originates from a central location in the penalty box – from the goal mouth out to the edge of the penalty box.  The rationale is that the shooter is either close to the goal or even if he is further out has more of the net to shoot at & can beat the goalie to either site.  Also if the shooter is further out it is more likely to have the ball deflected making the save more difficult.    Most of your goals will likely come from this area.

Medium danger shots:  shots originated from inside the penalty box but coming from either side of that central area.  The shot is coming at an angle which means the shooter has less of the goal to shoot at.

Low danger shots:  shots that are launched from outside of the penalty box.
Of course, this is not a perfect system as some shots are much easier to save then others, regardless of where they comes from.  But regardless, over the course of a season trends will certainly develop.
Here is the data for Rangers play-off matches:
| | | | | | | | | | |
| --- | --- | --- | --- | --- | --- | --- | --- | --- | --- |
| | LD SOT | LDSV | LDSV% | MD SOT | MD SV | MD SV% | HD SOT | HD Sv | HD SV% |
| Cammy Bell | 10 | 9 | 0.900 | 4 | 2 | 0.500 | 12 | 6 | 0.500 |
| Opposing GKs | 10 | 9 | 0.900 | 6 | 5 | 0.833 | 12 | 8 | 0.667 |
It is important to note that low danger save percentage should largely be ignored.  Matt Cane, who writes for the hockey analytics blog  Puck Plus Plus, told me that "low danger save percentage is more or less meaningless.  There's a lot of randomness in whether a low danger shot goes in, so it's tough to say if he's good at making the easy saves, or if he's just been fortunate."  Also, compare the two low danger shots that were scored in these six matches.  One was an absolute flub made by Cammy Bell, while the other was a spectacular free kick from Steven Smith.  Goals from this zone are usually either utter mishaps or sensational shots.
The real evaluation begins when it pertains to the medium danger shots & the high danger shots.  More often then not, medium danger shots really should be saved.  A goalkeeper usually can cut down the angle with quality positioning.  Of course, goalies can't always get into correct position – especially if the attack can cut the ball across the middle to an outside area.  So, like I said earlier – this is not a perfect science.
High danger shots should be where you can really begin to understand which goalkeepers are elite & which ones are merely average.  Most goals will be scored in this area (67% of all goals in the six play-off matches) & it is where 'clutch' goalkeeping can mean the difference between winning & losing.
Even though it is a very small sample size, it is safe to say that Bell's goalkeeping was subpar.  Of course, he wasn't helped by the defense in front of him & often deflections make stoppable shots, well….unstoppable.  Nonetheless, if these numbers were over a greater stretch of matches you'd have a very valid case to find a replacement goalkeeper.
Since this my initial attempt at presenting this kind of analysis – your feedback is very much appreciated.
You can follow Rangers Report on Twitter @TheGersReport