written by – Rangers Report
As many of you have noticed the site has made a shift in its coverage to incorporate more advanced stats.  There will still be the normal writing from the likes of Jordan Campbell, Jamie Currie, & others but most of what I will contribute will be rooting in the burgeoning world of soccer analytics.  The results will hopefully be that our site establishes itself as one of the most well-rounded blogs in Scottish football.
On that note, this post will serve as the tutorial on how Analytic Match Reports will be presented this season.  This is a first attempt at it & the presentation will likely evolve – but this will serve as the reference point for future match reports that will be presented this season.
This sample comes from Rangers 2-2 draw with Falkirk in April – a match that ultimately sealed the team's fate of finishing third in the Championship.  Going forward this season, the Analytical Match Reports will feature the statistical results but will not have the extensive descriptions of the stats.  That's why this tutorial post will function as a reference point.
---
Expected Goals
Intro:
Over the last couple of years, Expected Goals (xG) has become one of the most widely used fancy stats in the analytical world.  It is a useful barometer for evaluating a team's play & also can be an effective predictor of future trends for a club.  It can also serve as a tool to evaluate individual performances – specifically attacking players.
What is it & how is it developed:
Devin Pleuler, the Manager of Analytics for Toronto FC, described Expected Goals in a post for OptaPro in 2014 – "Expected Goals is a calculation that is attached to each attempted shot and measures it's chance of resulting in a goal."
"The method of calculation differs between models (and the iterations of those models), but they broadly take into account the same types of things. Such as, but not limited to, a shot's distance from goal, what phase of play it came from, and even what body part the shot came off of."
For my own Expected Goals model, shots are evaluated based on where they occur & how they occur.  In a recent post, I introduced the concept of marking 'danger zones' for each shot attempt.  Using the diagram below – shots coming from Zone 1 are Very High Danger Shots, shots from Zone 2 are High Danger Shots, Zones 3 are Medium Danger Shots, & shots from Zones 4,5, & 6 are Low Danger Shots.  The amount of data available in Scottish football limits me from differentiating too much on Zones 4-6.  However, comparing my results to other Expected Goals models showed little variance.
Besides the location of the shot, I will factor in whether the shot was a header or if it was a kicked ball.
Michael Caley of ESPN FC told Rangers Report – "I have found that expected goals gives me a pretty solid, best-guess estimate of team quality over a good period of time."
"Two of expected goals big recent wins were, this past season, predicting that Newcastle would snap out of their slump (they had better xG created than allowed numbers even when they hadn't won a match yet), and two seasons ago predicting that Liverpool would contend for the title (they were among the league leaders in both xG created and fewest xGA allowed in 2012-2013)."
Caley explained that Expected Goals can also be very useful when assessing the performances of individual players. "It can tell us when players might be on unsustainable hot streaks, but there is real variation between players in their ability to convert shots. (The best players beat xG by maybe 20%, Messi pushes up toward 40% because he's not real).  However, they're only particularly useful for forwards and attacking midfielders."
The Results:
Expected Goals:  Rangers 3.2    Falkirk 1.5
In a match that ended 2-2, the xG would suggest that Rangers finishing was underwhelming, while Falkirk did slightly better then expected.  In  this match Rangers had 19 shots while Falkirk only had 8.  Some of the following data will give you a sense of how Falkirk were able to do more with their limited opportunities.
Shot Quality Breakdown
In this match, Rangers were very effective in creating quality scoring chances, with 74% of their shots were coming from High Danger areas.  Even though Falkirk created less shots, they were nearly as effective in the quality of shots being created, with 63% of their shots coming from High Danger areas.
Rangers goals came from a Medium Danger area & a High Danger area, both of Falkirk's came from High Danger areas.  Only 7% of Rangers High Danger shots were goals – which is far below the norm.  Meanwhile, 40% of Falkirk's High Danger shots were goals, which exceeds the norm.  The data supports what the 'eyeball test' also concluded.  Falkirk made the most of their limited chances, while Rangers were wasteful in front of goal.
Combining this data with the Expected Goals & you really get the sense that this match was a missed opportunity for Rangers.  This was a game that they should have won but their finishing clearly let them down.
Possession vs. Quality Possession
This chart shows the standard possession data & compares it to a team's Total Shots Ratio (TSR) & its Shots on Target Ratio (SoTR). Both of these advanced stats are explained in this earlier post.  
TSR can give you a sense if teams are using possession to create offense.  Meanwhile, looking at SoTR can give you a much better sense of which teams are creating scoring chances & are more effective with their possession.  Furthermore, studies have shown that teams that win the Shots on Target battle tend to win the actual match.
In this match, all of the possession numbers support the fact that Rangers dominated play.  Of all the shots taken in the match, Rangers had 70% of them; of all of the shots on target, Rangers had 67%.  Further proof that the two extra points were there for the taking, points that they needed at the time to keep pace with Hibs for second place.
Shooting Efficiency
| | | | | |
| --- | --- | --- | --- | --- |
| | Sh | SoT | Shooting Accuracy | Shooting % |
| Rangers | 19 | 8 | 0.421 | 0.250 |
| Falkirk | 8 | 4 | 0.500 | 0.500 |
Shooting Accuracy measures how many of the shots were on target, while Shooting Percentage measures how many of the shots on target were able to beat the goalkeeper for a goal.  This is where you begin to see a real difference between Falkirk & Rangers.  Falkirk's shooting percentage of 0.500 is scintillating & very difficult to beat.  It may also be an indicator of a struggling defence that may be making it easier for the opponent to score given poor marking.
Both teams were taking shots in threatening areas of the pitch, however, Rangers were doing less with their chances then Falkirk were.
Rangers Report Game Chart
One of the most popular features coming out of the analytics of the National Hockey League is the development of live game charts, which illustrate the total shot attempts throughout course of a game.  Often you can see the exact moments in which teams swing momentum in their favor.
I plan to replicate these charts for Rangers matches this season.  As the matches progress, you will be able to see which teams dominated possession & to what extent (through the measure of shots) or you will be able to see that the flow of shots was close throughout.
In this sample above, you can see that Rangers were in control from the get go, with their shot chart outpacing Falkirk's from the opening minutes of play.
Additionally these charts can pinpoint turning points in a match.  Sometimes there will be a major change in a game (a goal, substitution, a tactical change, abooking, etc.) & you will be able to measure the impact on the match.
In this particular game, then manager Stuart McCall replaced his starting strike force of Kenny Miller & Ryan Hardie soon after the hour mark.  Their replacements were Dean Shiels & Nicky Clark.  The results eventually were that Rangers piled on seven shots from the 70th minute on (37% of their total goals).   This pressure led to Rangers finally breaking into the score column with two goals in the final minutes of the match.  While Rangers did dominate TSR for most of the match, you see the gap widen severely from the 75th minute on.  From Falkirk's perspective, they did make two tactical substations after the 80th minute & it's fair to say that the changes did not work.
Contrast this chart with the one from Rangers play-off loss to Motherwell.
The chart visually shows that Motherwell had the TSR advantage for the bulk of the match (hence the predominance of red in the chart) & the blue advantage for Rangers began to actually dwindle once Motherwell scored the opening goal in the 27th minute.  Additionally, half of Rangers shots came after the 70th minute – when the result for Motherwell had already been secured.
Individual Outliers
In this final section of the Analytic Match Reports, I will highlight individual players whose statistics stuck out in the game analysis – beyond who scored the goals.
Tom Walsh led the team in shots, but none of them were on target.  Part of that was that only one of his four shots came from a High Danger area.  His Expected Goals for the match was 0.49 – further supporting the claim that even though he had four shots, they were not high quality scoring opportunities.  Kenny Miller, Ryan Hardie, & goalscorer Haris Vuckic all had less shots but the same Expected Goals based on the quality of chances they had.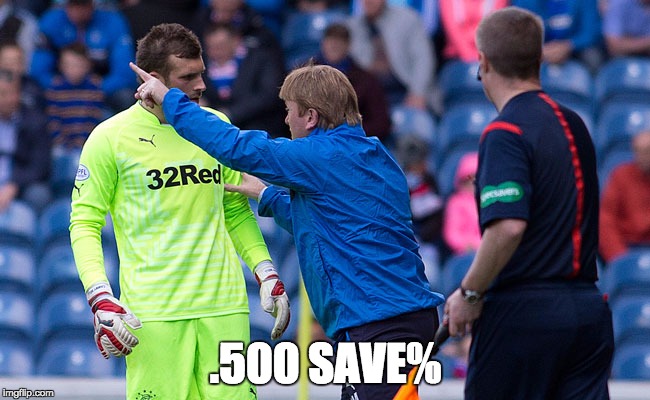 The advanced statistics for goalkeepers are still very much in a developmental process & their assessments are much more useful over a long stretch of games.  But still, we all know Cammy Bell wasn't necessarily saving matches for Rangers last season.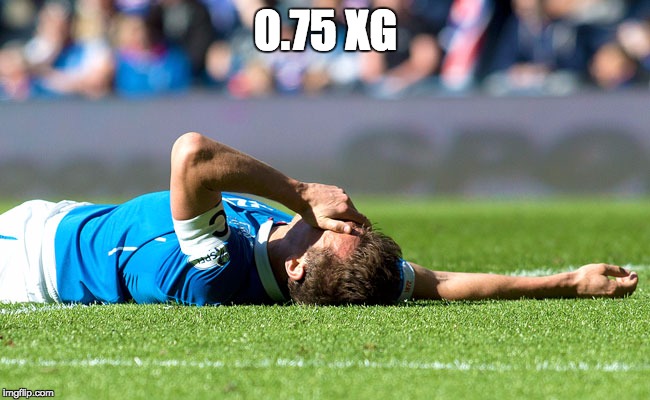 The analytics would suggest that Lee McCulloch's missed opportunities to score – all headers from close range – were a major factor in letting two points slip away.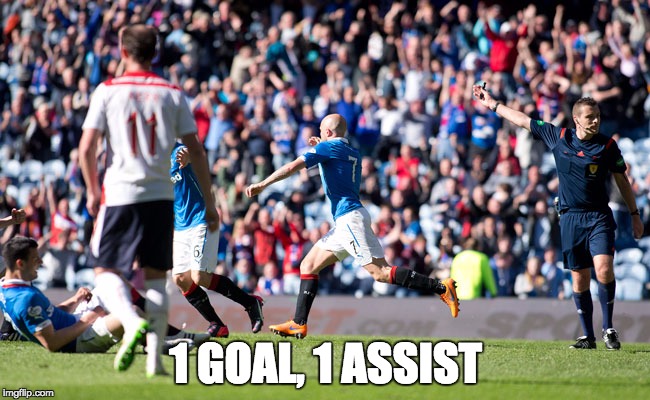 For the most part, Nicky Law had a quiet match but he was clinical in the key moments.  He set-up Vuckic's opening tally with a cross from the outside & scored the tying goal in the waning moments of the match.  This is what Nicky Law did on so many occasions last year – disappear & then have those moments that could salvage a result for Rangers.
Like I mentioned earlier, this is a sample of what our Analytic Match Reports will look like this season.  Hopefully, when you couple these reports with what you noticed by watching the match or what your gathered from other reports will deepen your analysis of what hopefully will be a very successful season for Rangers.
You can follow Rangers Report on Twitter @TheGersReport