written by – Rangers Report
Mark Warburton's restructuring of Rangers is expected to include the imminent signing of 23-year old midfielder Andy Halliday from Bradford City.  Halliday's signing continues Warburton's trend of bringing in players entering the peak of their careers, unlike the previous regime's apparent philosophy of signing players well past their prime.
Halliday will become Warburton's fifth first team signing – all of whom are either 23 or 24 years old (the exception being 18-year old Jordan Thompson).  Many observers agree that a player's peak years are from ages 23 to 29 (goalkeepers excluded).  Warburton's approach to transfers was the same with Brentford – where 13 of his 14 signings were younger than 29.
As most of you know, Halliday is a midfielder who can also play left back.  According to Who Scored, a football statistics site, Halliday's greatest strengths are his defensive contributions & his tackling.  His statistical profile suggests that he "likes to play long balls & tends to shoot from distance."  Additionally, he gets fouled often & likes to return the favor.
Last season for Bradford he played in 25 matches, starting 20 & made five substitute appearances.  Interestingly, he only finished four of the 20 matches he started, being subbed out 16 times.  He scored one goal on 21 shots & added two assists.
Given the role that Halliday is likely to play, I decided to compare his output to Andy Murdoch's.  They easily can be in the same lineup – but given that both are expected to play more of a defensive role – it made sense to compare the two.
| | | | | | | | |
| --- | --- | --- | --- | --- | --- | --- | --- |
| | Pts per 90 | Sh per 90 | Sh Acc | Sh % | FC p/90 | FS p/90 | TSR |
| Andy Halliday | 0.17 | 1.21 | 0.48 | 0.20 | 1.50 | 1.44 | 0.50 |
| Andy Murdoch | 0.15 | 0.66 | 0.44 | 0.25 | 0.59 | 0.44 | 0.68 |
We should be wary to put too much stock into offensive statistics for players like Halliday & Murdoch but you can see that their results are pretty similar – with Halliday more likely to get a shot off per match.  However, their shooting accuracy (how many shots that are on target) are basically identical, as is their shooting percentages (what percent of their shots on target end up being goals).  Halliday appears to be a more physical player, which is not a knock on Murdoch – who seems to rely more on positioning then crunching tackles.
I included the Total Shots Ratio for when each player was on the pitch to see if there was a significant difference in the teams' performances when either player was not in the game.  It ended up that there was no significant variance, especially for Halliday.
Bradford's TSR last season was 0.51, while Rangers' was 0.65.  Rangers did perform better with Murdoch in the lineup which could trigger further analysis to see what extent Murdoch was effecting play to see why Rangers were better at producing shots & preventing them when the youngster played.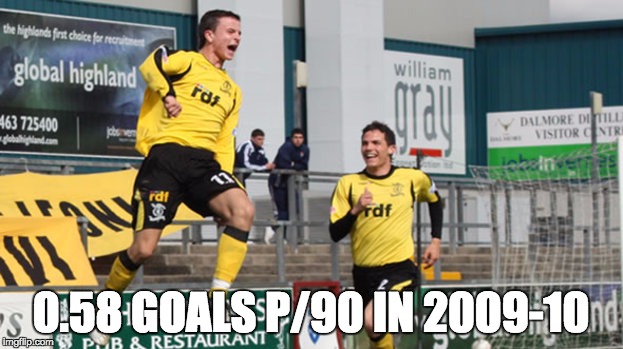 Back to Halliday, it is interesting to note that he showed a pretty impressive propensity to goalscoring in his last season in Scottish football.  Given his reputation as a defensive player, the fact that he scored 14 goals in 2009-10 for Livingston may be reason to expect more offensive production upon his return home.
The fact that Halliday average 0.58 goals per 90 minutes when he last played in the Scottish Championship may be an underlying reason for Warburton's interest in the youngster.  For some context, last year Nicky Law led Rangers in goals scored (10)…even then his 0.28 goals per 90 minutes pales in comparison to Halliday's 0.58.  I'm not saying that he will replicate the offensive production of six years ago, but it is likely that he will increase his scoring output that he displayed in England – where his production was a minuscule 0.06 goals per 90 minutes in his five seasons down south.
You can follow Rangers Report on Twitter @TheGersReport