written by – Rangers Report
This aim of this Analytical Match Report is to enhance the analysis of Rangers performance by providing a variety of advanced stats from the game.  Explanations of these stats can be found in our tutorial for these reports. 
Note:  data was not available for shot locations so — Expected Goals & the Shot Quality Breakdown will not be included but will be for league matches.
Possession vs. Quality Possession
Shooting Efficiency
| | | | | |
| --- | --- | --- | --- | --- |
| | Shots | Shots on Target | Sh Acc | Sh% |
| Rangers | 10 | 6 | 0.600 | 1.000 |
| Hibs | 8 | 2 | 0.250 | 1.000 |
Whenever there are eight goals scored in a match it doesn't fare well for the goalkeepers & every shot on target was a goal in this match.  Of course, one of Hibs' shots on target was a penalty kick…so really in the run of play the Shots on Target ratio was 6-1 Rangers.  Also, Rangers finishing was the most clinical we have seen in years – with multiple goals that will end up on the end of the year DVD.
Rangers Report Game Chart
This shot chart supports Mark Warburton's assertion that Rangers could have played better in the first half, with Hibs having the edge in total shots up until half-time.  Rangers did not get the advantage in shots until after the 60th minute – which coincideed with the insertion of Kenny Miller & Dean Shiels into the match & obviously Andy Halliday's backbreaking goal.
Goalkeeper Distribution Ratings
This advanced stat is unique to Rangers Report & is explained in this post.
| | |
| --- | --- |
| | GDR |
| Mark Oxley | 0.33 |
| Wes Foderingam | 0.42 |
It was clear that Alan Stubbs had prepared Hibs for Rangers desire to play the ball out of the back, especially early in the match, & as their forwards did their best to shut down Foderingham's short balls to his defenders.  This forced the Rangers keeper to rely on the long ball more then he would have liked. Still only 38% of his distribution came from booting the ball up the pitch & those long balls had a GDR of 0.11.  When he did get the chance to play the ball short his GDR was 0.60.  However, his play out of the back is still a bit shaky but clearly he has a directive to keep it short.  Mark Oxley relied almost exclusively on the long ball (81% of the time), which worked to Rangers benefit as his GDR on long balls was only 0.29.
Individual Outliers
This data is limited for this game by the lack of information on shot quality.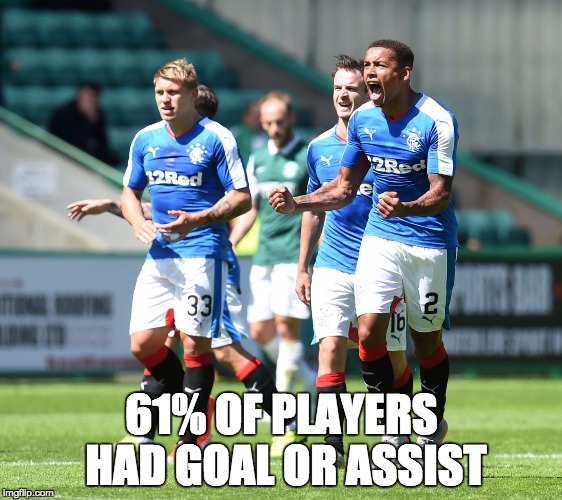 Of the 13 Rangers players who saw action (not including the goalie), eight had either a goal or an assist.  That's pretty unheard of in your ordinary football match – especially the first of the season.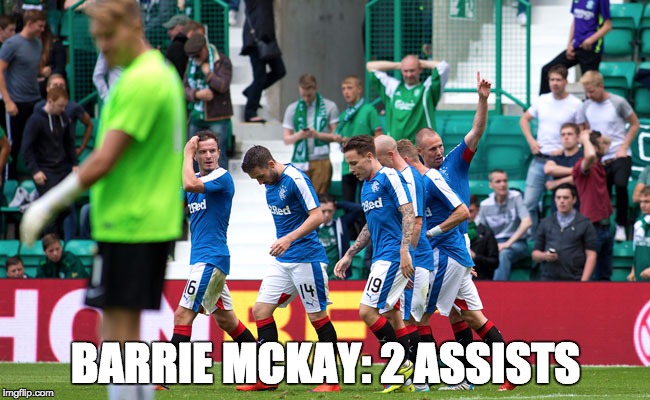 After a quiet start to the match, McKay made his impact felt with assists on two of Rangers goals.  Jason Holt, Danny Wilson, & Nicky Clark also added a 'helper' each (sorry for the ice hockey lingo).
You can follow Rangers Report on Twitter @TheGersReport