written by – Rangers Report
This aim of this Analytical Match Report is to enhance the analysis of Rangers performance by providing a variety of advanced stats from the game.  Explanations of these stats can be found in our tutorial for these reports. 
Expected Goals:  Rangers 4.5   Peterhead 0.8
After the match, Mark Warburton stressed that Rangers need to be more clinical in their finishing & the Expected Goal totals support that claim.  Rangers should have pushed their goal total to 4-5 goals, but their final product in the high danger areas was lacking – which is understandable this early into the season.
Shot Quality Breakdown
This is the kind of dominance you expect when playing a League One club.  Rangers were able to get into the penalty area for the majority of their shots while still keeping the keeper on his toes with 11 shots coming from outside the box.  Defensively Rangers dominated, as they should, forcing all of Peterhead's shots to outside of the penalty area.
Possession vs. Quality Possession 
Not only were Rangers dominating possession, they were turning that possession into shots.  It's hard to get more convincing than a 0.93 Shots on Target Ratio.
Shooting Efficiency
| | | | | |
| --- | --- | --- | --- | --- |
| | Shots | Shots on Target | Sh Acc | Sh% |
| Rangers | 27 | 13 | 0.481 | 0.231 |
| Peterhead | 9 | 1 | 0.111 | 0.000 |
It is interesting to note that in two matches, Wes Foderingham has faced only three shots on target – making one save.
Rangers Report Game Chart
Rangers obviously dominated the Total Shots Ratio from the get-go, but the margins began to really separate at the hour mark, which coincides with Jason Holt & Kenny Miller entering the match.  Also, Rangers added seven shots in the final 15 minutes – which included the final two goals.
Goalkeeper Distribution Ratings
This advanced stat is unique to Rangers Report & is explained in this post.
| | |
| --- | --- |
| | GDR |
| Wes Foderingam | 0.65 |
| Graeme Smith | 0.37 |
In his first match, Foderingham only managed a 0.42 GDR, which was driven down by below average distribution on short balls. In this match, Rangers were much better at taking a short pass from the goalie & bringing the ball into Peterhead's half.  Foderingham was disciplined again in playing the ball short, 84% of his distribution was rolled, thrown, or kicked to a close-by teammate.  Smith, on the other hand, was desperate to relieve the pressure coming from Rangers & booted long balls up the pitch 97% of the time which resulted in Rangers regaining possession 63% of the time.
Individual Outliers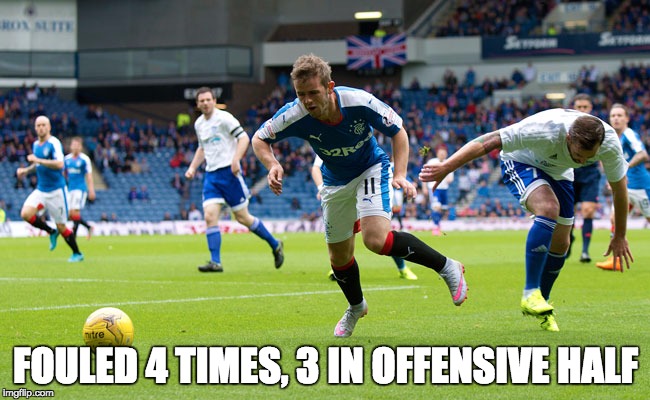 Peterhead struggled to contain David Templeton, who besides his goal, was fouled once every 14 minutes.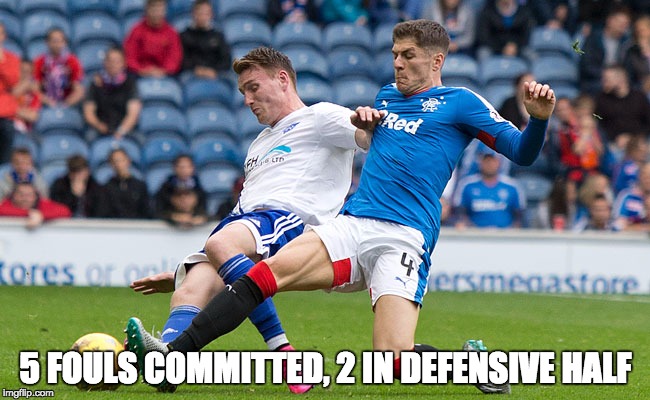 At first glance, Rob Kiernan's five fouls would be concerning – especially against a team that lacks pace.  However, when you look closer you notice that only two came while in his own half of the pitch – which still led the team – but is not as alarming.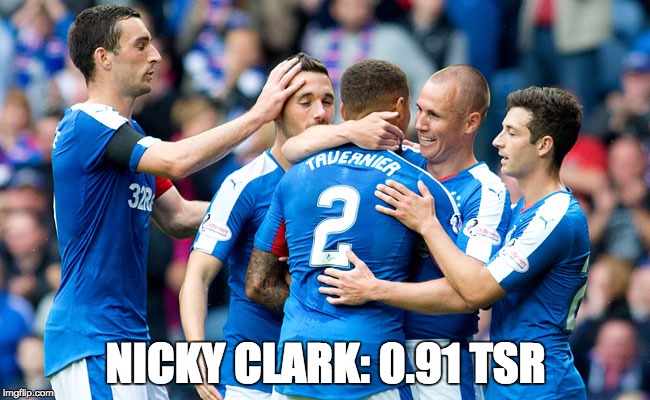 Yes, Nicky Clark is only one of eleven players, but when he was on the pitch Rangers outshot Peterhead ten to one.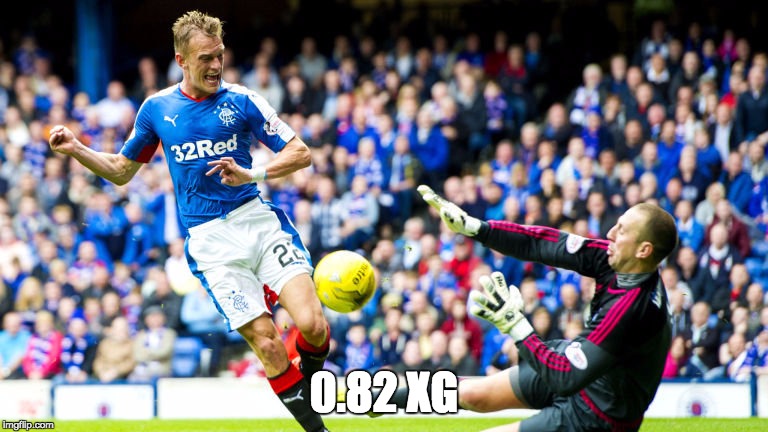 If you were going to pinpoint two players who had positive games but whose finishing let them down, it would be Dean Shiels & Martyn Waghorn.  Both players had 0.82 expected goals but finished shut-out of the scoresheet.  Shiels, in particular, was effective in getting four shots on goal – three of which were from High Danger areas.  Surprisingly, Waghorn was forced out of the penalty area, to an extent,  for his shots – with half of his six shots coming from a Low Danger area.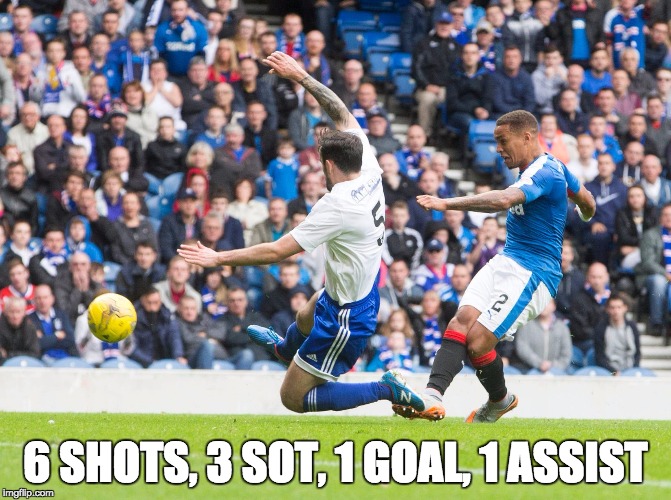 Remember, James Tavernier is a right back…& last season Rangers' right back was Richard Foster.
You can follow Rangers Report on Twitter @TheGersReport