written by – Rangers Report
This aim of this Analytical Match Report is to enhance the analysis of Rangers performance by providing a variety of advanced stats from the game.  Explanations of these stats can be found in our tutorial for these reports. 
Expected Goals:  Rangers 4.0  St. Mirren 0.6
Rangers generated 25 shots against a team that was playing in the Premiership last season as they continue their trend of dominating play & producing a high volume of shots.  St. Mirren's Expected Goals do not include the penalty shot – so in the run of play,  they failed to prove to be any threat against Rangers defence.  If Rob Kiernan was not caught flat footed on the counter attack, St Mirren would have been headed towards a shut-out.  The score was 2-1 for much of the match & hypothetically the result was in doubt, but after that missed penalty St. Mirren never really threatened to tie up the game.
Shot Quality Breakdown:
Of the shots Rangers took, 40% came from High Danger or Very High Danger areas, with 60% coming from Low to Medium Danger areas.  I'm sure Mark Warburton would prefer to see those numbers flipped, but regardless, Rangers are generating a large number of quality opportunities.  What is more impressive is that they were playing against an opponent that was conceding possession & stacking their defensive numbers looking to frustrate Rangers.  Besides the penalty shot, which is not included in the above chart, Rangers only allowed one shot from within the penalty area & that was on the goal.
Possession vs. Quality Possession:
Those bars are moving in the right direction & for the second consecutive game, Rangers dominance is ascending.  From dominating possession, to the number of shots, to the amount of actual shots on target – Rangers are completely dictating the terms of each match they have played so far, particularly the past two games.   Their opponents are rarely getting a chance to create any offense so when they do, they are not breaking down the defence in the final third, rather they are taking shots from outside the penalty area in order to generate any kind of attack.
Shooting Efficiency:
| | | | | |
| --- | --- | --- | --- | --- |
| | Shots | Shots on Target | Sh Acc | Sh % |
| Rangers | 25 | 10 | 0.400 | 0.300 |
| St Mirren | 6 | 1 | 0.167 | 1.000 |
Wes Foderingam still only has made one save in three games…but then again Rangers have only allowed a total of four shots on target.
Rangers Report Game Chart:
Besides dominating the shot totals from the outset, what's most noticeable is that final push in the final 15 minutes.  An early trend this season is Rangers ability to finish off matches with a final burst that, quite frankly has overwhelmed teams so far.
Goalkeeper Distribution Ratings:
This advanced stat is unique to Rangers Report & is explained in this post.
| | |
| --- | --- |
| | GDR |
| Wes Foderingam | 0.74 |
| Mark Ridgers | 0.26 |
Outside of one howler, this was a brilliant example of Foderingam beginning possession from the back & then his teammates either carrying the ball into the offensive half or sending precise passes from the back into attack.  Foderingham went short with his distribution 74% of the time & Rangers turned that into possession in St. Mirren's half 88% of the time.  Ridgers relied on a long ball 100% of the time & Rangers were able to gain control of the ball 74% of the time.
Individual Outliers: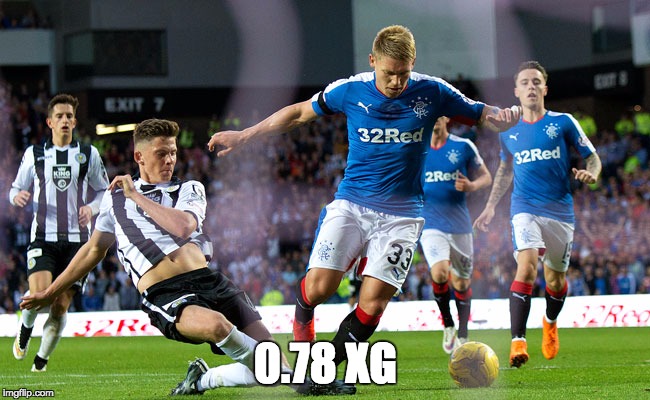 Martyn Waghorn continues to create quality chances & managed five shots on goal.  Unfortunately, not a single shot was on target.  The good news, however, is that three of the five shots came from High Danger Areas.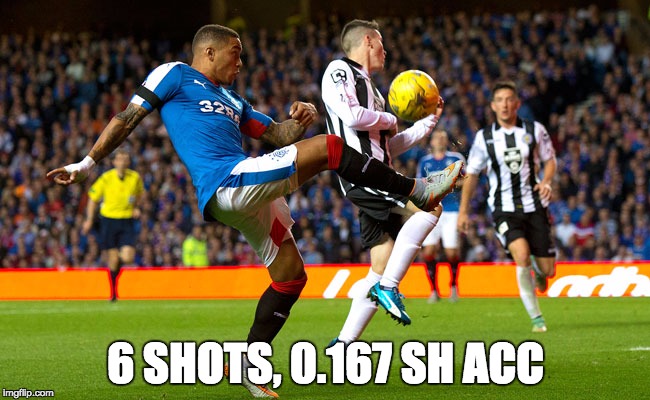 That's 12 shots in the past two games for James Tavernier & given that he is a right back, ten of those twelve shots have come from Low Danger areas.  Tavernier has proven to be a scoring threat but at some point you wonder if he will be urged to get the ball into the box rather then shooting.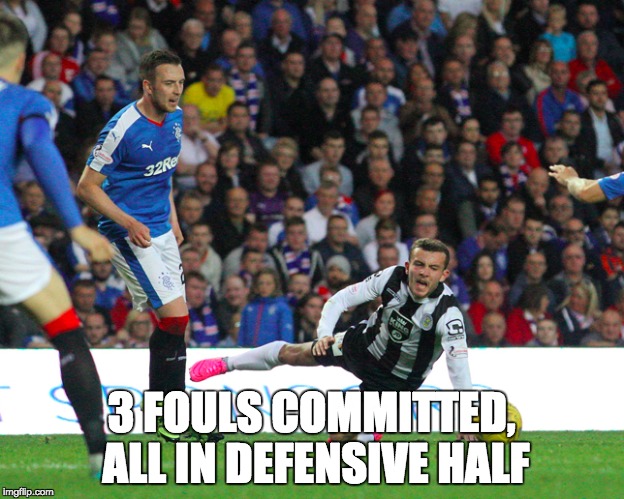 Danny Wilson looked shaky at times, while he & Rob Kiernan combined for five fouls in the defensive half of the pitch.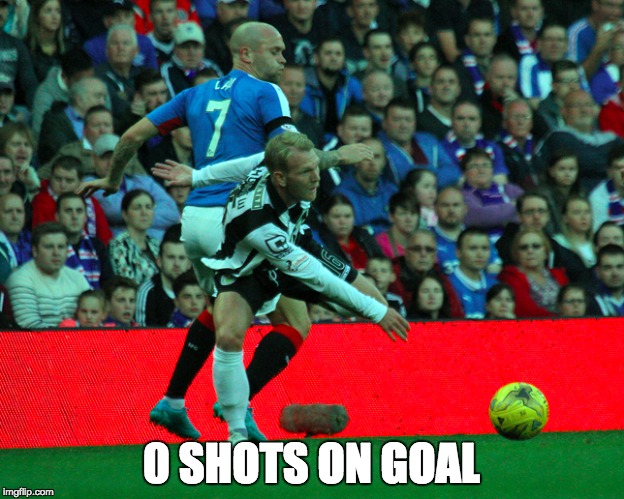 Only two Rangers players failed to register a shot on goal – one was Danny Wilson, the other was Nicky Law.  Law was quiet at times but was effective in breaking up plays in midfield as his all around game is getting noticed more.
You can follow Rangers Report on Twitter @TheGersReport