written by – Rangers Report
This aim of this Analytical Match Report is to enhance the analysis of Rangers performance by providing a variety of advanced stats from the game.  Explanations of these stats can be found in our tutorial for these reports. 
Expected Goals:  Rangers 2.5   Alloa Athletic 0.3
Even though Martyn Waghorn's penalty kick does not factor into Rangers xG, Rangers were still able to exceed expectations & put four past the Alloa keeper in the run of play.  Shots came from a variety of locations, with only 33% of the shots coming from a High Danger or Very High Danger location.  Three of the four goals came from a Very High Danger Area.
Shot Quality Breakdown:
Again, Waghorn's penalty is not factored in.  Of Rangers shots, 71% came from within the penalty area – which represents a significant improvement from last week's game.  Against St. Mirren, only 44% of the shots came from within the goal area.  Some of those shots came at difficult angles but three of those came from right back James Tavernier who was more proactive in continuing his play into a more dangerous area, rather then launching shots from long distance.  This resulted in a goal & two assists from Tavernier, who had his best game so far.
Possession vs. Quality Possession:
The quality gap between Rangers & their opponents in the Championship continues to be striking.  In both league matches, Rangers have taken 81% of the total shots.
Shooting Efficiency:
| | | | | |
| --- | --- | --- | --- | --- |
| | Shots | Shots on Target | Sh Acc | Sh% |
| Rangers | 18 | 8 | 0.444 | 0.625 |
| Alloa | 3 | 2 | 0.667 | 0.500 |
Wes Foderingam finally made a save….I repeat, Wes Foderingham finally made a save.  It was quite, the sprawling save as well.  Rangers domination has left very little evidence of what kind of goalkeeper they have in Foderingham.  His distribution has been effective & he has been strong in the air – but he has had very few shots to stop.  His save on Alloa's free kick showed that he likely can be relied upon to make a big save in the crucial moments.
Rangers Report Game Chart:
Again, you see a sharp spike in shots in the final 15 minutes as Rangers fired four shots on goal from the 75th minute on.  That's 22% of their total shots in the final 17% of match time.  Rangers made a mass substitution at the hour mark & 33% of their shots came in the final half hour.  Also, you see Alloa's shot production flatline at the half as they failed to get a shot in the second half.
Goalkeeper Distribution Ratings:
This advanced stat is unique to Rangers Report & is explained in this post.
| | |
| --- | --- |
| | GDR |
| Wes Foderingham | 0.73 |
| Andy McNeil | 0.25 |
Foderingham played 87% of his passes short & that turned into possession for Rangers in Alloa's half 77% of the time.  His long balls increased in effectiveness as he caught the defence off guard on 50% of those punts up the pitch.  Andy McNeil went with a long ball 85% of the time but only gained possession in Rangers half on 22% of those balls.
Individual Outliers: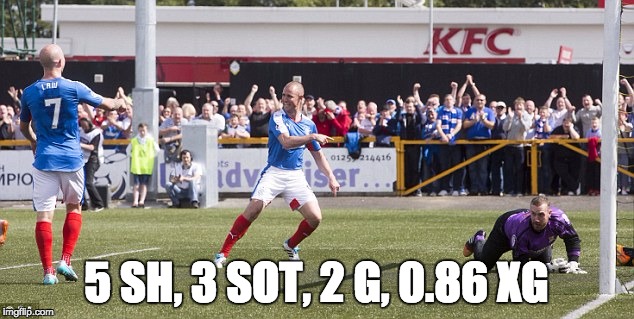 Don't call Kenny Miller a super sub.  After earning his first start of the season, Miller played the full 90 & the 35 year old was one of the most productive players on the pitch.  He accounted for 29% of Rangers shots during the run of play & showed he can still shrewdly get the final touch on shots already bound for goal to pad his stats.  Veteran savviness at its finest.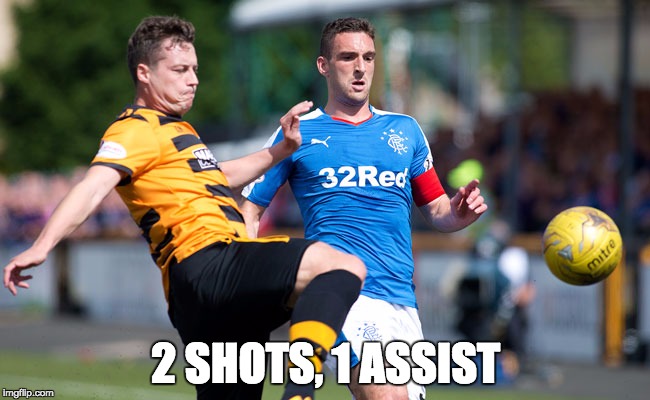 After a couple seasons of largely stagnant growth, Lee Wallace is once again making progress in his development.  Wallace is charging into the penalty area, rather then relying on crosses from the wings, & the results are pretty impressive.  In two league matches, Wallace now has three points (two goals & one assist).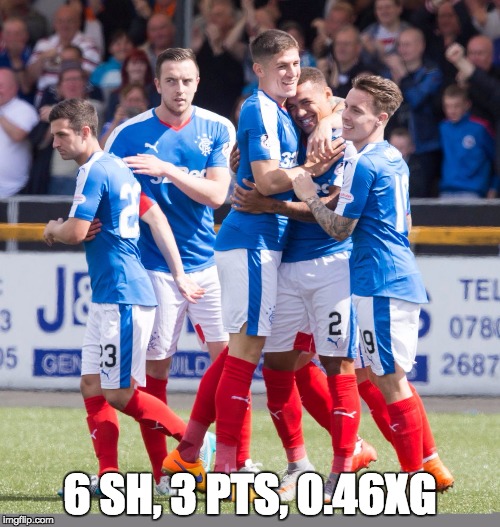 James Tavernier now has twelve shots in two league matches & continues to be making an early case for the Scottish Championship Player of the Year.  As mentioned earlier, Tavernier asserted himself more in the penalty area & that resulted in having a hand in three of Rangers four non-penalty goals.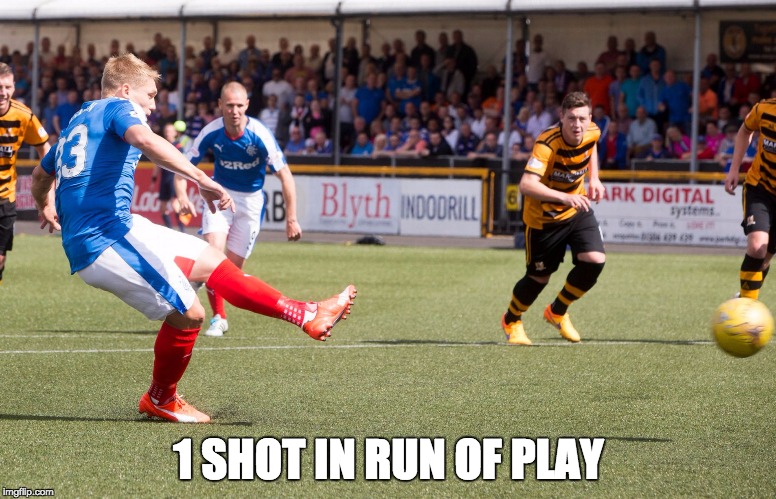 Besides the penalty, Martyn Waghorn only managed one other shot during his 60 minutes.
You can follow Rangers Report on Twitter @TheGersReport