written by – Rangers Report
This aim of this Analytical Match Report is to enhance the analysis of Rangers performance by providing a variety of advanced stats from the game.  Explanations of these stats can be found in our tutorial for these reports. 
Note:  data was not available for shot locations so — Expected Goals & the Shot Quality Breakdown will not be included but will be for league matches.
Possession vs. Quality Possession
It was not a precise & dominant performance by Rangers, but Ayr never threatened to get much out of the game either.  The fact that Rangers dominated the shots & shots on target is a trend that continues, even when they are not a their finest.
Shooting Efficiency
| | | | | |
| --- | --- | --- | --- | --- |
| | Shots | Shots on Target | Sh Acc | Sh% |
| Rangers | 16 | 8 | 0.500 | 0.250 |
| Ayr United | 5 | 1 | 0.200 | 0.000 |
Rangers Report Game Chart
Ayr United's first shot came in the 81st minute & then they finished with a flurry of three in the final five minutes.  To reiterate, Rangers went the first 80 minutes without even allowing a single shot.
Goalkeeper Distribution Ratings
This advanced stat is unique to Rangers Report & is explained in this post.
| | |
| --- | --- |
| | GDR |
| Greg Fleming | 0.48 |
| Wes Foderingham | 0.71 |
Ayr deserves credit for trying to play the ball out of the back, the first team to do so against Rangers.  Fleming played short balls, either rolled or kicked, 48% of the time.  Ayr successfully established possession in Rangers half 67% of the time on that distribution.  When he did go long, his GDR was 0.38.  Foderingham played short 90% of the time & his GDR was 0.79 on those balls.  Neither of his long balls successfully led to possession for Rangers in Ayr's half.
Individual Outliers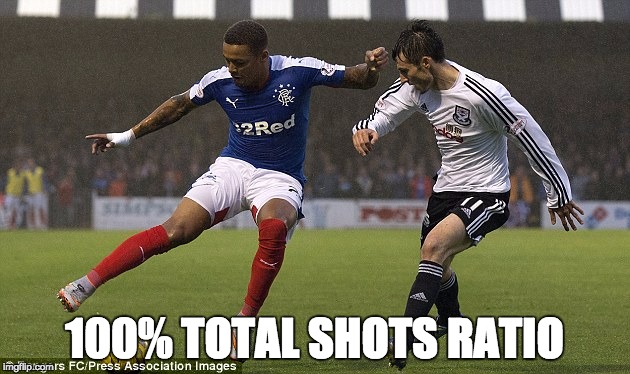 Rangers outshot Ayr United 16 to 0 with James Tavernier on the pitch.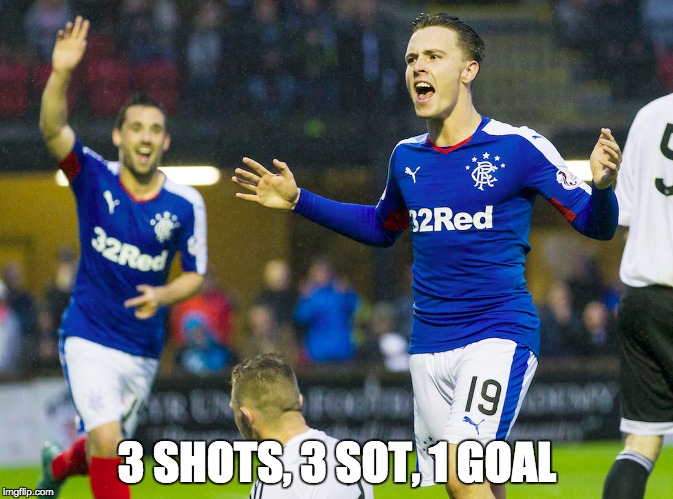 This may have been Barrie McKay's best game in a Rangers strip since 2012.  When he & Nathan Oduwa featured on the left – the defense could do very little but back off the play.
In 59 minutes, the youngster was a pretty constant threat & his hard work paid off with an assist on Barrie McKay's goal.  Jason Holt got the other assist on Nicky Clark's goal.
You can follow Rangers Report on Twitter @TheGersReport