written by – Rangers Report
| | | |
| --- | --- | --- |
| | Rangers | Hibernian |
| Expected Goals per game | 3.23 | 2.39 |
| Expected Goals against per game | 0.38 | 1.22 |
| Total Shots Ratio | 0.83 | 0.72 |
| Shots on Target Ratio | 0.86 | 0.70 |
| Shooting Percentage | 0.44 | 0.13 |
| Shooting Accuracy | 0.42 | 0.49 |
| Save Percentage | 0.33 | 0.71 |
| Expected Points | 5.09 | 5.35 |
| Actual Points | 6 | 3 |
While only taking into account Hibs two league matches you see a team poised to improve.  They have scored two goals this season, even though the quality & quantity of shots they have generate, their Expected Goals,  suggest that they should have closer to five goals (4.78).  So far, their finishing has clearly let them down.  Hibs' shooting percentage of 0.13 (how many shots on target ended up beating the keeper) is woeful compared to Rangers – whose 0.44 shooting percentage is reflective of them scoring more goals then the Expected Goals suggest they should have scored.  Ironically, after two games Rangers have 18 shots on target, Hibs have 16.  The difference being that Rangers have eight goals, while Hibs  only have the two.
Our Elo ratings are explained in this introductory post.  Basically, it can give you a sense of what a team is accomplishing within the context of what they really should be accomplishing.  For example, Hibs have played two matches they really should have won – against Dumbarton & Morton.  When they lost the season opener to Dumbarton you saw a steep drop in their Elo rating of 18 points.  Then when they won a match they were expected to win easily – against Morton – they only saw a one point increase.  Rangers Elo rating is steadily increasing after wins against St. Mirren & Alloa Athletic.  They earned ten points against St. Mirren (a team who was playing in the Premiership last season) & three for their win against a below average Alloa side.  Hibs started the season with a higher Elo rating based on their performances from last season.  If the numbers keep  trending they way they have so far – you'd expect Rangers to pass them in a few weeks.
Hibernian Players to Watch
Dominique Malonga – currently leads the Scottish Championship with 1.25 Expected Goals & has generated seven shots in two games.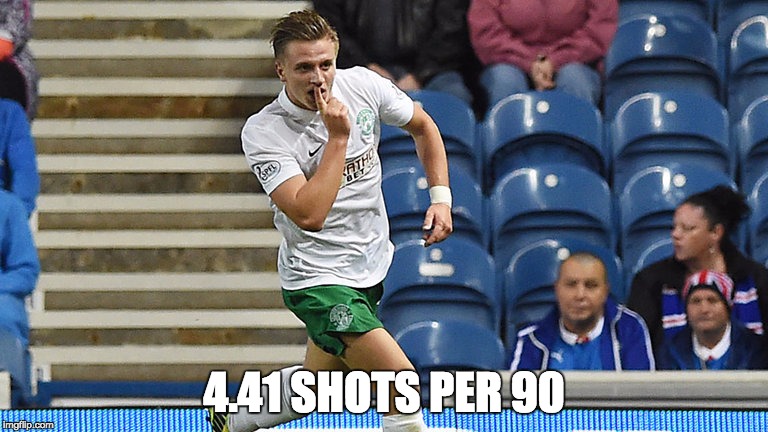 Jason Cummings:  Hibs' top scorer from last year is off to another productive start.  He has a goal so far & has a 0.88 goals per 90 minutes ratio.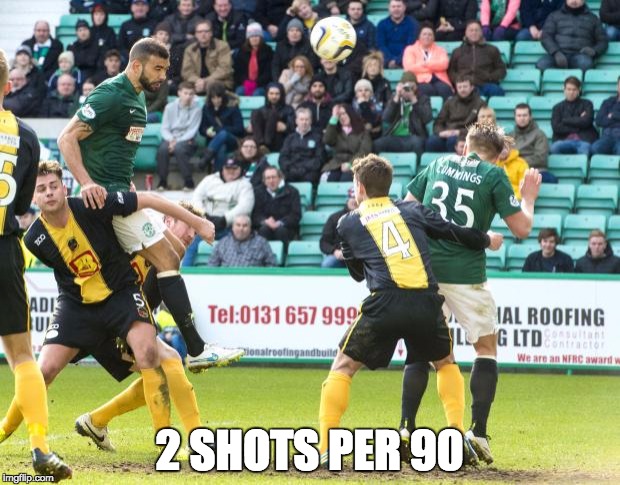 Liam Fontaine:  the defender has been a real threat close to goal with three of his four shots being headers from very close range.  Look for Hibs to target him on corners.  Fontaine also has an assist under his belt after two weeks.
Rangers Breakout Player: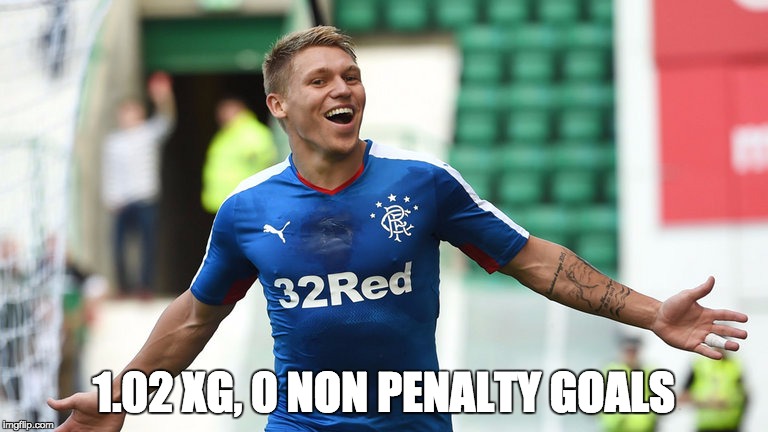 Martyn Waghorn:  Waghorn has yet to score a non-penalty goal in league play but that does not devalue the chances he is getting.  He is averaging 4.17 shots per 90 minutes & most of them are from high danger areas.  His shooting accuracy has been what has let him down.  He has yet to get a shot on target in the run of play, with his penalty shot being the only one to trouble the goalie.  He has come close, real close & it would not be a surprise to see him finally find the back of the net this Sunday.
You can follow Rangers Report on Twitter @TheGersReport