written by – Rangers Report
This aim of this Analytical Match Report is to enhance the analysis of Rangers performance by providing a variety of advanced stats from the game.  Explanations of these stats can be found in our tutorial for these reports. 
Expected Goals:  Rangers 2.0  Hibs 1.1
More than half of Rangers Expected Goals came from Kenny Miller & Jason Holt's High Dangers shots. Liam Henderson was responsible for 46% of Hibs Expected Goals as the Celtic loanee missed two fantastic chances.
Shot Quality Breakdown:
Credit Hibs for stifling Rangers attack to a season low in shots.  Of Rangers shots, 62% came from inside the penalty box, while Hibs managed 57% from inside the goal area.
Possession vs. Quality Possession:
It should be noted that Hibs came in as the second best team in the Championship when it comes to dominating shots & shots on target.  Hibs biggest downfall this season has been taking advantage of the chances they do generate.  So in a match like this, where their shots will be limited, Hibs' finishing needed to be better.  The discrepancy in Shots on Target really highlights this.
Shooting Efficiency:
| | | | | |
| --- | --- | --- | --- | --- |
| | Shots | Shots on Target | Sh Acc | Sh% |
| Rangers | 13 | 5 | 0.385 | 0.200 |
| Hibs | 7 | 1 | 0.142 | 0.000 |
Hibs came in with a shooting percentage of 0.125 & basically matched this woeful efficiency on Sunday.
Rangers Report Game Chart:
Going into the second half, there really was very little separating the two teams.  Credit goes to Mark Warburton for making the necessary adjustments at the half to create more opportunities for Rangers.
Goalkeeper Distribution Ratings:
| | |
| --- | --- |
| | GDR |
| Wes Foderingam | 0.50 |
| Mark Oxley | 0.52 |
Foderingham's GDR really came down to his teammates here. So often players tried to bypass the midfield with passes that didn't connect, hence the struggle to turn distribution into possession in Hibs' half.  Foderingham played the ball short 76% of the time, but Rangers only gained possession in Hibs' half 62% of the time.  This is well below the GDR he has had in each of his previous games.  Hibs did pressure up the pitch, to an extent, but more patience by Rangers defenders probably was the biggest factor to the relative inefficiency.  Oxley enjoyed rare success on long balls, earning a 0.53 GDR on punts up the pitch.  This  mostly came down to Rangers defenders winning headers but then the support wasn't there from the midfielders & Hibs picked up the scraps.
Individual Outliers: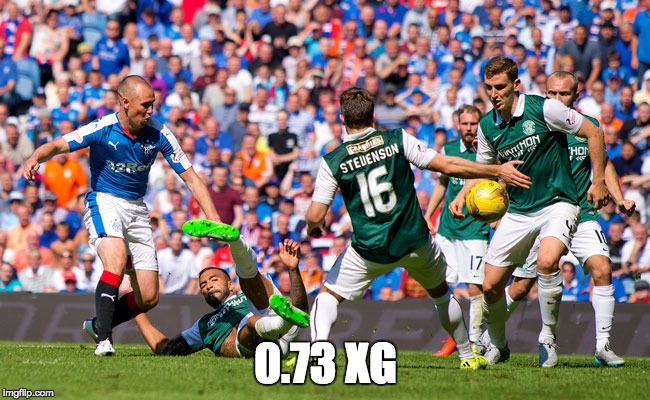 Kenny Miller now has eight shots in the past two league matches & an Expected Goals of 1.59.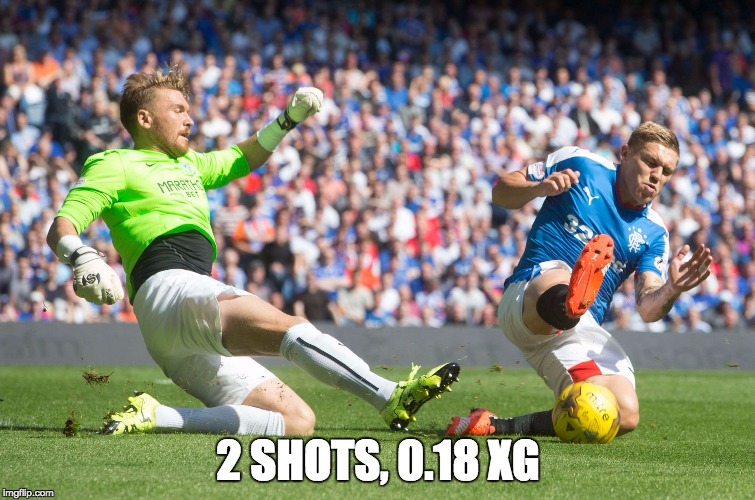 It's still very early, but Waghorn has been struggling to find the back of the net since his sensational opener in the Petrofac Cup.  He is still making an impact, though, as he was fouled a team high three times in the offensive half.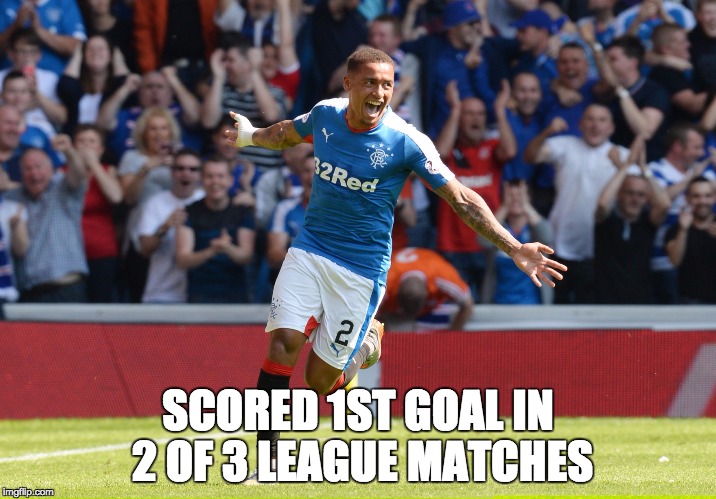 Just another reason why James  Tavernier is the early favorite for Player of the Year in the Scottish Championship.
You can follow Rangers Report on Twitter @TheGersReport