written by – Rangers Report
This aim of this Analytical Match Report is to enhance the analysis of Rangers performance by providing a variety of advanced stats from the game.  Explanations of these stats can be found in our tutorial for these reports. 
Expected Goals:  Rangers 2.6   Airdrie 0.8
Given the gulf in quality between these two teams – it is not a surprise to see Rangers exceed their Expected Goals.  Additionally, Airdrie's expected output may be a bit overblown given that none of their six shots really felt like a genuine threat to score.
Shot Quality Breakdown:
When a team goes 3-0 up after 15 minutes, the cutting edge will naturally begin to dull – especially in a mid-week cup tie with a third tier team.  Rangers dominated possession, often played very attractive football, but the precision to keep breaking down the defense in the final third led to a slight reliance on shots coming from outside the penalty area.  Nothing to be too alarmed about – especially considering nine of the 18 shots came from within the penalty box.
Possession vs. Quality Possession:
Shooting Efficiency:
| | | | | |
| --- | --- | --- | --- | --- |
| | Shots | Shots on Target | Sh Acc | Sh% |
| Rangers | 18 | 9 | 0.500 | 0.556 |
| Airdrie | 6 | 1 | 0.167 | 0.000 |
Rangers finishing was indicative of their huge advantage in all-around quality.  Whether it be a trio of Gedion Zelalem, Nathan Oduwa, & Lee Wallace on the left or Martyn Waghorn & James Tavernier storming in from the right, Airdrie were constantly chasing the play & had no answer to Rangers incessant attack.
Rangers Report Game Chart:
Remember, it was 3-0 before Airdrie even got a shot.  There were lulls in Rangers game, but once again they turned it on down the stretch.  A common theme in these game charts is a sharp spike in the right direction in the final 15 minutes for Rangers.
Goalkeeper Distribution Ratings:
| | |
| --- | --- |
| | GDR |
| Wes Foderingam | 0.82 |
| Neil Parry | 0.26 |
When a team that is clicking is allowed to play its game against an inferior opponent, the results are prescriptive.  Rangers want to play the ball out of the back, starting with the goalkeeper & Airdrie had no chance to alter that plan.  Foderingham played the ball short 93% of the time & his teammates turned that into possession in Airdrie's half 88% of the time.  That's pretty good.  Parry went with the long ball each & every time & the results were predictable.
Individual Outliers: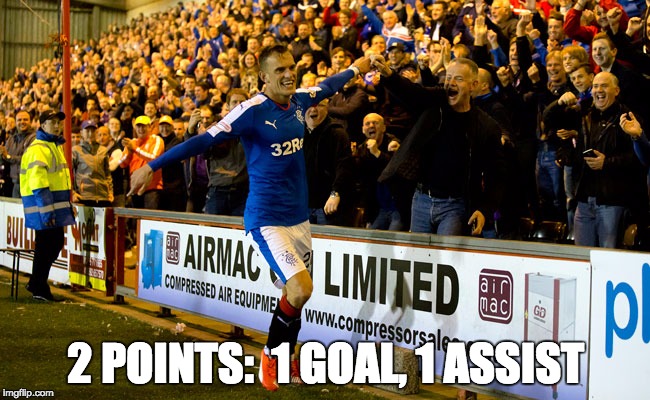 It's time to acknowledge the genuine resurgence that Dean Shiels has experienced under the guidance of Mark Warburton.  He has 1.14 points per 90 minutes in league play & added two more points against Airdrie.  It should also be noted that when Shiels has been on the pitch during league play, Rangers have a jaw-dropping Total Shots Ratio of 0.92.  Many supporters need to go back & hit delete on their previous public commentary regarding Shiels (your humble blogger included).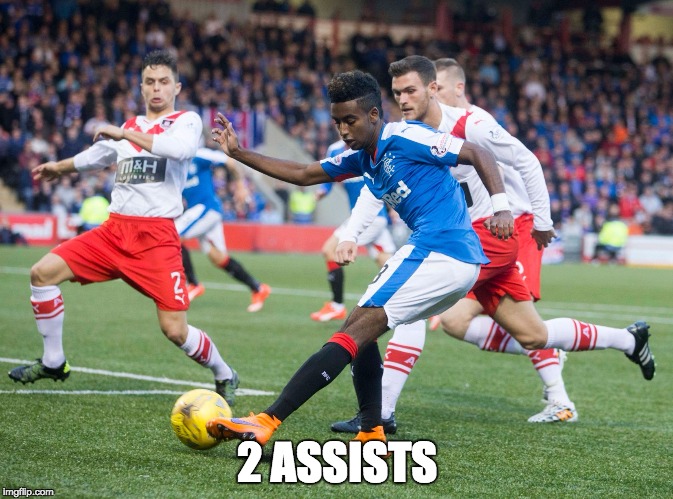 Americans have a pretty good history with Rangers & the vision on display from the young Gedion Zelalem was reminiscent of Claudio Reyna.  Expect the attention from the American soccer media to intensify, given the need to fill the talent gap left by Landon Donovan's retirement & Clint Dempsey easing into his 30s.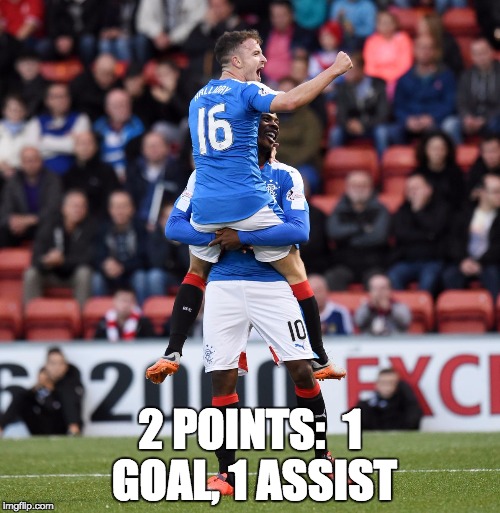 Regardless of the ever-growing competition in Rangers midfield, the developing heart of this side is Andy Halliday & it's difficult to see a best eleven without him.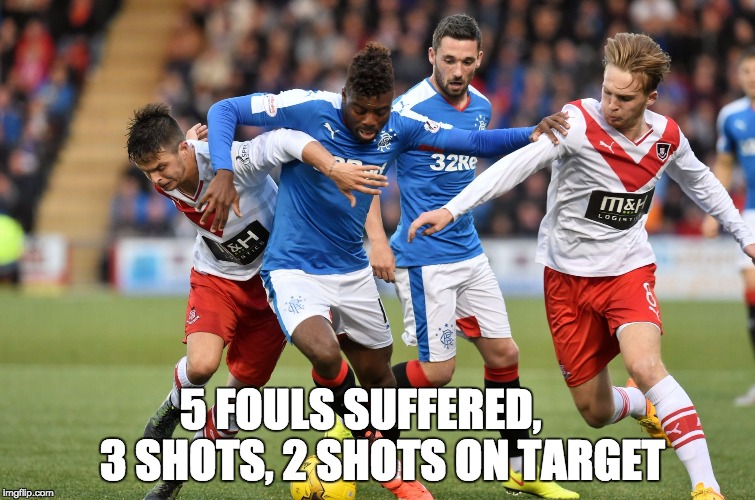 All of this adds up to Nathan Oduwa being a force that Airdrie truly struggled to contend with.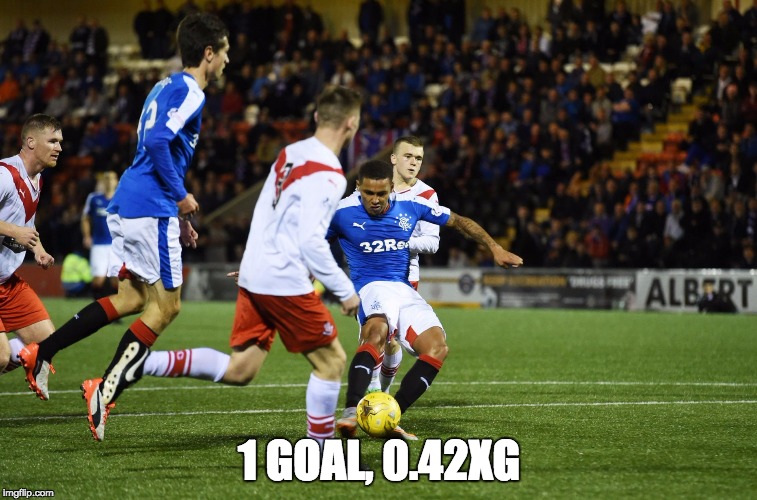 Even in a match where he was relatively quiet, James Tavernier was able to lead the team in shots & finish with an eye-opening goal (again).
You can follow Rangers Report on Twitter @TheGersReport