written by – Rangers Report
This aim of this Analytical Match Report is to enhance the analysis of Rangers performance by providing a variety of advanced stats from the game.  Explanations of these stats can be found in our tutorial for these reports. 
Expected Goals:  Rangers 1.8   Queen of the South 1.0
First off, it should be noted that Rangers two penalty shots are not factored in this total.  An Expected Goals total of 1.8 is normally pretty good, but it marks a season low for Rangers.  Credit should go to Queen of the South, though.  They came in being only one of two teams (Rangers being the other) who allowed an Expected Goals Against average less then 1.0.  Queens did a good job for long stretches of the match at not letting Rangers stockpile shots & that resulted in a game that could have been closer.
Shot Quality Breakdown:
Again, the penalty shots are not included.  Rangers were again very deliberate in their shot selection.  Even though the overall number was lower then Rangers usually produce, 69% of the shots came from within the penalty area.  Compare that to Queens who took 29% of their shots from the goal area.  The extent of their dominance was not what it has been in other games this season, but ultimately it was still a dominant performance from Rangers.
Shooting Efficiency:
| | | | | |
| --- | --- | --- | --- | --- |
| | Shots | Shots on Target | Sh Acc | Sh% |
| Rangers | 15 | 7 | 0.467 | 0.714 |
| Queen of the South | 7 | 3 | 0.429 | 0.333 |
If you take away the penalty shots – Rangers had 38% of their shots go on target & scored on 67% of those shots on target.  The shooting accuracy in the run of play was on par with their output for the whole season.  In four league matches, 40% of their non-penalty shots have been on target.
Rangers Report Shot Chart: 
Again, that remarkable spike in shots in the final 15 minutes.  It's a trend that has been seen in nearly every match so far.  But, you can see the margin in shots wasn't that great between these two sides for much of the match.  Rangers did outshoot Queens throughout, but even with Derek Lyle's red card in the 47th minute – the margins stayed consistent until after the score became 5-0 in the 76th minute.
Goalkeeper Distribution Ratings:
| | |
| --- | --- |
| | GDR |
| Wes Foderingham, 11v11 | 0.50 |
| Robbie Thomson, 11v11 | 0.20 |
| Wes Foderingham, 11v10 | 1.00 |
| Robbie Thomson, 10v11 | 0.29 |
Prior to Lyle's red card, Rangers were struggling to play out of the back (at least compared to their normal standards).  Queen of the South were pressuring up the pitch, forcing defenders to return passes to Wes Foderingham.  Consequently, the Rangers keeper played the ball long 30% of the time (a number quite high for him).  Those long balls resulted in Rangers gaining possession in Queens' half only 17% of the time.  When he played short, Rangers gained possession 64% of the time in their opponents half.  That number is nearly the expected result on short balls, but Foderingam's GDR is usually much higher on shorter distribution.
Once Queens lost a man, Foderingham's GDR was perfect, as Rangers gained possession in the offensive half each time.  Foderingham went short on each of those distributions.  In the entire game, Robbie Thomson went long 69% of the time & Queens gained possession in Rangers half 22% of the time on those long balls.
Individual Outliers: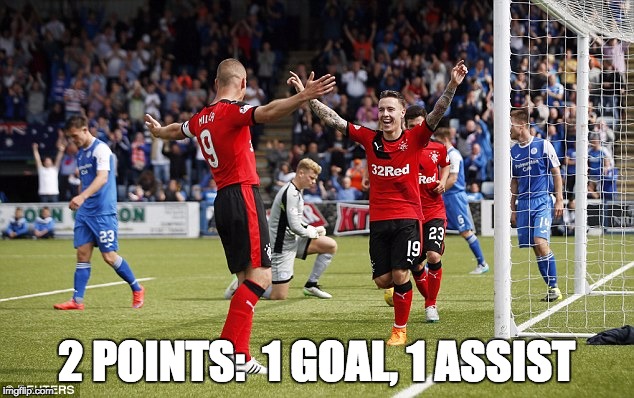 With his two points today, Barrie McKay is now averaging 0.63 points per 90 minutes in league play.  He was a force throughout the match carrying play into the final third & that work clearly paid off as he factored in two of Rangers three goals in the run of play.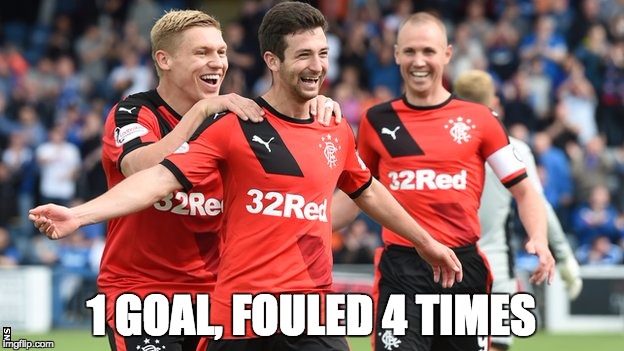 Jason Holt has proven to be a quick & efficient player who has now scored on 50% of his four shots on target this season.  Also, he is now averaging 0.87 points per 90 minutes in four league matches.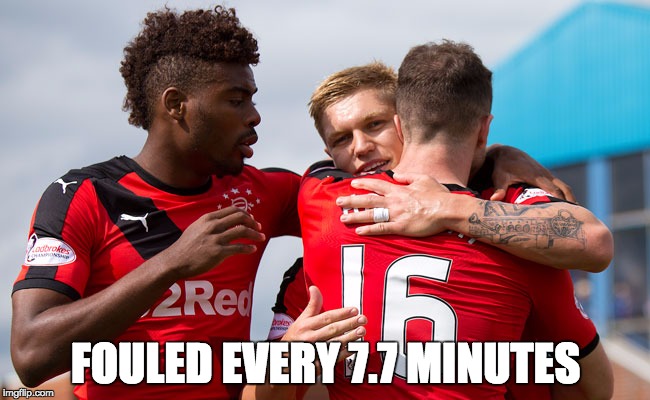 Nathan Oduwa was fouled three times, all in the offensive half, in only 23 minutes of action.  In 82 minutes this season, he has been fouled six times – which is tied for the team lead.
You can follow Rangers Report on Twitter @TheGersReport