written by – Rangers Report
This aim of this Analytical Match Report is to enhance the analysis of Rangers performance by providing a variety of advanced stats from the game.  Explanations of these stats can be found in our tutorial for these reports. 
Expected Goals:  Rangers 3.0   Raith Rovers  0.2
Expected Goals do not include the two penalty shots, so Rangers matched their Expected Goals in the run of play.  This was a clinical performance from Mark Warburton's side.
Shot Quality Breakdown:
If you were to nitpick, you would like to see less of Rangers shots coming from outside the penalty area.  They only had 48% of the shots coming from inside the box, which is also where two of their goals were generated.  But again, there is very little to criticize from Rangers performance.  These shots do not include Martyn Waghorn's two penalties.
Textbook domination by Rangers.
Shooting Efficiency:
| | | | | |
| --- | --- | --- | --- | --- |
| | Shots | Shots on Target | Sh Acc | Sh% |
| Rangers | 23 | 12 | 0.522 | 0.417 |
| Raith Rovers | 2 | 1 | 0.500 | 0.000 |
Rangers Report Shot Chart: 
That sea of blue represents the vast gulf of shots between these two clubs.  Rangers did start kind of slow, in terms of generating shots -however, surges in the final 15 minutes of the first half & again in the final 15 minutes of the final 90 are further testament of Rangers' fitness levels.
Goalkeeper Distribution Ratings:
| | |
| --- | --- |
| | GDR |
| Wes Foderingham | 0.83 |
| Keith Cuthbert | 0.14 |
Rangers controlled possession throughout & it started from the back whenever Wes Foderingham saw the ball.  He played the ball short 89% of the time, which led to possession in Raith's half 88% of the time.  Keith Cuthbert went with a long ball 95% of the time (he played one short ball) & the results meant that Rangers regained possession 86% of the time, as Cuthbert's GDR was only 0.14.
Individual Outliers: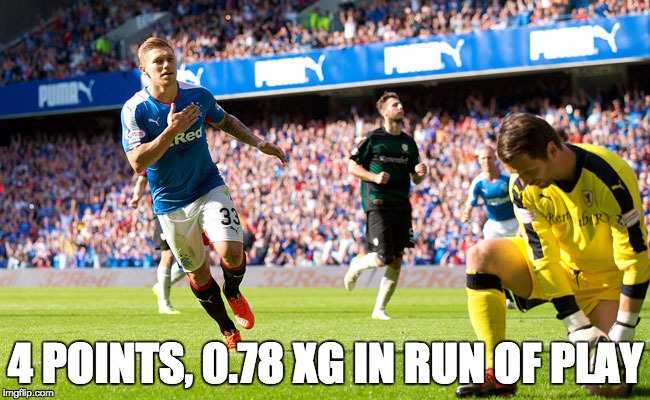 Martyn Waghorn played a superb game.  He added two assists (one really should have been Nathan Oduwa's on Barrie McKay's goal) & two penalty goals.  In the run of play, he had five shots & three shots on target.  He has yet to score a non-penalty goal in the league this year, but his other contributions cannot be overlooked.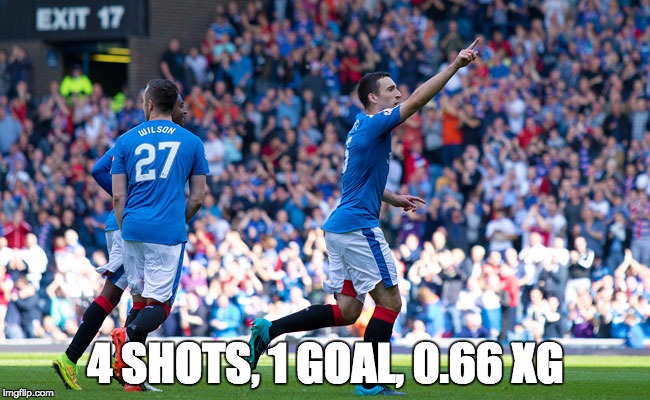 Rangers full backs combined for six shots & two goals.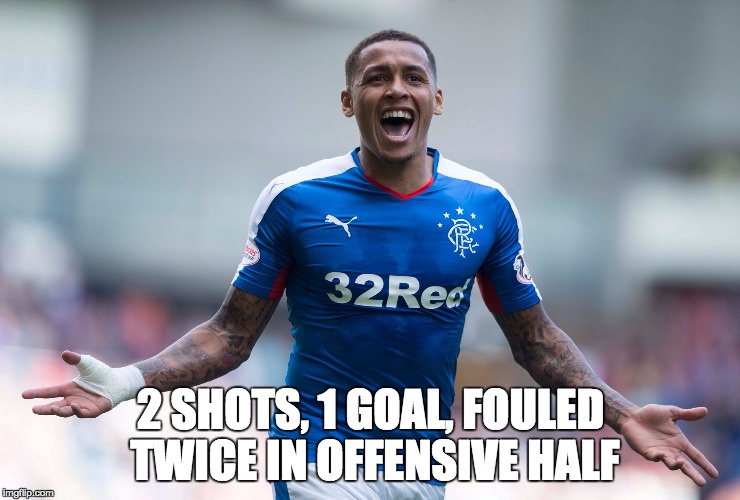 How long will it take for English clubs to begin making their bids to bring James Tavernier back down south?  He has quickly become the best player at this level of Scottish football.
You can follow Rangers Report on Twitter @TheGersReport