written by – Rangers Report
This aim of this Analytical Match Report is to enhance the analysis of Rangers performance by providing a variety of advanced stats from the game.  Explanations of these stats can be found in our tutorial for these reports. 
Expected Goals:  Rangers 2.0  Livingston 0.2
Rangers' Expected Goals was nearly a goal less then their average output & part of that was the volume of shots was down, but also where those shots were being taken were less threatening to the Livi goalkeeper.  Lee Wallace's goal was a cracker – but it's unlikely he'll score a goal from that far out again this season.
Shot Quality Breakdown:
The most apparent area to improve from this outing would be penetrating the final third & generating shots from within the penalty area.  Of their shots, 64% came from outside the penalty area.  Now some of that is skewed by set-pieces, but when Rangers are at their best, they are generating chances from within the penalty box.  Of the five shots in a High Danger area, two were goals (40%) compared to the one from outside the box (11%).
Of course, Rangers were never in danger of losing points in this match.  However, it's becoming clear that Mark Warburton has aspirations of making some deep cup runs & that is what is at the heart of his hypercritical response to the performance.  In that context, it is perfectly reasonable for the team to be taking a deep examination of the performance rather then just celebrating another three points.  How far we have come since last season, eh?
| | | | | |
| --- | --- | --- | --- | --- |
| | Shots | Shots on Target | Sh Acc | Sh % |
| Rangers | 14 | 5 | 0.360 | 0.600 |
| Livingston | 4 | 2 | 0.500 | 0.000 |
When you take most of your shots from outside of the penalty area, your accuracy will be effected & you will make the life of the defence & the goalie that much easier.
Rangers Report Shot Chart: 
Livingston's shot totals flatlined at the half as they failed to generate a single chance in the final 45.  That Martyn Waghorn goal right before half-time proved to be demoralizing to the opposition.  Prior to that moment, the shot totals were pretty close as Livingston did a good job of pressuring the ball when Rangers werein possession.
Goalkeeper Distribution Ratings:
| | |
| --- | --- |
| | GDR |
| Wes Foderingham | 0.72 |
| Darren Jamieson | 0.13 |
We have seen this trend develop throughout the season.  Wes Foderingham played the ball short 93% of the time & that led to possession in Livi's half 78% of the time.  Rangers GDR on short balls tends to be better then what we saw in this match.  Darren Jamieson played the ball long 91% of the time, as Livingston looked to ease the pressure coming at them.  However, they only gained possession in Rangers half on 14% of those balls.
Individual Outliers: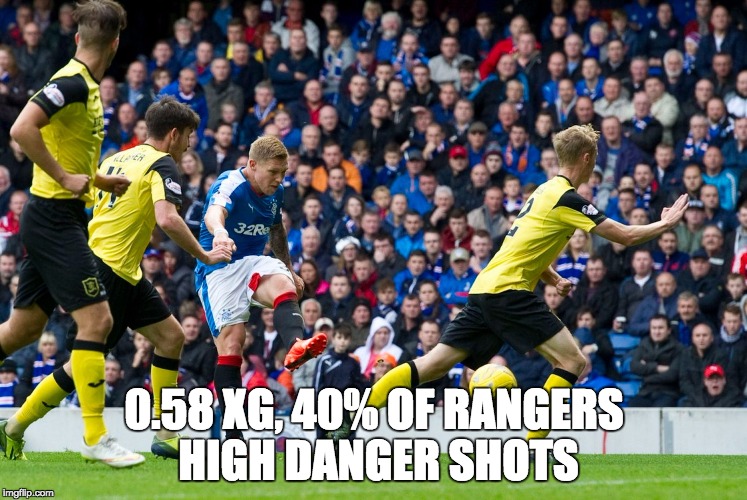 Martyn Waghorn continued his strong play by getting the backbreaking goal right before the half.  He had three shots, two of which came from within the penalty area.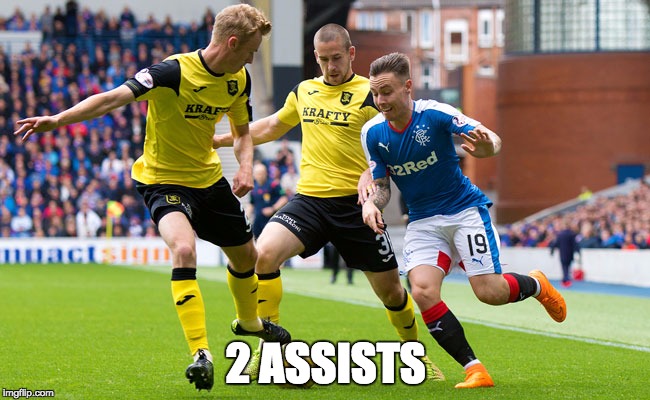 Despite being subbed out at the hour mark, Barrie McKay left his mark on the match by setting up Rangers first two goals of the game.  He also drew two fouls in the offensive half.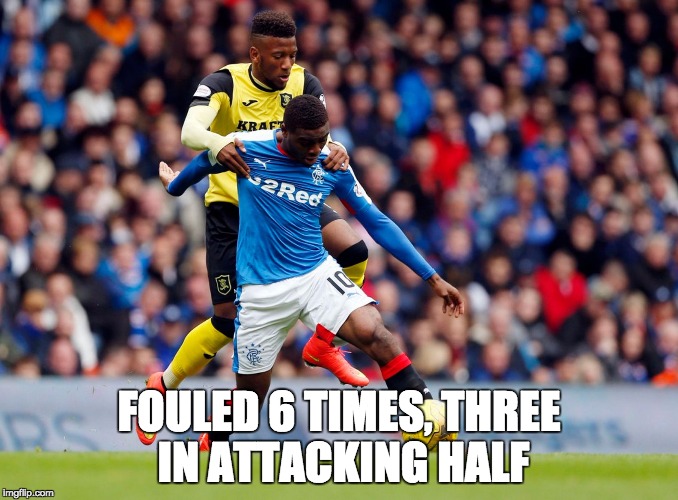 Nathan Oduwa continues to be a handful for defences, as the opposition struggles to keep up with his strength & speed at this level.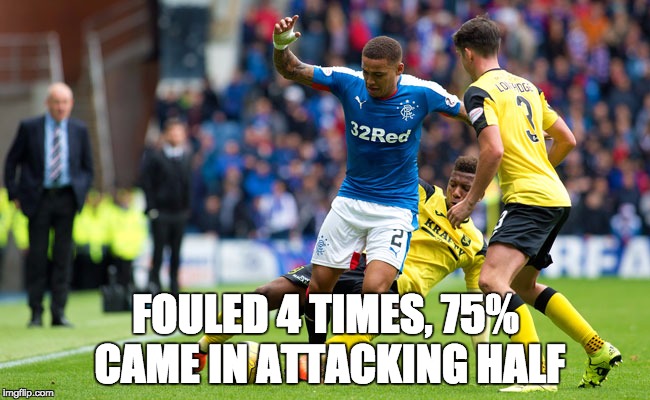 It was a relatively quiet outing for James Tavernier but he still had an impact on the match.  Unfortunately, Livingston's only answer to the full back's penetration was to put him on the ground.
You can follow Rangers Report on Twitter @TheGersReport