written by – Rangers Report
This aim of this Analytical Match Report is to enhance the analysis of Rangers performance by providing a variety of advanced stats from the game.  Explanations of these stats can be found in our tutorial for these reports. 
Expected Goals:  Rangers 0.7  Dumbarton  0.6
Credit Dumbarton for tactically layering the final third to frustrate a Rangers attack that attempted to patiently break them down.  This resulted in Rangers lowest shot total for the season & easily their closest contest so far.
Shot Quality Breakdown:
While Rangers did outshoot Dumbarton, the Sons actually generated more shots from within the penalty area then Rangers did.  They smartly relied on counters & set pieces to generate their chances & they came close to scoring on a couple of occasions.  It should be noted that these shots do not include the two penalties.
For what may be the first time all season, Rangers possession out valued its Total Shots Ratio.  Rangers controlled the match but did not generate the shots as a result of that control.  Again, credit to Dumbarton for the way they defended & it also should be acknowledged that Rangers remained patient  in their approach.  A more frustrated team would have begun launching hopeful, wasteful shots in an effort to 'breakdown' the defense.  Instead, Rangers stuck to their approach & attempted to open up the defence with passing in the final third.
This is nothing new for Dumbarton.  Coming into the match, they had limited shots to outside the penalty area 46% of the time.  A similar team based on shots allowed would be Queen of the South who limit their shots against to outside the box 34% of the time.  This would indicate that Dumbarton rely on tactically making a conscious effort to push those shots to the outside.  Against Rangers they forced 88% of Rangers shots to outside the penalty area.
Shooting Efficiency:
| | | | | |
| --- | --- | --- | --- | --- |
| | Shots | Shots on Target | Sh Acc | Sh% |
| Rangers | 9 | 7 | 0.778 | 0.286 |
| Dumbarton | 6 | 3 | 0.500 | 0.333 |
Rangers shooting accuracy validates their deliberate approach to creating shots.  While their shots did come from outside the penalty area, they were good chances.  However, it should be noted that the penalty & a couple of free kicks were needed to get those shots on goal.
Rangers Report Shot Chart: 
It is rare to see the shot distribution so close in a match featuring Rangers.  Dumbarton actually enjoyed an edge in total shots for short periods of time, something that doesn't happen often.  However, you did see Rangers pull ahead, slightly, with the inclusion of Dean Shiels & Nathan Oduwa into the match at the hour mark & then obviously Martyn Waghorn's strike silenced Dumbarton's hopes until their penalty in the closing minutes.
Goalkeeper Distribution Rating:
| | |
| --- | --- |
| | GDR |
| Mark Brown, Dumbarton 11 v11 | 0.31 |
| Wes Foderingham, Rangers 11 v 11 | 0.80 |
| Mark Brown, Dumbarton 10 v11 | 0.17 |
| Wes Foderingham, Rangers 11v10 | 1.00 |
Again, this is a testament to the home side's tactical approach to the match.  They ceded possession & focused on clogging the final third to frustrate Rangers attack.  Consequently, Foderingham's distribution was clinical.  For the entire match, he went short 91% of the time & Rangers turned that into possession in the offensive half 87% of the time.  Mark Brown went long 100% of the time & they only gained possession in Rangers half 26% of the time.
Individual Outliers: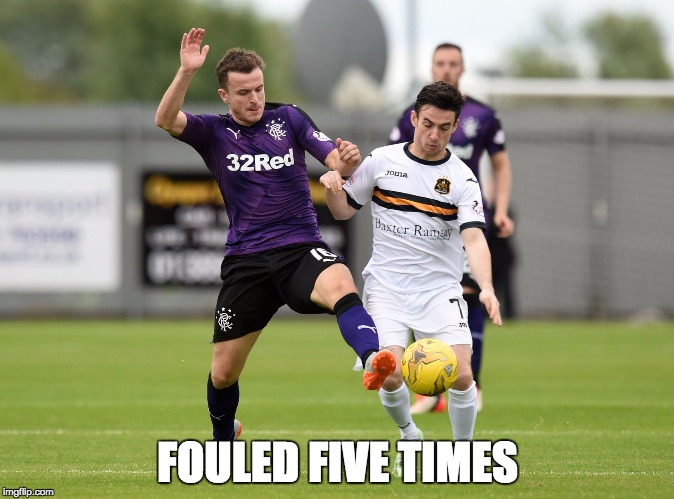 It should be noted that the official Opta scorer for the match made multiple errors while tracking fouls but Andy Halliday was officially fouled five times, with two coming in the offensive half.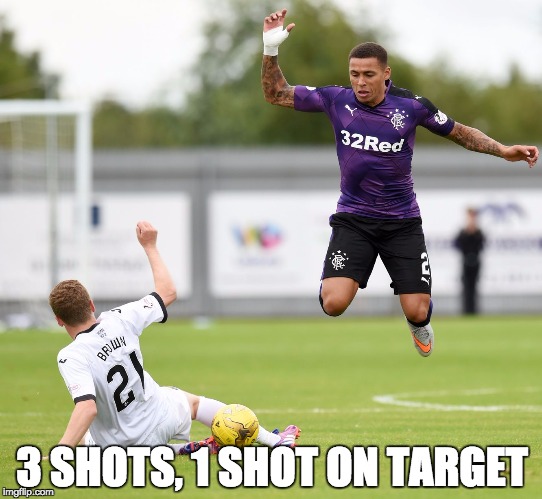 What is the most noteworthy about this stat, is that every other Rangers shot was on target.  Five other players had at least one shot & each time they forced the keeper into a save or it was a goal.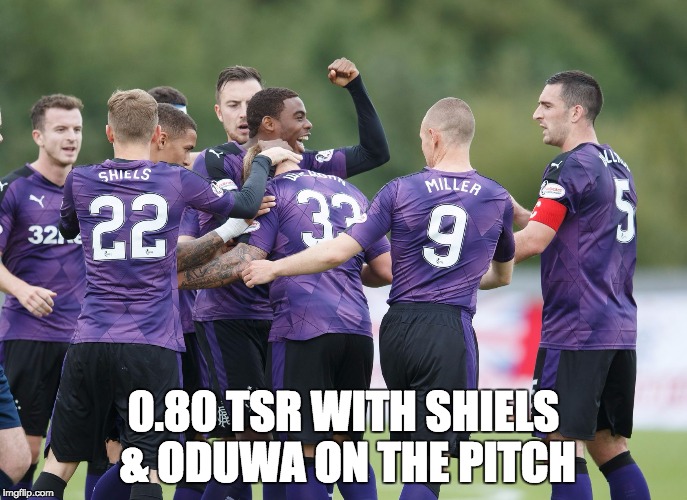 Even though the swing in Total Shots Ratio was more due to Waghorn's goal & later on to Dumbarton going down a man…it should be noted that prior to Dean Shiels & Nathan Oduwa entering the game the shots totals were level.  Rangers TSR leading up to the hour mark was 0.50, but then 0.80 with the pair in the game.
You can follow Rangers Report on Twitter @TheGersReport