written by – Rangers Report
This aim of this Analytical Match Report is to enhance the analysis of Rangers performance by providing a variety of advanced stats from the game.  Explanations of these stats can be found in our tutorial for these reports. 
Expected Goals:  St. Johnstone 1.1  Rangers 1.3
What's the biggest takeaway from this match?  If Rangers can minimize its mistakes on defence, they can definitely compete with a team like St. Johnstone.  This match was so similar to  last weekend's Hearts loss to Aberdeen, a match in which Hearts controlled possession, generated more chances, but were guilty of atrocious defensive breakdowns that the Dons took full advantage of.  Like Aberdeen, St. Johnstone pounced on Rangers defensive lapses with deadly strikes that broke open the game.  Then they were able to effectively stagger layers of defence in the final third to stagnate Rangers attack.
Shot Quality Breakdown:
St. Johnstone essentially replicated Dumbarton's tactics from the weekend, but given their top flight experience & better talent, they were able to turn the approach into a winning result.  Rangers were able to generate 50% of their shots from within the penalty area, but a couple of the shots were blocked & they never really were able to persistently break down the opponents defence.  St. Johnstone effectively closed down on the ball once Rangers got into the final third & once they went ahead, basically deployed two layers of four in the final third to frustrate Rangers.
That Shots on Target Ratio is what really sticks out.  Rangers dominated possession, dominated shots, but were unable to pressure the St. Johnstone goalie into many saves.  In fact, only two Rangers shots were on target – James Tavernier's goal & a Kenny Miller shot from a difficult angle.
Shooting Effeciency:
| | | | | |
| --- | --- | --- | --- | --- |
| | Shots | Shots on Target | Sh Acc | Sh% |
| Rangers | 12 | 2 | 0.167 | 0.500 |
| St Johnstone | 6 | 4 | 0.667 | 0.750 |
Rangers Report Shot Chart: 
The shot chart is basically a moot point of discussion in this match given Rangers were down 2-0 after half an hour.
Goalkeeper Distribution Rating:
| | |
| --- | --- |
| | GDR |
| Wes Foderingham | 0.75 |
| Alan Mannus | 0.19 |
Foderingham played the ball long more often then he normally does (25% of the time) but that mostly came in the first half hour, as the Rangers keeper looked to relieve some of the pressure as St. Johnstone was pressuring up the pitch.  Once they got their lead, St. Johnstone backed off & Foderingham was free to play short & Rangers were ceded possession up the pitch.  Of the balls he played short, Rangers carried the ball into the attacking half an astounding 94% of the time.  Mannus played the ball long each time & the results were predictable.
Individual Outliers: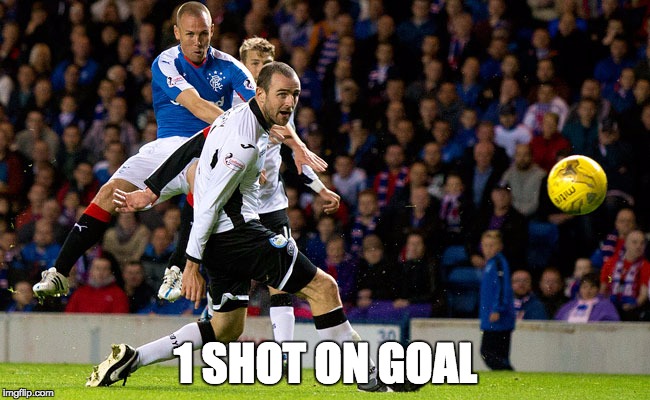 This is not meant to place the blame of the loss on Kenny Miller & while he showed signs of effectiveness early on, the fact that your main striker only generated one shot is worrisome.   Martyn Waghorn, playing out right, managed three shots & an Expected Goals of 0.45.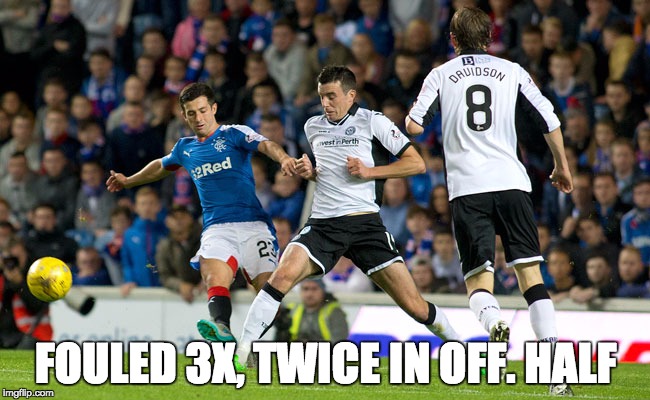 This number surprised me.  Jason Holt appeared to struggle in the match, managing one harmless shot & did little to penetrate the final third…but to his credit he did earn more fouls then any other player besides Dean Shiels, who also earned three fouls – albeit in far fewer minutes.
In seven league matches, Rangers have allowed 1.14 High Danger or Very High Danger Shots per match — against St. Johnstone they allowed four.  There's your bottom line.
You can follow Rangers Report on Twitter @TheGersReport