written by – Rangers Report
This aim of this Analytical Match Report is to enhance the analysis of Rangers performance by providing a variety of advanced stats from the game.  Explanations of these stats can be found in our tutorial for these reports. 
Expected Goals:  Rangers 2.8   Morton 1.3
Keep in mind that this does not include Martyn Waghorn's penalty, so the Expected Goals for Rangers was right on par with their actual output, while Morton's lack of goals is a testament to some fine goalkeeping from Wes Foderingham, who made four saves from High Danger Shots.
Shot Quality Breakdown:
Rangers returned to their form of a few weeks ago, with half of their 20 non-penalty shots coming from within the penalty area.  Part of this can be attributed to the fact that Morton did not appear to stray too far from their normal approach & didn't mimic the stout defensive tactics of St. Johnston & Dumbarton.  Only Rangers generates more shots in the Championship than Morton & they looked to attack when on the ball leading to ten shots against the visitors.  Coming into this match Rangers had only allowed eight High/Very High Danger shots all season long, Morton tallied six, as they were able to create chances in the heart of the penalty area.
While Morton did have their moments, this match was clearly dominated by Rangers who efficiently turned possession into quality scoring opportunities.
| | | | | |
| --- | --- | --- | --- | --- |
| | Shots | Shots on Target | Sh Acc | Sh% |
| Rangers | 21 | 11 | 0.523 | 0.363 |
| Morton | 10 | 4 | 0.400 | 0.000 |
Rangers Report Shot Chart: 
Morton kept the shot differentials relatively close throughout the match, but Rangers finishing was at a much higher level – hence the scoreline.  Again, Rangers finished the match with a flurry, outshooting Morton 9-0 in the final fifteen minutes.
Goalkeeper Distribution Ratio
| | |
| --- | --- |
| | GDR |
| Wes Foderingham, Rangers | 0.64 |
| Derek Gaston, Morton | 0.39 |
Wes Foderingham's lower than normal GDR comes from him going long on 24% of his distribution, which is much higher than normal.  Of those long balls, only 17% resulted in Rangers gaining possession in the attacking half.  When he went short, Rangers gained possession in Morton's half  79% of the time.  Derek Gaston went long 94% of the time, gaining possession in Rangers half 39% of the time, which is a much better success rate then normally occurs on long balls.
Individual Outliers: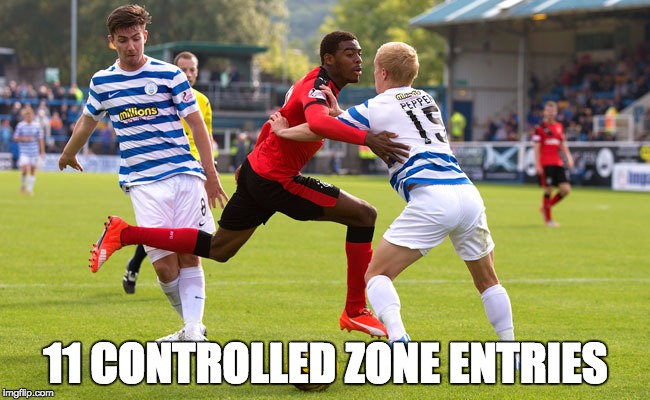 So much of Rangers attack came because of Nathan Oduwa's ability to bring the ball into the final third.  He had a team high eleven Controlled Zone Enteries, which resulted in a positve result for Rangers 91% of the time.  Of those 11 controlled entries into the final third, Rangers generated five shots, a corner & a free kick.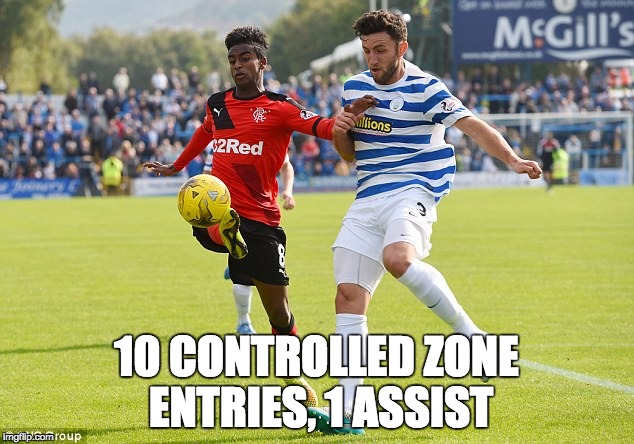 More & more the Rangers attack is going through the 18-year old American.  Gedion Zelalem was second on the team with ten Controlled Zone Entries, was fouled three times & had an assist.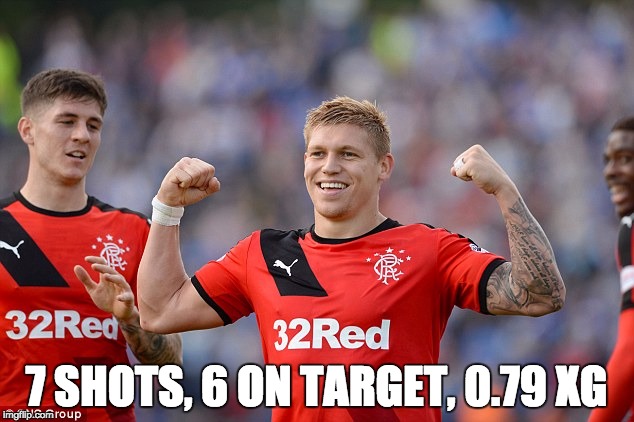 It was a Superman performance from Martyn Waghorn who had six shots in the run of play to go along with his penalty shot.  Of those six shots, 67% came from a High Danger area.
You can follow Rangers Report on Twitter @TheGersReport