written by – Rangers Report
This aim of this Analytical Match Report is to enhance the analysis of Rangers performance by providing a variety of advanced stats from the game.  Explanations of these stats can be found in our tutorial for these reports. 
Expected Goals:  Rangers 2.5   Falkirk 0.6
Yes, Falkirk played a close match throughout & held Rangers to a draw until the final few minutes – but ultimately the right team came out on top.  Credit to Rangers for playing a patient game against a disciplined defence by looking to get quality shots on goal.  Falkirk's goal was a wonderful strike, but besides that, they never were able to break down Rangers backline in the final third.  Much of the match felt 'sloppy' because of Falkirk's ability to clog up midfield but when Rangers did get into the final third, they were able to create quality scoring chances.
Shot Quality Breakdown:
For all of the consternation about Rangers play, the final stats prove that Rangers plan worked.  This team is all about breaking down the final third in an effort to create the best scoring chances possible.  Against Falkirk, 74% of Rangers shots came from within the penalty area.  What makes this even more impressive is that Falkirk are second only to Rangers at limiting the opposition's chances from High/Very High Danger areas.  Coming into the match the Bairns only allowed an average of three shots from those areas, on Saturday they allowed nine shots from the heart of the penalty box.  Also, the fact that 80% of Falkirk's shots came from outside the penalty box proves that the odds were very much in Rangers favor on Saturday.
Again, the numbers support the claim that Rangers were clearly the better team on Saturday.  Not only did they dominate the possession & shots on goal – that ability to get quality scoring chances & to limit Falkirk to hopeful shots led to a vastly superior Shots on Target Ratio.
Shooting Efficiency:
| | | | | |
| --- | --- | --- | --- | --- |
| | Shots | Shots on Target | Sh Acc | Sh% |
| Rangers | 19 | 11 | 0.579 | 0.273 |
| Falkirk | 10 | 3 | 0.300 | 0.333 |
Rangers Report Shot Chart:
In our match preview, I said that if Rangers could get to their average of 17 shots per game, that they would win the match with ease.  Falkirk is very good at limiting chances, particularly quality shots but are right at the league average for how many shots they allow per goal.  Rangers chipped away at Falkirk's backline & the scoreline makes it look like an 'easy' result.  This was not an easy victory for Rangers, but Mark Warburton's side dictated the terms of the match & the final result is indicative of that.
Goalkeeper Distribution Ratio:
| | |
| --- | --- |
| | GDR |
| Wes Foderingham, Rangers | 0.47 |
| Danny Rogers, Falkirk | 0.26 |
While the analytical review of this match has been contradictory to the accepted storyline from Saturday, the proof of Falkirk's approach frustrating Rangers' game plan is evident here in the Goalkeeper Distribution Ratio.  Everyone knows that Rangers want to play the ball out of the back, starting with the goalie & the Bairns' weren't scared to pressure the ball further up the pitch & then backing that up by clogging up the midfield.  This resulted in a season-low GDR for Wes Foderingham.  This is very much a team statistic & Foderingham's teammates struggled to take his short balls into Falkirk's half.  The Rangers #1 went short 81% of the time, but Rangers only carried the ball into Falkirk's half on 62% of those passes.  That number is still above average but not up to par of their usual rate of success.  Danny Rogers went long 90% of the time & after some early success, Falkirk struggled to turn those long balls into possession in Rangers half  (GDR of 0.25 on long balls).
Individual Outliers: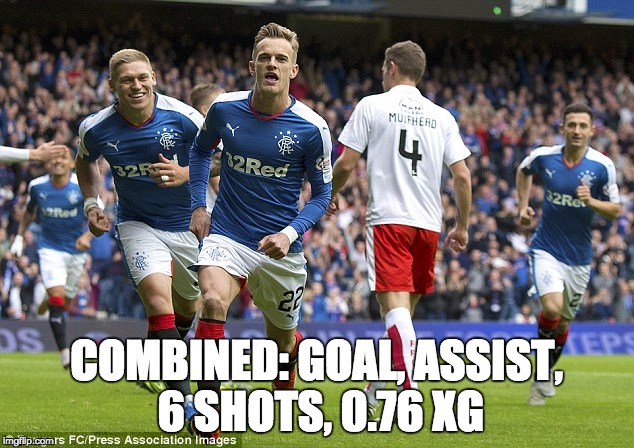 Dean Shiels & Martyn Waghorn beautifully linked up for the opening goal & eventually combined for 32% of Rangers shots & 30% of their Expected Goals.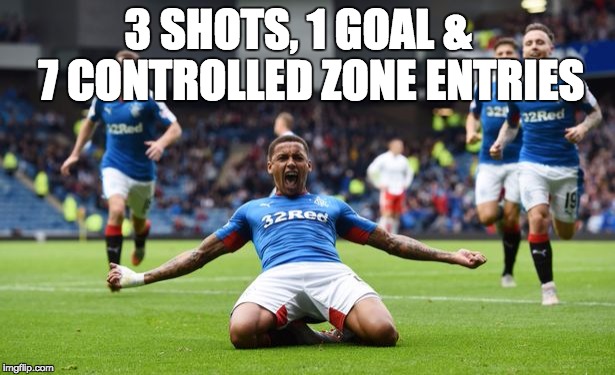 Not only did the right back have the go-ahead goal, he also drove Rangers play in the final third & eventually accounted for 25% of the teams Controlled Entries into the final third.
Jason Holt had been struggling a bit lately, but he played his best match in weeks.  His play was direct & effective, as he accounted for 14% of Rangers Controlled Entries into the final third & he was unlucky not to snag a second goal on his shot that forced the Bairn goalie into a fine save.
You can follow Rangers Report on Twitter @TheGersReport