written by – Rangers Report
This aim of this Analytical Match Report is to enhance the analysis of Rangers performance by providing a variety of advanced stats from the game.  Explanations of these stats can be found in our tutorial for these reports. 
Expected Goals:  Rangers 1.3   Livingston 0.4
Quality chances were hard to come by for Rangers on Tuesday night & the Expected Goals output highlights this.  However, it also supports the idea that if teams play so defensively against Rangers they really are going to be hard-pressed to get on the scoreboard.  Rangers were driven to breakdown a stacked defence in the final third & their opponents only tried to build up offensive play of their own after Nicky Clark scored.  While it may be frustrating, if games go like this going forward, then Rangers will usually get that first goal, which opens up play – which is when Rangers can add to their tally.  .
Shot Quality Breakdown:  
The quality of shots that Rangers were creating were not necessarily in the volume that they usually generate, but the stats support what the 'eyeball test' saw.  This was a team that was trying  to meticulously break down the defence in the final third.  Of their shots 69% came from within the penalty box.  It would have been easy to for Rangers to launch a plethora of shots from Low Danger areas given the amount of possession they had but they stayed patient.  Of course, Nicky Clark's shot came from outside the box & sometimes you need to be more willing to take the shots they are given to you & luckily Clark did.
Rangers approach also may have highlighted the need for a forward who is a more effective target for crosses.  Given how much Rangers possessed the ball in the final third, there were crosses to be had & Rangers best scoring chance actually came on a Nathan Oduwa cross to James Tavernier.  Martyn Waghorn has been among Rangers biggest assets this season, but he's not necessarily a dominant presence in the air.  If Rangers can find a forward, who fits Rangers style of play & is strong in the air, then you can help diversify Rangers attacking options.
Given Rangers continued dominance, teams are going to have to get really lucky to walk away with a result.  It is difficult to win when you don't have the ball & as a result it's really hard to win when you don't get shots on goal.  These facts will give Rangers the luxury of time to figure out how to more effectively breakdown defences.
Shooting Efficiency:
| | | | | |
| --- | --- | --- | --- | --- |
| | Shots | Shots on Target | Sh Acc | Sh% |
| Rangers | 14 | 5 | 0.357 | 0.200 |
| Livingston | 5 | 1 | 0.200 | 0.000 |
Rangers Report Shot Chart:
A sluggish first 45 minutes for Rangers was followed up by a more effective & persistent attack from the home side.  Some of this may come down to Martyn Waghorn shifting over to the right where he can get more involved in the match, rather than waiting for the match to come to him when he's in the striker role.  Either way, you see one team going for a win & another playing for a draw & hoping for penalties.  At this level, Rangers  talent & fitness levels will usually win out.
Goalkeeper Distribution Ratio:
| | |
| --- | --- |
| | GDR |
| Wes Foderingham | 0.55 |
| Marc McCallum | 0.28 |
This was the first time all season where frustration seemed to creep into Rangers steadfast desire to play the ball out of the back.  On a couple of occasions defenders didn't hide their displeasure for distribution that was coming a little too quickly from Foderingham.  In turn, the Rangers keeper ended up going long much more than he usually does & the results were predictable.  He went long 27% of the time (still a low rate, but much higher than normal for Foderingham) & Rangers only gained possession in Livi's half on 22% of those punts.  Conversely, when he did go short Rangers took the ball into the attacking half 71% of the time.  That's not their usual rate of success but it's still effective.  McCallum went long 97% of the time in an effort to create some relief for his defence but Livingston only gained possession in Rangers half 29% of the time.
Individual Outliers: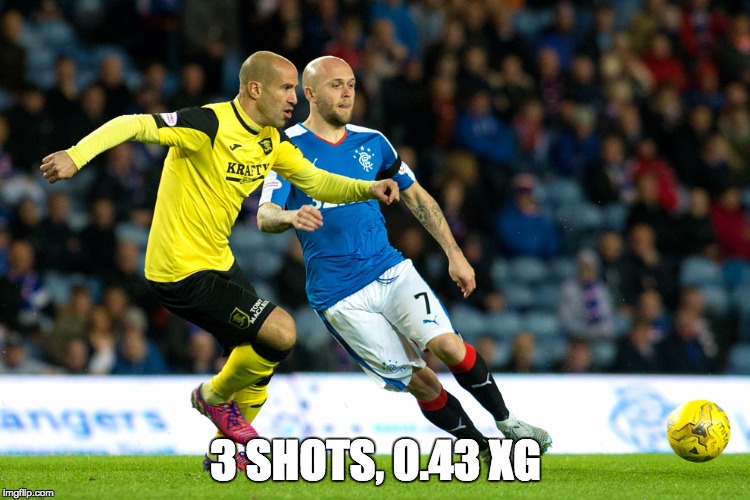 Nicky Law led the team in Expected Goals & also was second on the team on Controlled Entries into the final third.  It has been refreshing to see players like Law & Dean Shiels thrive under Mark Warburton after a couple of frustrating years under the previous regimes.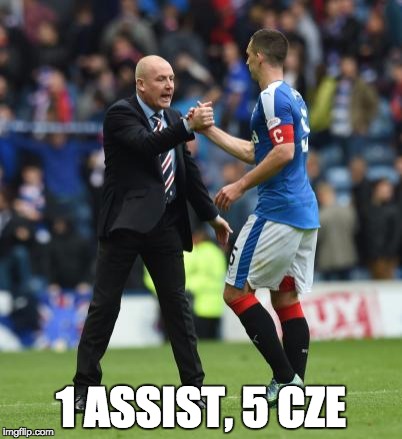 Lee Wallace had a strong match orchestrating play from the left flank.  Of his five Controlled Entries into the final third, all five resulted in a positive play for Rangers – including a shot & a corner earned.
With James Tavernier struggling to drive play into the final third on the right, Barrie McKay became the focal point for Rangers attack.  His nine Controlled Zone Entries represented 26% of the Controlled Entries into the final third.  Seven of those entries resulted in positive plays for Rangers, including three shots from teammates.
You can follow Rangers Report on Twitter @TheGersReport