written by – Rangers Report
This aim of this Analytical Match Report is to enhance the analysis of Rangers performance by providing a variety of advanced stats from the game.  Explanations of these stats can be found in our tutorial for these reports. 
Expected Goals: Rangers 2.0  St. Mirren 1.4
To be completely transparent, this number is skewed by Andy Halliday's half-chance from very close range.  He got his pinkie toe on the ball & his shot went astray.  If you subtract this chance, then the Expected Goals are basically even.  This was, without a doubt, Rangers most challenging match in the league so far.
Shot Quality Breakdown:
More evidence of how close this match was lies in the fact that both teams had six High Danger/Very High Danger shots.  Also, both teams manages to have 50% of their shots coming from within the penalty area.  St. Mirren didn't follow the overly defensive game-plans of Rangers most recent foes & actually decided to go give it a go by pressuring Rangers up the pitch & looking to create chances of their own besides on the counter.  It proved to be an effective approach by the Saints.
Again, the results are very close.  Where Rangers does still maintain the edge is in creating more threats on goal.  Rangers had the edge on shots on target, however this is where the 'eyeball test' should override the stats.  Many of the saves Jamie Langfield was forced to make were 'easy', while Wes Foderingham was forced to make some top quality saves.  Besides Jason Holt's goal, St. Mirren's did really test the keeper more then Rangers did.  A good deal of credit should go to the Rangers #1 for holding onto the three points today.
Shooting Efficiency:
| | | | | |
| --- | --- | --- | --- | --- |
| | Shots | Shots on Target | Sh Acc | Sh% |
| Rangers | 16 | 7 | 0.438 | 0.143 |
| St Mirren | 14 | 4 | 0.286 | 0.000 |
Rangers Report Shot Chart:
For the first time all season, Rangers were outshot for the majority of the match.  It wasn't until the last few minutes they cemented that advantage, largely because of the direct play of Fraser Aird.  It should be noted that St. Mirren's shots really do level out after the hour mark.  Once Dean Shiels & Nicky Clark entered the match, Rangers took 80% of the shots.
Goalkeeper Distribution Ratio:
| | |
| --- | --- |
| | GDR |
| Wes Foderingham | 0.47 |
| Jamie Langfield | 0.38 |
For the first time all season, a majority of Wes Foderingham's distribution did not lead to possession into the opponent's half.  St. Mirren pressured Rangers in their own half & Foderingham was less diligent with keeping his passes short.  He went long 47% of the time & that resulted in Rangers gaining possession in the Saints half only 33% of the time.  When he did go short, Rangers gained the attacking half only 57% of the time – which is significantly lower then their usual output.  Jamie Langfield went long 86% of the time & St. Mirren turned that into possession in Rangers half 36% of the time.  They gained possession in the attacking half 50% of the time on shorter distribution.
Individual Outliers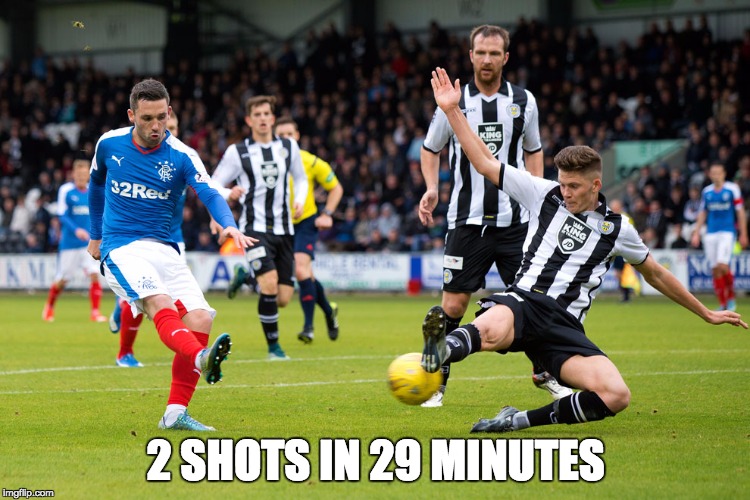 Rangers attack stagnated for long period in the match & were actually getting outshot (12-8) at the hour mark.  That's when Mark Warburton brought in Dean Shiels & Nicky Clark for Gedion Zelalem & Kenny Miller.  Rangers Total Shots Ratio went from 0.40 to 0.80 in the final half hour.  Rangers had 80% of the shots with Clark & Shiels on the pitch & Clark accounted for 25% of those shots.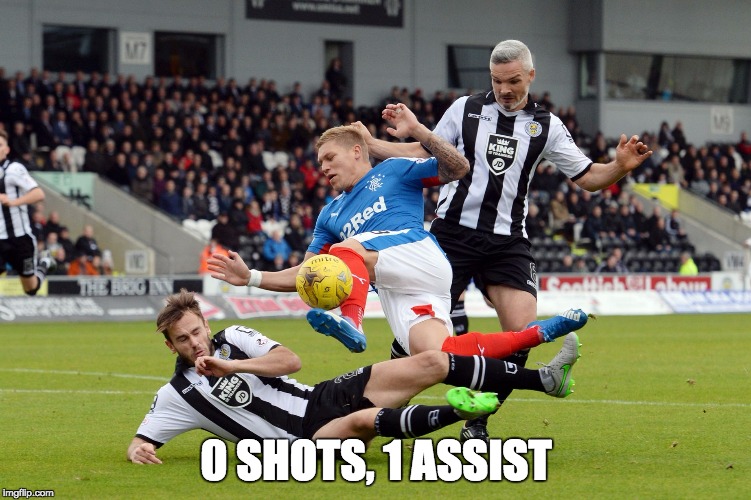 First, the positive – Martyn Waghorn's pass split open the St. Mirren defence on his assist to Jason Holt & it was that moment of vision that reminds you that Waghorn is the most complete forward Rangers have had in years.  However, beyond that second of brilliant play – Waghorn was eerily quiet in this match.  Waghorn leads the Championship in shots & has 13 more then the next best player – so when he gets shutout, it is evident that the opponent's made it a real objective to minimize Waghorn's impact on the match.  St. Mirren deserves some real kudos for containing the most dangerous forward in the league this season.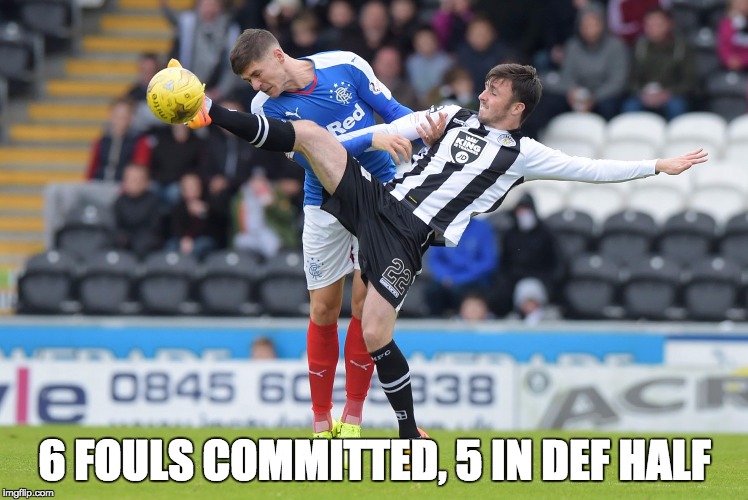 While Rangers defence deserves credit for the shutout, much of that comes down to Wes Foderingham's stellar play.  Rob Kiernan, in particular, seemed to struggle in his containment of St. Mirren's attackers.  Kiernan committed a team high six fouls, five of which came in his own half.
You can follow Rangers Report on Twitter @TheGersReport