written by – Rangers Report
| | | |
| --- | --- | --- |
| | Rangers | Hibs |
| Expected Goals per game | 2.05 | 1.65 |
| Expected Goals against per game | 0.61 | 0.73 |
| Total Shots Ratio | 0.72 | 0.64 |
| Shots on Target Ratio | 0.77 | 0.67 |
| Shots per game | 17.82 | 12.82 |
| Shots against per game | 7.00 | 7.18 |
| Shots per goal | 5.76 | 7.42 |
| Shots allowed per goal | 12.83 | 11.29 |
| Shooting Percentage | 0.37 | 0.33 |
| Shooting Accuracy | 0.46 | 0.40 |
| Save Percentage | 0.78 | 0.75 |
| Expected Points | 30.34 | 26.93 |
| Actual Points | 33 | 25 |
Sunday's match features a showdown between the two best teams in the league.  In nearly every fancy stat, Rangers & Hibs lead the way & usually there's significant separation between them & the rest of the pack.  Probably the most fascinating aspect of this match up will be to watch the best offensive team in the league take on the best defensive unit.  Even though Rangers have allowed one fewer goal than Hibs, I recently made the argument that Hibs actually has the best defence in the Championship.  One example of this can be shown in the shot suppression of the two teams.  There is a minuscule difference in the shots allowed by both teams but a big part of Rangers success is that they possess the ball 65% of the time, while Hibs possesses the ball 56% of the time.  When the other team actually has the ball, Hibs does a better job of limiting shots.  If Hibs can keep up with Rangers on Sunday & bring Rangers possession numbers down, this could be a real stalemate.  Also, it will be interesting to see how Alan Stubbs lines up Hibs on Sunday.  He has some real dangerous options in the squad but will Stubbs be hesitant to go with an attacking alignment against the high powered Rangers team that we all know will not hesitate to be on the attack?
Hibs Players to Watch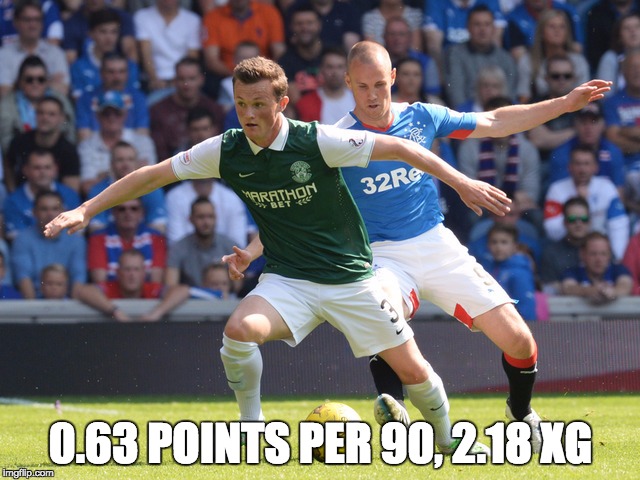 Liam Henderson –  the 19-year old midfielder on loan from Celtic has been one of the most productive players in the Championship this season.  He has three goals & two assists in ten matches.  He averages 2.15 shots per 90 minutes, but his accuracy has let him down for the most part.  Only 24% of his shots have been on target, however 75% of those shots on target have been goals, so he is a very dangerous player that could be a real difference maker on Sunday.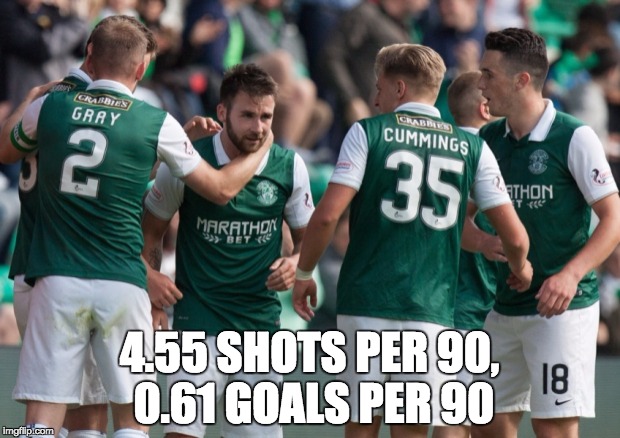 James Keatings:  his scintillating form has made it more & more difficult for Alan Stubbs to ignore.  In five matches he has two goals & averages 0.40 Expected Goals per 90.  In only 297 minutes, he has 15 shots which ranks fourth on the team behind players who have 500+ more minutes played.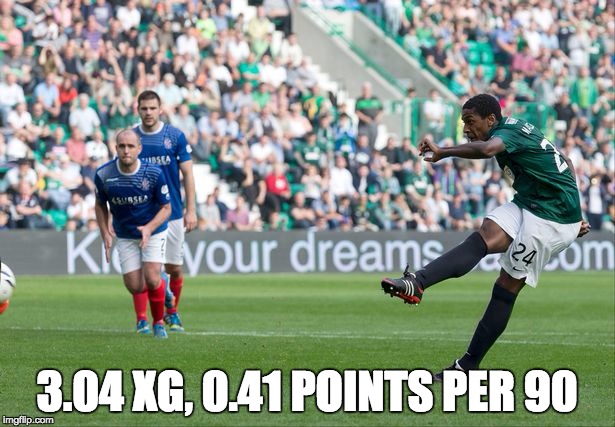 Dominique Malonga – Stubbs left Malonga out of the starting eleven in the last match-up with Rangers & you wonder if there is any space in Hibs frontline for him again on Sunday.  Malonga has only started seven out of eleven games this season, but when he's on the pitch he makes a real difference.  He averages 2.61 shots per 90 & 58% of his shots are on target.  He also has the highest Expected Goals per 90 minutes on the team (0.42).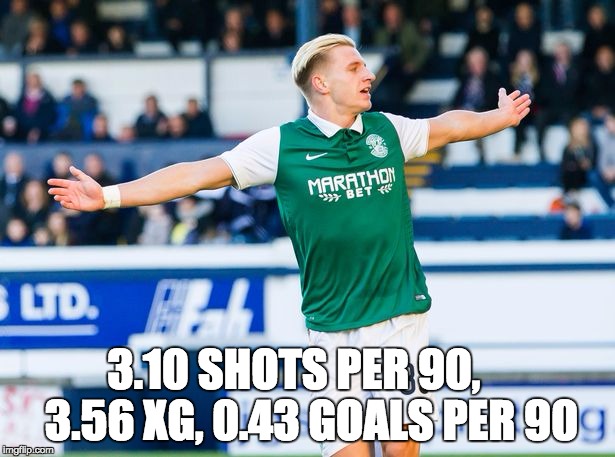 Jason Cummings –  he may not be a favorite with Rangers fans but it is difficult to overlook the quality he brings to the Hibs' attack.  He has four non-penalty goals (along with two penalties) on the season & has been on target with 52% of his shots.  Of those shots on target, he has scored on 40% of them.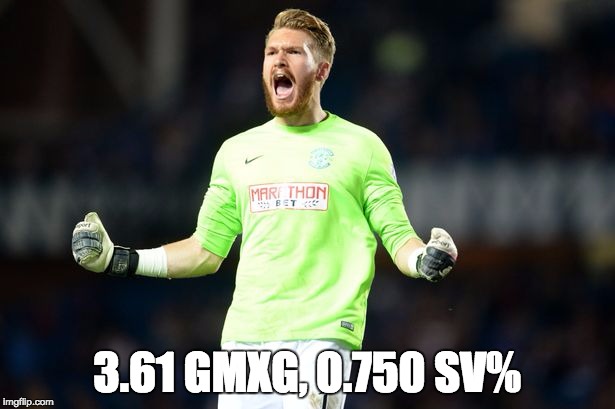 Mark Oxley – his Expected Goals Against is 3.39 & he has allowed seven shots to get past him.  After being among the leaders for most of the season, he has dropped down into the middle of the pack in recent weeks.  Hibs have done an excellent job at suppressing shots this season, but Oxley has seen his play dip a bit lately.
You can follow Rangers Report on Twitter @TheGersReport