written by – Rangers Report
This aim of this Analytical Match Report is to enhance the analysis of Rangers performance by providing a variety of advanced stats from the game.  Explanations of these stats can be found in our tutorial for these reports. 
Expected Goals:  Hibs 0.9  Rangers 0.9
The objective view supports the subjective view that this was a very evenly played game by two very good teams (for this level).  Rangers got a bit of luck on the own goal, Hibs got a bit of luck when Wes Foderingham & Dominic Ball collided on the winner, & the difference between the two sides was a top class finish by Jason Cummings.
Shot Quality Breakdown:
Hibs did a fantastic job of keeping Rangers shots to the perimeter, with only a single shot being generated from the heart of Hibs penalty area.  However, Rangers do deserve credit for creating a majority of their shots from within the penalty area (55%).  Given that Hibs have the best Shot Prevention Rating in the league & only allow 7.18 shots per game, Rangers eleven shots is a respectable number.  Offensively, Hibs effectively put pressure on the Rangers defence managing eleven shots of their own.
Rangers were a few inches away from a very different Shots on Target ratio and, quite frankly, a different scoreline.  Lee Wallace & Nathan Oduwa both sent balls clanking off the post.  If either of those had lady luck pushing them inward, Rangers could have walked away with a victory.  However, given Rangers significant edge in possession, you'd have to say that Hibs did more, with less.
Shooting Efficiency:
| | | | | |
| --- | --- | --- | --- | --- |
| | Shots | Shots on Target | Sh Acc | Sh% |
| Rangers | 11 | 2 | 0.181 | 0.000 |
| Hibs | 11 | 5 | 0.455 | 0.400 |
Rangers finishing clearly was not up-to-par.  Some credit should definitely go to Mark Oxley for that a couple of fantastic saves that wiped out Rangers best chances.
Rangers Report Shot Chart:
As you can see, the shots totals were evenly split for much of the match, with Rangers only enjoying an advantage for a stretch in the second half, while Hibs enjoyed a slight advantage for most of the first half.  Often Rangers substitutions at the hour mark trigger a major shift in the Total Shots Ratio but you didn't see the same results on Sunday.
Goalkeeper Distribution Ratio:
| | |
| --- | --- |
| | GDR |
| Wes Foderingham | 0.48 |
| Mark Oxley | 0.45 |
For the second straight match, Wes Foderingham's GDR was below 50%.  Against Hibs, Foderingham went short with his passes 69% of the time & that created possession in Hibs' half 65% of the time.  On his long balls, Rangers established possession the offensive half only 11% of the time.  Mark Oxley went short 35% of the time (which is actually quite high for a Rangers opponent) & Hibs gained possession in Rangers half 71% of the time.  Hibs established possession in Rangers half on 31% of Oxley's long balls.
Individual Outliers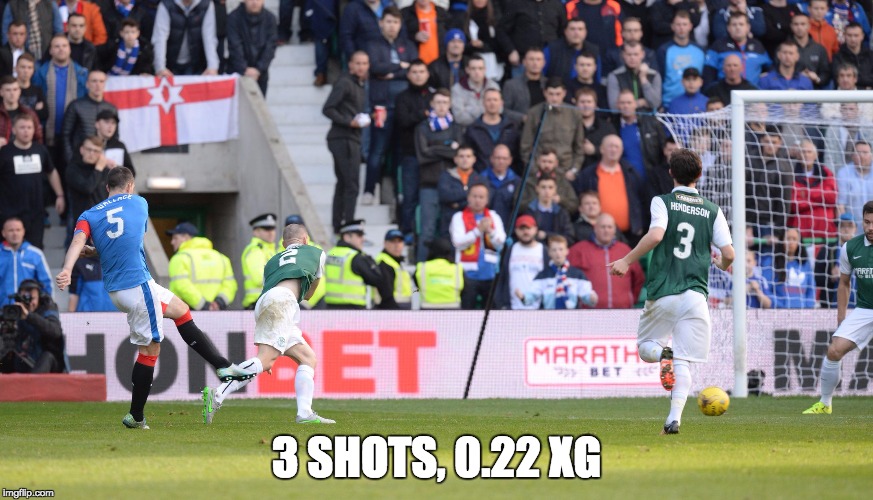 Obviously it was Lee Wallace's shot that led to the own goal off of Darren McGregor, but the bigger story here is that 55% of Rangers shots came from the Rangers full backs.  Of the team's Expected Goals, 49% came from Wallace & James Tavernier.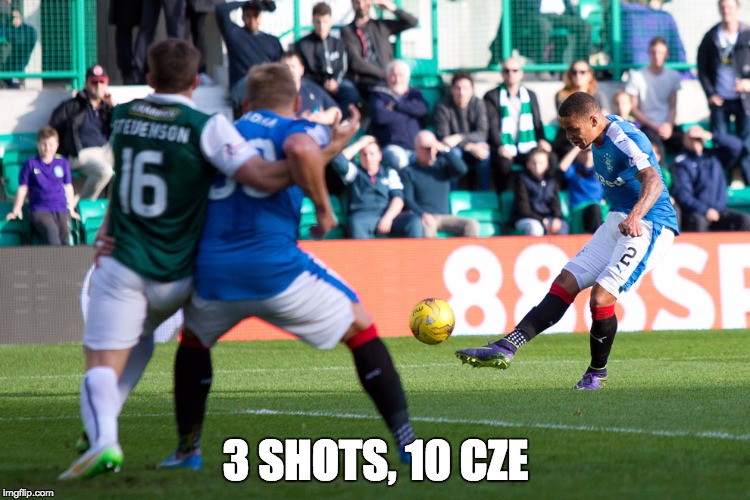 Tavernier tied for the lead in shots & led the way on Rangers with ten Controlled Zone Entries.  Of Rangers total shots, 27% were generated by Tavernier's entries into the final third.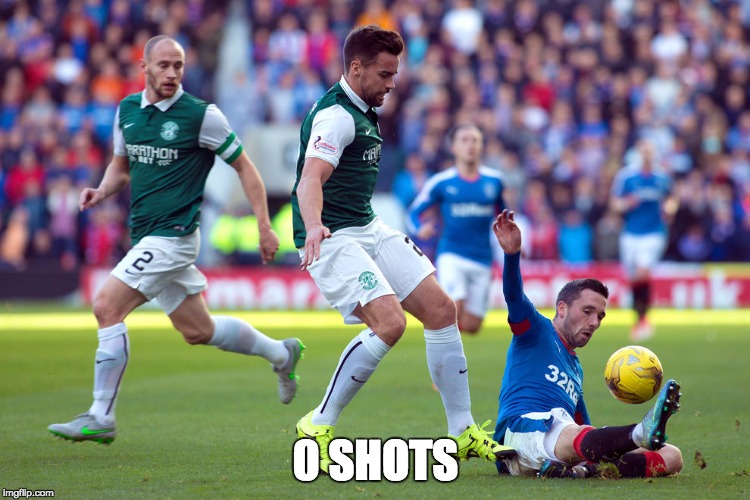 It's never a good sign when one of your forwards ends up with zero shots.  The stats suggest that Nicky Clark had little impact on the match in his first start of the season.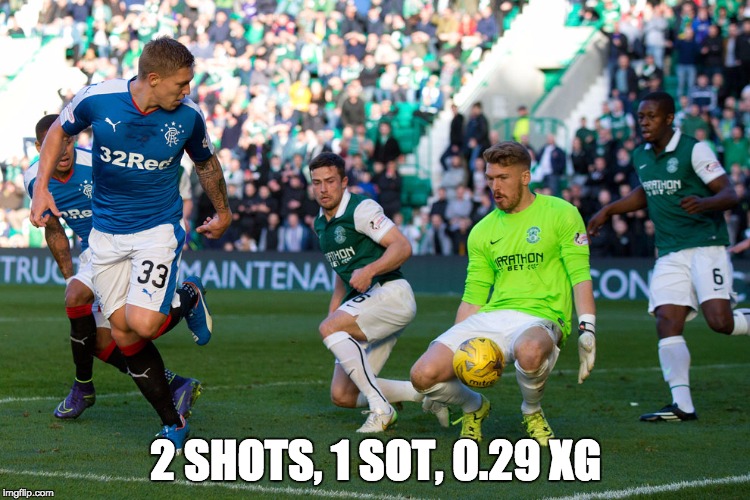 It was a quiet match for Martyn Waghorn, but he did have a couple of chances to break open the match.  He forced Mark Oxley into a fine save & then misfired a James Tavernier cross from the heart of the Hibs' penalty area.  Those two shots made up 32% of Rangers Expected Goals.
You can follow Rangers Report on Twitter @TheGersReport