Nathan Oduwa
written by – Rangers Report
| | | |
| --- | --- | --- |
| | Rangers | Alloa |
| Expected Goals per game | 1.95 | 0.68 |
| Expected Goals against per game | 0.63 | 1.66 |
| Total Shots Ratio | 0.70 | 0.29 |
| Shots on Target Ratio | 0.74 | 0.33 |
| Shots per game | 17.25 | 5.92 |
| Shots against per game | 7.33 | 14.75 |
| Shots per goal | 5.91 | 10.14 |
| Shots allowed per goal | 11.00 | 7.38 |
| Shooting Percentage | 0.38 | 0.23 |
| Shooting Accuracy | 0.45 | 0.44 |
| Save Percentage | 0.75 | 0.63 |
| Expected Points | 32.46 | 8.37 |
| Actual Points | 33 | 5 |
All of the numbers suggest that a match against Alloa Athletic should be the ideal remedy following last weekend's loss to Hibs.  Alloa is the worst team in the league when it comes to shot suppression & while they are likely to deploy very defensive tactics, there should be little reason to worry about Alloa walking out of Ibrox with any points.  The fact that Alloa need to generate a high number of shots in order to score & only average 5.92 shots per game is an indicator that the odds are stacked against them.  Rangers outshot Alloa 18-3 last time out in a 5-1 victory that was largely overlooked because of an ill-timed display of skill.
Given the significant difference in Elo Ratings between this two, it is difficult to really see the trends for both teams.  Rangers have been steadily increasing with each & every victory, but did fall behind Hibs again after Sunday's loss.  Alloa Athletic saw a major talent drain with the departure of some key players this summer & their form has been dismal all season long.  Based on the Elo Ratings, they are the coldest teamin the Championship over the past four weeks & only St. Mirren has lost more Elo Rating points since the beginning of the season.
Alloa Athletic Players to Watch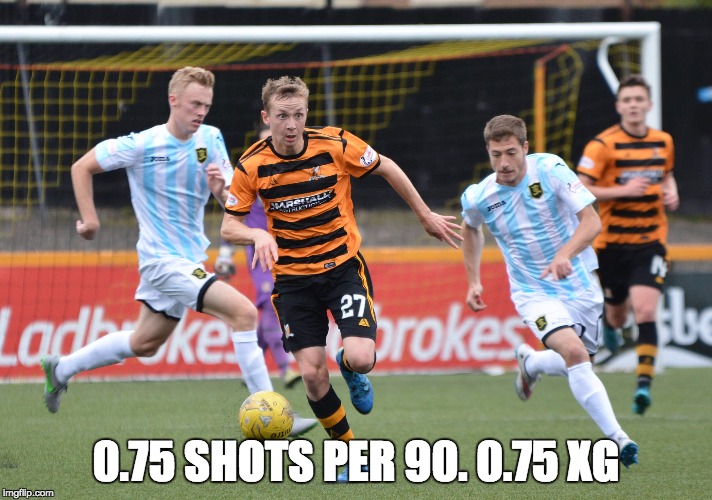 Of course we won't see Robbie Crawford on Saturday since he is  on loan from Rangers – but how's he doing?  He has featured in eight matches & despite his low shot totals, only three other Alloa players have a higher Expected Goals total…so there's that.
The 31-year old Michael Chopra may be  Alloa's biggest offensive threat given that he has a goal and an assist this season.  Those two points are tied for the team lead with another veteran, Graeme Holmes.  Chopra, who played in India last season, has ten shots in eleven matches & has a team high 1.53 Expected Goals total.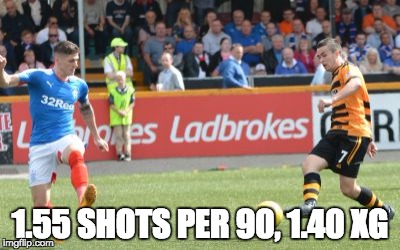 Michael Duffy, a Northern Ireland U21 winger on loan from Celtic, leads Alloa with 13 shots but has yet to score…so he's due?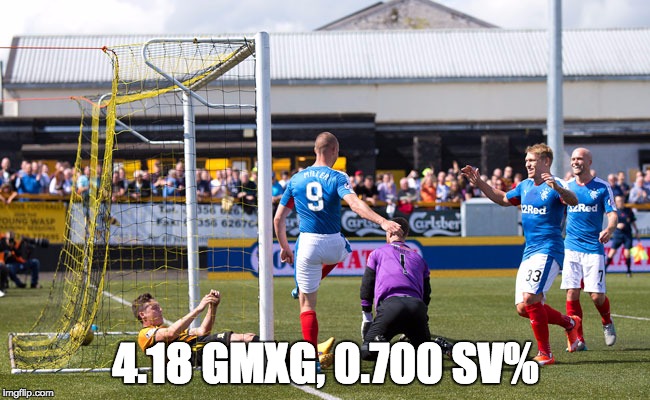 Goalkeeper Andy McNeil took over for a struggling David Crawford & has been slightly better in goal for Alloa.  McNeil has given up nine goals (not including own goals &/or penalties) in 450 minutes & his Expected Goals Against is 4.82.  That 4.18 Goals Minus Expected Goals stat puts McNeil in the middle of the pack, albeit in limited minutes.
You can follow Rangers Report on Twitter @TheGersReport