courtesy of RFC
written by – Rangers Report
This aim of this Analytical Match Report is to enhance the analysis of Rangers performance by providing a variety of advanced stats from the game.  Explanations of these stats can be found in our tutorial for these reports. 
Expected Goals:  Rangers 3.6  Alloa Athletic 0.3
All of the indicators point towards relegation for Alloa & this match represented the extreme polar opposites of these two clubs.  Rangers went into half-time with a three goal lead & a 2.1 to 0.3 lead in Expected Goals.  Credit to Rangers for being relentless in their search for a fourth goal as they completely dominated throughout the 90 minutes.
Shot Quality Breakdown:
Clinical domination was the pervading theme of this game.  Of Rangers' 25 shots, 52% came from within the penalty area & 44% came from High/Very Danger areas.
Alloa never had a chance as Rangers turned 70% of the possession into 93% of the shots, 100% of the shots on target, & 92% of the Expected Goals.  This will serve as a satisfying boost for Rangers going into their week off.
Shooting Efficiency:
| | | | | |
| --- | --- | --- | --- | --- |
| | Shots | Shots on Target | Sh Acc | Sh% |
| Rangers | 25 | 11 | 0.440 | 0.363 |
| Alloa | 2 | 0 | 0.000 | —- |
Rangers Report Shot Chart:
Rangers hit a bit of a lull to open the second half, but Edward Ferns' dismissal in the 79th minute opened the flood gates as Rangers seemed possessed to get a fourth goal to send the fans home happy.  Nicky Clark's goal capped five shots that came in the final six minutes of the game.
Goalkeeper Distribution Ratio:
| | |
| --- | --- |
| | GDR |
| Wes Foderingham | 1.00 |
| Andy McNeil | 0.11 |
Each & every one of Wes Foderingham's passes went short & each distribution led to possession in Alloa's half.  Andy McNeil went long 84% of the time & Alloa only gained possession in the attack half on 10% of those long balls.  McNeil did try to go short 16% of the time but Alloa was outmatched in this one & only 17% of those short balls led to possession in Rangers half.
Individual Outliers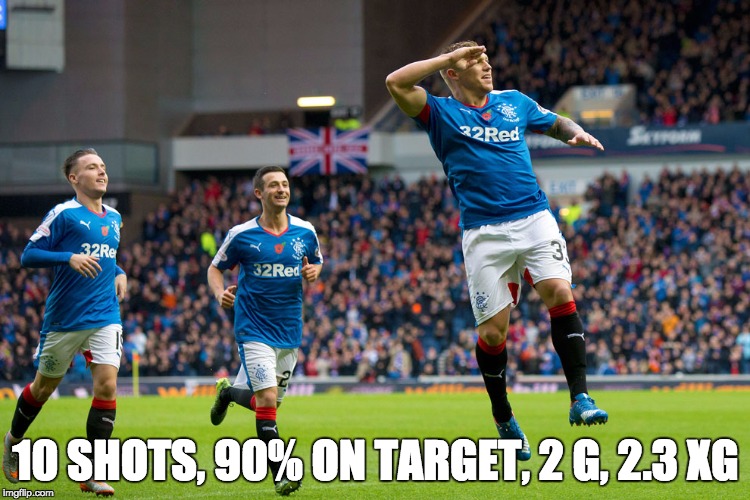 Hands down, the most dominant performance by any forward in the Scottish Championship this season.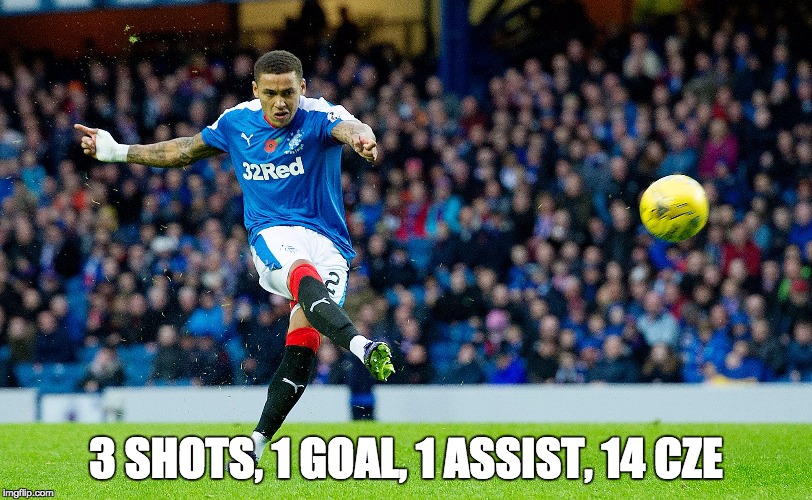 Alloa had no answer to James Tavernier in this one as he piled up two points & had 14 Controlled Entries into the final third.  Rangers got three shots as a result of those CZE from the right back.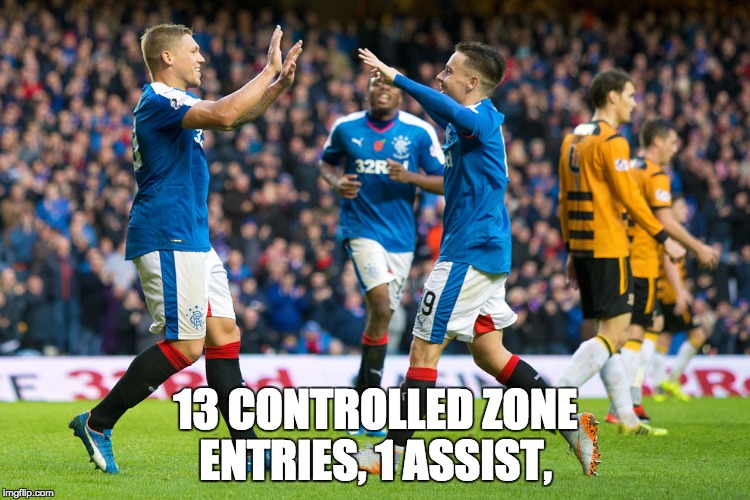 Barrie McKay bounced back from a quiet outing last week, with a brilliant performance against the Wasps.  His 13 CZE balanced out the attack with Tavernier driving possession into the final third out on the right side.
Andy Halliday & Gedion Zelalem combined for 14 Controlled Entries into the final third as Rangers effectively diversified their efforts to break down the Wasps in the final third.
You can follow Rangers Report on Twitter @TheGersReport