written by – Rangers Report
This aim of this Analytical Match Report is to enhance the analysis of Rangers performance by providing a variety of advanced stats from the game.  Explanations of these stats can be found in our tutorial for these reports. 
Expected Goals:  Rangers 1.7   Dumbarton 0.1
This was clearly a one-sided affair.  While Rangers were far from clinical in the first half, they maintained possession throughout the opening 45 & simply looked like a young team that was sticking to its stated objective.  It wasn't superb, but the team just seemed to be going through the disciplined motions & lacked some assertiveness.  Dumbarton set up camp in the penalty box but Rangers never seemed to get flustered.  Then obviously Jason Holt's goal loosened things up & Rangers played with a little more confidence & eventually took advantage of a couple of counter plays to roll up the score.
Shot Quality Breakdown:
Dumarton didn't have a shot for the final 58 minutes of the match.  That kind of sums up this one.  Rangers did seem to rush some shooting opportunities at times, resulting in 58% of their shots coming from outside the penalty area. This often resulted in applause from the crowd who want more urgency from the attack but sometimes urgency doesn't always translate to stacking the odds in your favor.  Martyn Waghorn's goal was a moment of brilliance but of the 11 Low Danger shots – that was the only one on target.  Of the shots inside the penalty area, 50% were on target & two were goals.
Shooting Efficiency
| | | | | |
| --- | --- | --- | --- | --- |
| | Shots | Shots On Target | Sh Acc | Sh% |
| Rangers | 20 | 6 | 0.300 | 0.667 |
| Dumbarton | 2 | 1 | 0.500 | 0.000 |
Rangers Report Shot Chart:
That's just ridiculous – it was just a matter of time before Dumbarton broke.
Goalkeeper Distribution Rating
| | |
| --- | --- |
| | GDR |
| Wes Foderingham | 0.82 |
| Mark Brown | 0.12 |
Wes Foderingham didn't see much of the ball, but when he did he went short 94% of the time & Rangers earned possession in Dumbarton's half 88% of the time.  Mark Brown went long each & every time as his struggles became an ongoing point of entertainment for the Rangers supporters.
Individual Outliers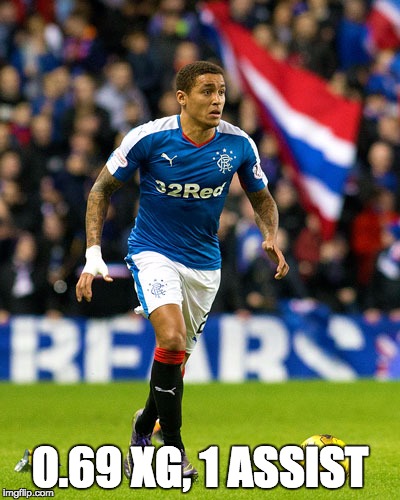 James Tavernier had an inconsistent match.  He had several turnovers out on the right flank but the now legendary half-time lashing from the gaffer seemed to spur on Tavernier in particular as he was much more assertive in the second half.  He eventually ended up with five shots & an assist.  Dumbarton seemed to concentrate much of its defensive efforts in closing down the right back as he had multiple cross attempts & shots blocked.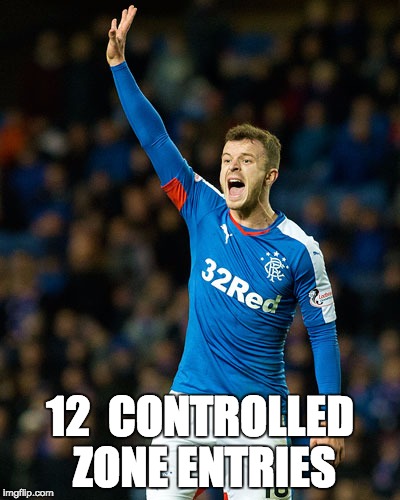 Andy Halliday will remember his penalty kick for a lifetime, management may end up appreciating his assertive play triggering attacks into the final third even more.  Halliday led the team in controlled entries into the final third & those CZE led to a goal & four shots.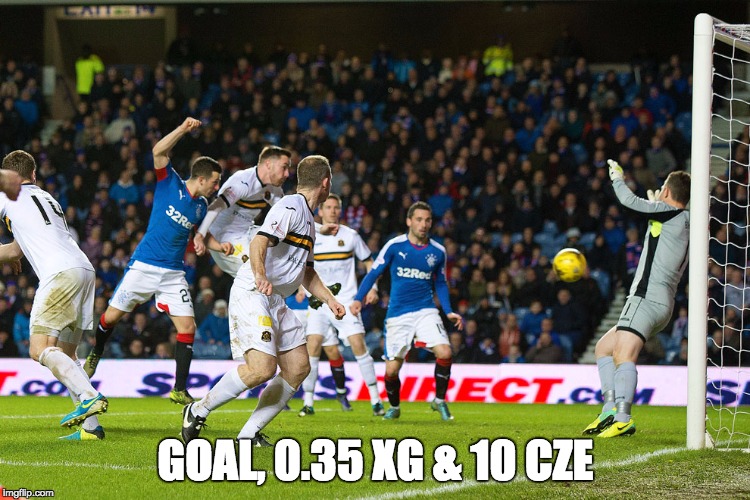 The number that really sticks out is the fact that by grabbing the opening goal, Jason Holt has now scored the first goal in four games for Rangers – which not only leads the team, it is only one behind league leader Jason Cummings.  Besides the goal, his ten controlled entries into the final third led to a goal & two shots.
You can follow Rangers Report on Twitter @TheGersReport