written by – Rangers Report
This aim of this Analytical Match Report is to enhance the analysis of Rangers performance by providing a variety of advanced stats from the game.  Explanations of these stats can be found in our tutorial for these reports. 
Note:  A bit of an overreaction to Andy Halliday's shot in the 89th minute caused me to lose the tracking data for Controlled Zone Entries & goalkeeper distribution – so this report will unfortunately be incomplete.
Expected Goals:  Rangers 1.7   Falkirk 0.5
This was a match with so many flashpoint events – two penalties, a controversial offsides, two quality finishes for goals & top class saves from both keepers.  The volume of Rangers shots tilted the Expected Goals in their favor – but in the big picture it wasn't good enough.  In  the critical moments of the match – Falkirk had the edge.  Whether it be Will Vaulk's strike, Peter Grant's block, or Danny Rogers huge saves in the final minutes – the home side had the decisive edge when it mattered most.
Shot Quality Breakdown:
Rangers had 16 shots in the run of play compared to Falkirk's four.  Of Rangers shots, 44% came from the heart of the penalty area.  As the match unfolded, they did much better job of generating shots from a dangerous area.  Of those High Danger shots 43% were on target & 33% of the shots on target beat the keeper.  Obviously, Falkirk went all-in on relying on the counter attack against Rangers which is reflected in the low shot totals.
Again, the numbers are stacked in Rangers favor.  They had multiple opportunities to walk away with a positive result but Falkirk was simply better in those isolated, critical moments.  This has been Falkirk's tendency all season long as they have the league's highest PDO – which suggests that  they are outperforming their objective indicators.  They're a hot team right now & they hope that will last the rest of the season – but at some point their league high shooting percentage will regress & their form will dip.  It may happen in a month, or six months, but at some point that hot hand will run out.  If Falkirk accepts that fate & are proactive in the January transfer window they may be able to counter the inevitable dip in efficiency.  For now, they should enjoy the moment & consider preparations for when the bubble bursts.
Shooting Efficiency
| | | | | | | |
| --- | --- | --- | --- | --- | --- | --- |
| | Shots | Shots on Target | Shots Blocked | Sh Acc | Sh% | Fenwick Adjusted Sh Acc |
| Rangers | 17 | 7 | 4 | 0.412 | 0.143 | 0.538 |
| Falkirk | 5 | 4 | 0 | 0.800 | 0.500 | 0.800 |
We recently discussed Fenwick stats on the site, which calculates a team's shots while removing blocked shots from the totals.  Falkirk blocked four of Rangers 17 shots – so 13 of their shots made it through the defence on goal.  So while 41% of all the shots Rangers took were on target, when you adjust that number to only include unblocked shots you see that 54% of Rangers shots were on target.  Unfortunately, Rangers really struggled to beat Danny Rogers – who played a marvelous match.  If you subtract John Baird's penalty from these totals – the Bairns ended up with four shots in the run of play & three of those were on target.  Those three shots on target were good chances with Wes Foderingham being called upon to make two high quality saves & obviously the other shot on target was Vaulks' tally.  Rangers were in scramble mode off of the corner kick & the midfielder was able to get his second goal this season against Rangers.
Rangers Report Shot Chart:
This is where it is imperative to factor in the game states when applying analytics.  Game states basically refers to the score of the game & how that score affects how teams play.  When Will Vaulks gave Falkirk the lead in the 55th minute it was only their third shot of the match.  Rangers went into brief state of shock as the Bairns added two more shots in following six minutes…then nothing.  They had a lead & they were going to put everything into protecting that lead, which led to Rangers getting more time on the ball & eventually more shots.  But when Falkirk got their final shot in the 62nd minute, Rangers had actually only taken two more shots then them.  Rangers had only seven shots in the first hour of play & ten in the last 30 minutes.  This was a very close match until Falkirk broke it open on the scoreboard & after that it was steadfast guile that saw them through to victory — that & a missed penalty.
Individual Outliers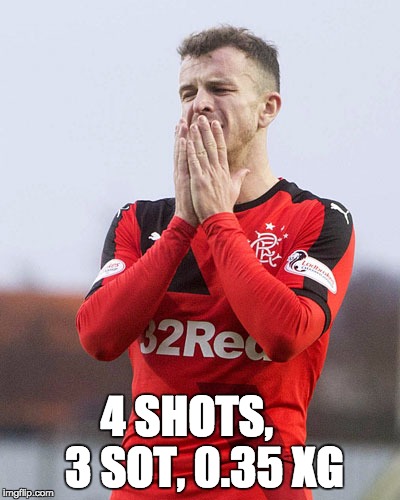 Andy Halliday ended up being one of Rangers most effective offensive threats.  Of the four shots on target that Rangers had from outside the penalty area, Halliday had two of them.  His shots accounted for 21% of Rangers Expected Goals on the day.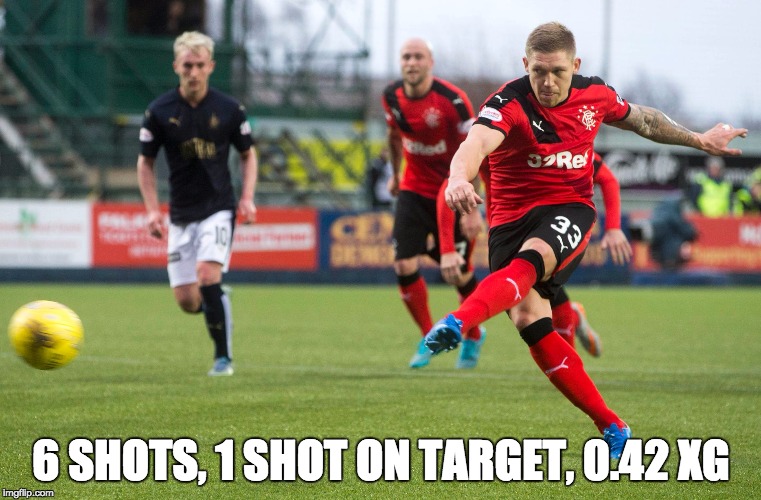 Martyn Waghorn led the team in shots, but clearly didn't lead the team in accuracy.  Of his shots, 17% were on target but if you factor in the two shots he had blocked it is less damning.  His Fenwick Adjusted Shooting Accuracy was .250, still not good but nearly as bad as it 0.167.  Obviously the missed penalty was the moment that will define this match for Waghorn, as it should.  During the run of play his 0.42 Expected Goals indicate that he created some decent chances but the finishing & a great defensive play by Peter Grant made it all for nought.
You can follow Rangers Report on Twitter @TheGersReport