written by – Rangers Report
This aim of this Analytical Match Report is to enhance the analysis of Rangers performance by providing a variety of advanced stats from the game.  Explanations of these stats can be found in our tutorial for these reports. 
Expected Goals:   Rangers 2.0  Hibs 1.1
Given all of the flak Mark Warburton has received for his determination to do Plan A better, it may be time for opponents to figure out what their Plan B will be when facing Rangers.  Because what you saw on Monday night was Rangers doing Plan A better & a Hibs side that didn't appear to have an answer.  Rangers were assertive & opportunistic, which resulted in the home side nearly doubling up the Expected Goals totals against their biggest competition for a league title.   While it was a dominant performance, it wasn't perfect as a scrambling defence left Jason Cummings wide open for the initial tally & then indecisive play from Wes Foderingham led to Hibs' second goal.  However, outside those two miscues, Hibs never really threatened to keep up in the match.
Shot Quality Breakdown:
Rangers shot selection led to a 50/50 split between shots coming from outside the penalty area & those coming from within the box.  Of Rangers shots that came from a Low Danger area, only one was on target.  Of the seven shots that came from inside the box, 43% were on target & 100% of those shots on target beat Mark Oxley for a goal.  It is interesting to note that all five of Hibs' shots came from inside the box.  Part of this is a byproduct of relying on the counter but credit should also go to Rangers for limiting how much time Hibs spent in the final third.  Hibs averages 13.4 shots a game & were limited to just five on Monday.  Even more impressive is the fact that only Hibs only had two shots prior to Andy Halliday's red card.
Andy Halliday's red card in 70th minute skews some of this data.  For example, Rangers had a Total Shots Ratio of 0.85 leading up to the dismissal.  Of all the shots in the match up to that point, Hibs had only taken 15% of them.  This from a team who is second to only Rangers in nearly every advanced stat – from TSR to Expected Goals.  These two teams are the class of the league & Rangers was the superior side on Monday night.  If Rangers could have been more accurate with their longer shots on goal, you would have seen the Shots on Target Ratio more in their favor as well.  But then again, if a team gets 64% of the shots on target on a weekly basis, they will win more often then not.  For example, no team in the Championship (besides Hibs & Rangers) has a Shots on Target Ratio higher then 56% & Falkirk (55%) is the only other team above 50%.
Shooting Efficiency
| | | | | |
| --- | --- | --- | --- | --- |
| | Shots | Shots on Target | Sh Acc | Sh% |
| Rangers | 14 | 5 | 0.357 | 0.800 |
| Hibs | 5 | 3 | 0.600 | 0.667 |
Rangers Report Shot Chart:
Hibs went 52 minutes between their second & third shots.  Again, did they have a Plan B for this match?  As mentioned before, Rangers had taken 85% of the shots prior to Halliday's red card – but even then Hibs only managed three shots in twenty minutes despite having the man advantage.
Special note:  normally Goalkeeper Distribution Ratio is tracked for these reports.  However, I decided to track Zone Exits instead for the first time.  As readers of the blog know, Controlled Zone Entries into the final third are tracked for each game & for this match I decided to also track who was getting the ball out of the defensive third & how they were doing it.  Given that Rangers have been victimized on the counter attack on multiple occasions this season, the need to analyze the team's defensive plan was glaring.  Look for a post on the Zone Exits in the next day or two.
Individual Outliers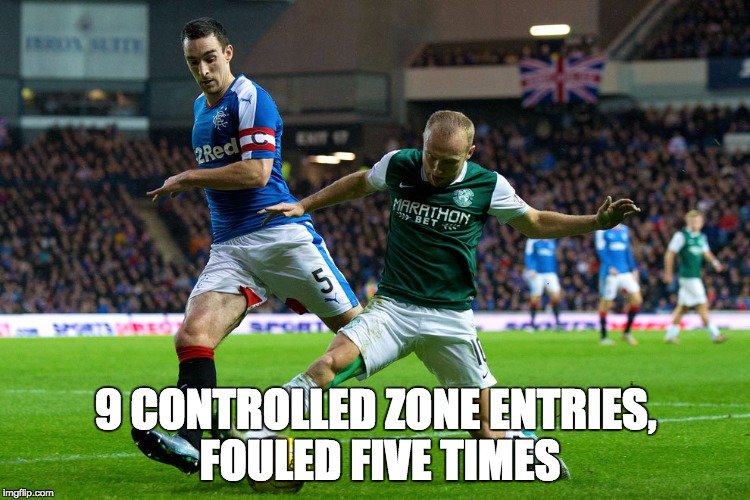 Lee Wallace proved to be a real handful for the Hibernian defence, as he led the team with nine Controlled Entries into the final third, usually syncing up with Barrie McKay to spark the attack from the left flank.  Rangers managed a shot on 22% of those entries into the final third.  Also, of the five times Wallace was fouled, 66% came while he was in the offensive half of the pitch.
Jason Holt did what Jason Holt does.  He managed to find space in the heart of the penalty area & then use that opening to get a quality shot on target…twice!  Not bad for £65,000.
Martyn Waghorn set up the Holt's opener & battered in the clincher. Additionally, he had five Controlled Entries into the final third & Rangers generated three shots on those entries.
Nicky Clark did just as much & more in 28 minutes than Jason Cummings did in 90.  That's not so much a knock on Cummings & more of a tip of the hat to Rangers defenders who limited Cummings to just the two shots – which is below his 3.25 shots per 90 minutes average.
You can follow Rangers Report on Twitter @TheGersReport