written by – Rangers Report
This aim of this Analytical Match Report is to enhance the analysis of Rangers performance by providing a variety of advanced stats from the game.  Explanations of these stats can be found in our tutorial for these reports. 
Expected Goals:  Rangers 1.6*   Livingston 0.3
When you get five times the amount of Expected Goals as your opponent, you are doing something (if not, everything) right.  Rangers had 1.1 Expected Goals at the half & a 4-0 lead.  They saw out the match by dominating possession & shutting down attempts at the counter.
*The two penalties are not factored into these numbers.
Shot Quality Breakdown:
Rangers have shown a marked improvement at breaking down the layers of defenders in the final third in recent weeks.  Evidence of this is the fact that 71% of their shots came from within the penalty area.  This is also indicated by the fact that two goals came off of short corners as Rangers passing has become more precise & the ball movement is much more decisive.
Once again the data supports what we all saw, which was a clinic put on by Rangers against an opponent that really didn't stand a chance.  Rangers turned 80% of the shots into 84% of the Expected Goals & 86% of the scoring chances (High/Very High Danger Shots).  What makes that even more impressive is the fact that the two penalties do not factor into the latter two ratios.  Thank you & good night…
| | | | | |
| --- | --- | --- | --- | --- |
|   | Shots | Shots on Target | Sh Acc | Sh% |
| Rangers | 16 | 9 | 0.563 | 0.444 |
| Livingston | 4 | 3 | 0.750 | 0.333 |
Rangers Report Shot Chart:
Shots were 10-0 at the half, with Rangers scoring on four of them.  Livingston pushed back to start the second half, outshooting Rangers 3-0 in the opening 15 minutes of the second 45 & managed to beat Wes Foderingham on a rather savable goal.  After that Rangers saw out the match & out shot Livi 6-1 in the final half hour.
Individual Outliers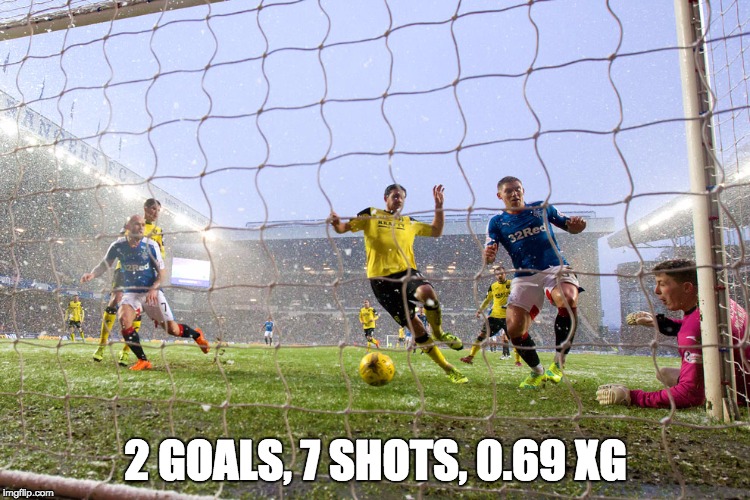 Martyn Waghorn accounted for 44% of Rangers' shots, 67% of their scoring chances & 44% of their Expected Goals.  If there were scouts in attendance from down south, they probably left texting their bosses – "Buy, buy, buy!"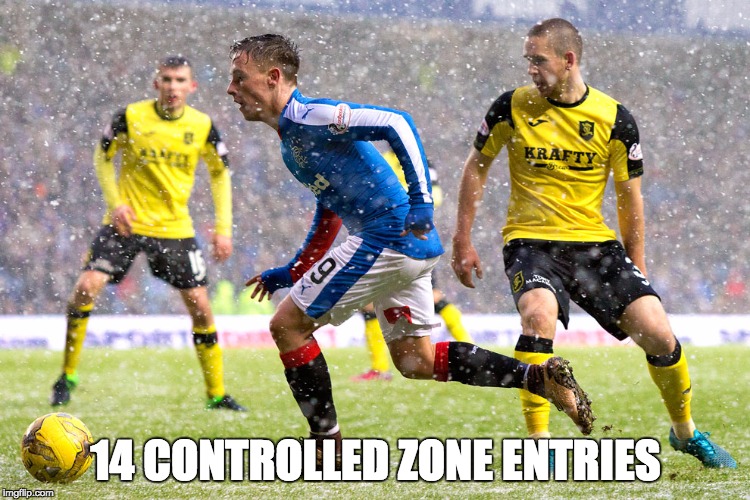 Yet again, Rangers possession into the final third was driven by the play of Barrie McKay.  His 14 controlled entries into the final third led to three shots on goal, two free kicks & a corner.  Let's hope those aforementioned scouts averted their eyes from the youngster.
You can follow Rangers Report on Twitter @TheGersReport