written by – Rangers Report
This aim of this Analytical Match Report is to enhance the analysis of Rangers performance by providing a variety of advanced stats from the game.  Explanations of these stats can be found in our tutorial for these reports. 
Expected Goals:  Rangers 0.5   Falkirk 1.0    correction:  xG should be Rangers 0.7  Falkirk 1.0
I'm pretty sure that this is the first time all season that the Expected Goals totals suggest that Rangers were in real danger of losing.  Rangers, who average a league high 2.0 xG a game, were held in check as the Bairns put steady pressure on Rangers players & always seemed to have a player or two in support to suffocate any space the player on the ball hoped to create.  This wasn't just limited to Falkirk's defence in their own half, credit to their management team for not being afraid to press Rangers up the pitch as well.
Rangers' defence deserves tons of credit as well.  They blocked three Falkirk shots, which means you can shave nearly half a goal off of that Expected Goals total given that the shot didn't make it past the first defender.  So if you factor in the Fenwick adjusted Expected Goals total (blocked shots are not counted) the final tally is 0.6 to 0.5.
It's interesting to see a team in Falkirk who have the league's highest PDO, i.e. riding higher than normal shooting & save percentages, see the luck go against them on Saturday.  Ultimately, the match was bookended by key moments.  In the opening minutes, Blair Alston missed a header from very close range that would have turned this fixture on its **cough cough** head.  Then obviously, right at the end Billy King put a perfectly placed header past the league's best goalkeeper.  I've said for months now that the luck will run out on Falkirk & even though they played a fantastic road match….well, the soccer gods simply weren't pulling the strings in their favor this time around.
Shot Quality Breakdown:
Rangers, quite frankly, do not get outshot.  In fact, their Total Shots Ratio for the season is 0.74….so Falkirk deserves a great deal of praise for the execution of their game plan.  Rangers saw plenty of the ball, but the necessary space to make something happen just wasn't there.  Rangers average 17.7 shots a game & today only managed seven.  Even if players thought to take a long range shot to loosen the defence up, the shot simply wasn't there. *Correction:  Rangers had three High Danger Shots & four Low Danger shots.
Despite being out-possessed, Falkirk did a much better job than Rangers in creating shots on goal.  They generated 56% of the total shots, 66% of the Expected Goals, & 67% of the scoring chances.  But the one number that really sticks out is the fact that Falkirk only had 34% of the Shots on Target.  That Alston miss & those three blocked shots really come to the forefront again.  Two of Falkirk's scoring chances were blocked by Danny Wilson, who ironically got slagged by friend of the blog, Callum Hamilton, in his player ratings for the match – saying "Wilson's performances aren't getting any better, and they're starting to be a real cause for concern going forwards."  Even though Hamilton is not a fan of fancy stats, I'd say the objective data is that Wilson's play, while not perfect, was a key factor in keeping Falkirk off the scoreboard.  Correction:  Scoring Chance ratio should read:  57% to 43%  Falkirk
Shooting Efficiency:
| | | | | |
| --- | --- | --- | --- | --- |
| | Shots | Shots on Target | Shot Accuracy | Shooting % |
| Rangers | 7 | 6 | 0.857 | 0.167 |
| Falkirk | 9 | 3 | 0.333 | 0.000 |
Rangers Report Shot Chart:
It really is a shock to see Rangers get outshot.  They only had two shots at the half & four at the time of the 77th minute substitution of Gedion Zelalem for Dean Shiels.  Newcomer Billy King had two of those three shots that came in the final 13 minutes of the match.  The team really seemed to miss Jason Holt & Andy Halliday, who combine for an average of 3.26 shots per 90.  You also have to wonder if Martyn Waghorn was 100% healthy after picking up a knock in the first half.  Will Vaulks led the way for Falkirk with five shots.
Individual Outliers: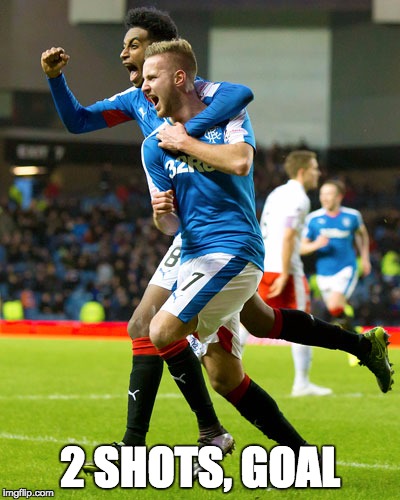 In the final eight minutes, Billy King managed to account for 29% of the team's total shots & obviously the game's only goal.  Going into this week, only 18 headed goals from the heart of the box had been scored in the Championship (20 have been scored from Very High Danger headed shots).  That represents 7% of all goals scored this season…the point being it really takes a perfectly placed header to beat the goalie & that's exactly what King provided.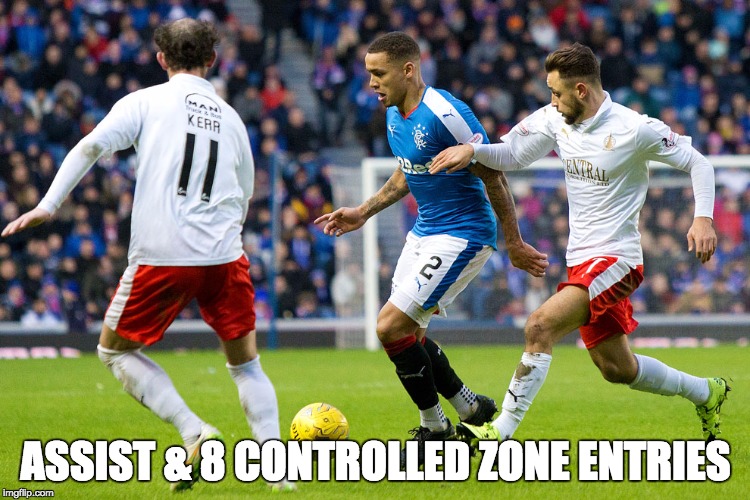 Just moments after running into a turnover, James Tavernier carried the ball into the final third & lofted a hopeful cross into the box.  That single moment had journalists scrambling back to their laptops to completely overhaul the match reports they were hoping to hit submit on.  Hopefully, none of them hold a grudge.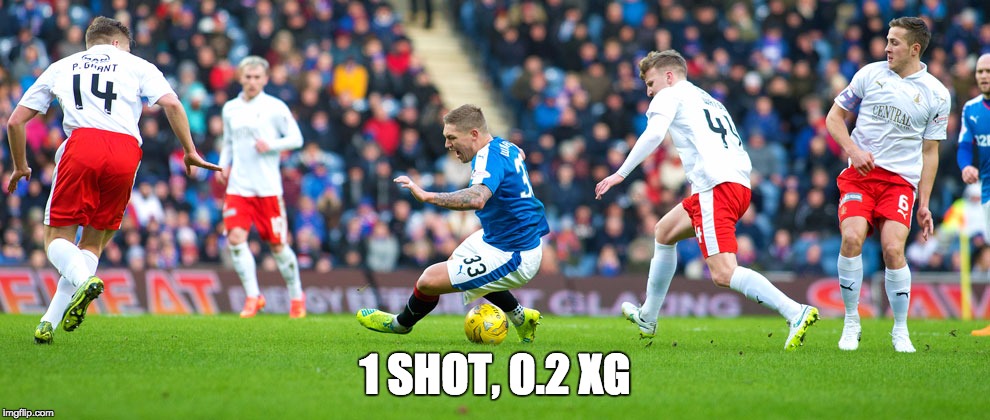 Martyn Waghorn has built up enough collateral this season for a day like this to be brushed aside as a fluke.  He normally averages 4.6 shots & 0.53 Expected Goals per 90 minutes.  Again, Falkirk deserves its plaudits for not letting Waghorn get the ball as they effectively closed off passing lanes in the final third.
You can follow Rangers Report on Twitter @TheGersReport