written by – Rangers Report
This aim of this Analytical Match Report is to enhance the analysis of Rangers performance by providing a variety of advanced stats from the game.  Explanations of these stats can be found in our tutorial for these reports. 
Expected Goals:  Rangers 1.9   Kilmarnock 0.5
The Expected Goals totals are a bit misleading here.  If you subtract blocked shots, then Rangers would have 1.1 Expected Goals & Kilmarnock 0.2.   Killie blocked three scoring chances inside the penalty area & that stout defensive play really brings down Rangers xG totals.  They go from being on the verge of two Expected Goals down to just over one.  What's the point in a 0-0 draw?  Well, Rangers were clearly the better side but Killie's defence deserves credit for eliminating 39% of Rangers chance to score with those blocked shots.  The more Expected Goals, the more likely you are to score – but when a defence can get in the way of those shots then it really is lessening a team's actual opportunity to score.  Rangers did the same to Kilmarnock by blocking 40% of their limited Expected Goals.
It's interesting to note that the Expected Goals totals at the half had Rangers with 0.7 & Kilmarnock with 0.4  A tight match, yes, but Kilmarnock really went into a defensive shell in the second half – seemingly content with the draw.  If I were a Kilmarnock supporter that would be frustrating to sit with.   I guess Lee McCulloch deserves credit for not seeing Kilmarnock out of the Scottish Cup but if they played more opportunistic football, looking for more set pieces & they could have pulled off the upset.
Shot Quality Breakdown:
Rangers were able to get the ball into the box on 58% of their shots, which is impressive given the volume of shots that they had. Again, credit to Kilmarnock's backline which blocked 45% of those shots in the penalty area.  Only six of those eleven shots in the penalty box got past the first line of defenders & only two of those tested the keeper.  That's why it's imperative to peel back the layers of data like this.
Quite frankly, it's a bit of a surprise to see the possession as "close" as 56% to 44%.  It didn't seem like Kilmarnock saw much of the ball at all, especially in the second half.  The rest of these numbers support the claim that the away team did very little to put pressure on Rangers defence.  Rangers took 79% of the shots in the match, had 80% of the Expected Goals, & 78% of the scoring chances.  Blocked shots, some woodwork, & subpar finishing brought the Shots on Target ratio down a bit…but if Kilmarnock take the same approach in the replay – the odds will be strongly in Rangers favor.
| | | | | | |
| --- | --- | --- | --- | --- | --- |
| | Shots | Shots on Target | Shot Accuracy | Fenwick Adjusted Shot Accuracy | Shooting Percentage |
| Rangers | 19 | 4 | 0.211 | 0.308 | 0.000 |
| Kilmarnock | 5 | 2 | 0.400 | 0.667 | 0.000 |
Only 21% of Rangers 19 shots tested the keeper & even if you subtract blocked shots – then 31% of Rangers shots were on target.  Both numbers are well below their season average  0.442 shot accuracy.  Bottom line, the finishing simply wasn't there for Rangers today.
Again, Kilmarnock should have pushed the ball into Rangers half more, looking to create set pieces.  Of their three unblocked shots, two were on target.  But, only 25% of the fouls in the match were earned by Killie players & only 20% of the corners.  It's hard to make the most of your opportunities…when you're not really creating any opportunities.
Rangers Report Shot Chart:
The visual evidence of one team playing for a draw in the second half & the other looking for the victory.  Kilmarnock only had one shot in the second half, while Rangers had twelve.  Mark Warburton's customary double substitution at the hour mark had a significant impact on the volume of shots being taken.  When Gedion Zelalem & Kenny Miller were on the pitch Rangers took 69% of the shots.  With Harry Forrester & Jason Holt on the pitch Rangers took 91% of the shots.  How much of that was the switch & how much of that was Kilmarnock forgetting that that there are two halves on a football picth is open to interpretation.
It's also interesting to note that when Rob Kiernan's injury forced Warburton to drop Dominic Ball into defence & bring Nicky Law into midfield – Rangers took 100% of the shots (seven in 16 minutes).  That's the significant spike you see in the shot chart right around the 75th minute.
Individual Outliers: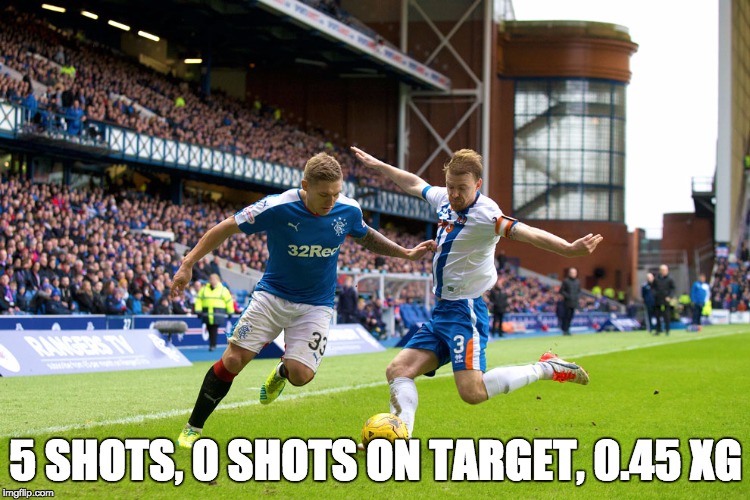 Remember those blocked shots, well – three of Martyn Waghorn's five shots were blocked.  So, while it is easy to shine a spotlight on your leading goalscorer who fails to get a shot on target, clearly Kilmarnock's defence deserve some credit here as well.  His Expected Goals go from 0.45 to 0.17 if you subtract the blocked shots.  This is worrisome.  In a big match, against a top flight team & your leading scoring only had a 17% chance of scoring a goal (if you want to look at Expected Goals like that).  Of course, Kenny Miller only had one shot & an Expected Goals total of 0.06…so it's not all on Waghorn.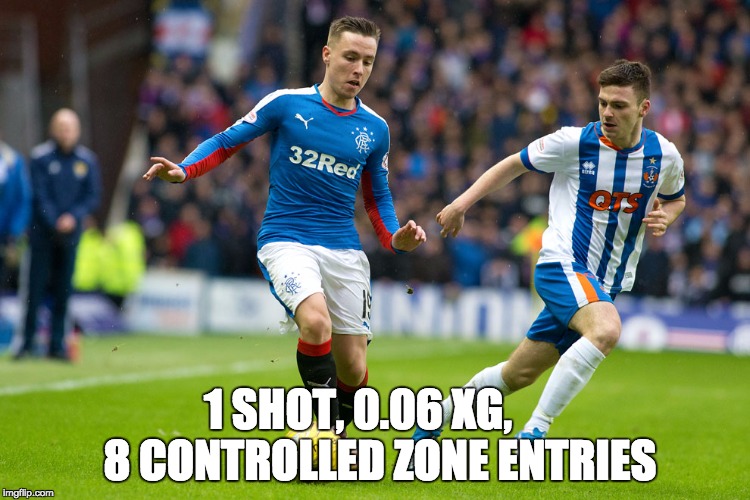 Another player that Killie clearly targeted to limit their space & time on the ball was Barrie McKay.  While he did lead the team with eight controlled entries into the final third – only one of them led to a Rangers shot.  What helps make McKay a threat when he drives possession into the final third is his ability to link up with players like Lee Wallace on his wing, or Kenny Miller at the top of the box.  That triangle of options was somewhat stifled in this match, as the results prove out.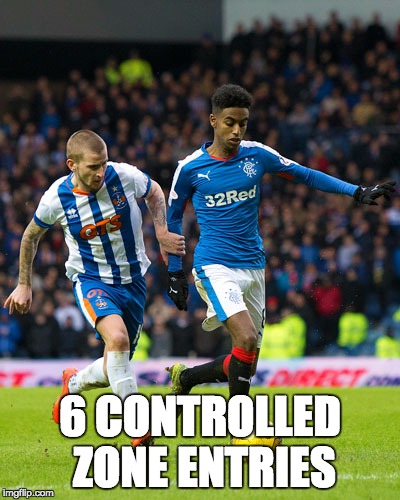 In just an hour on the pitch, Gedion Zelalem had six controlled entries into the final third (second only to Barrie McKay's eight).  Those entries led to Rangers getting two shots on goal.  Not scintillating, but effective from the American teenager.
You can follow Rangers Report on Twitter @TheGersReport