written by – Rangers Report    photo courtesy of – Getty Images
This is part three of my statistical study of center back play from the 2016-17 English Premier League season.  All data was collected from FourFourTwo's StatsZone   &whoscored.com
In the previous post in this series, I introduced Relative Shot Suppression Rate (RelSS%) & Relative Scoring Chance Suppression Rate (RelSCS%) for center backs.  You can read the detailed explanation of what these stats are & how they are compiled —-> here.
Also given that this is the last post I'll do on this for a little while on the topic….here are all of the stats that I tracked. There's a lot of playing around that you could do with this data, so if you do – let me know.  If you have questions about any of it feel free to reach out via Twitter.
Now, here is a team-by-team breakdown of how each club's center backs did.  I'll keep the commentary to a minimum to keep myself sane.
Disclaimer:  creating stats for defensive play is difficult & this certainly has not 'cracked the code.'  Football is a fluid sport with so many moving pieces.  Shots allowed are not always the fault of the center back – sometimes they're out of position because they have to cover for a teammate or they are left exposed because their full back partner is either absent or a poor defender.
Ultimately, I recommend looking at the outliers below.  Which defender has the worst or best results on a team?  That should be an entry point for further analysis to see what's working (or not working).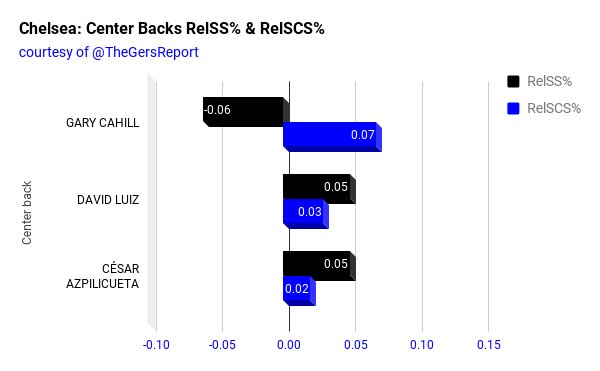 Chelsea were champions for a reason.  Each of their center backs was better than the league average at suppressing scoring chances.  When teams did generate shots against them, more often than not they're being pushed to the outside
Cahill's results are interesting.  He had a poor RelSS%, when teams got shots against Chelsea they were usually in Cahill's zone of influence.  However, he was among the best in the EPL at pushing those shots to the outside (his RelSC% is tied for 7th in EPL).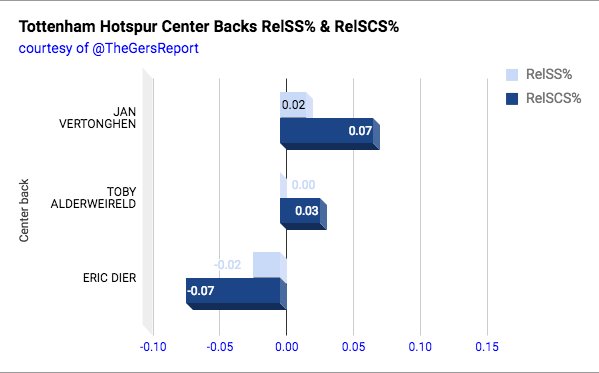 Spurs have one of the best pairings of center backs in the EPL & that is highlighted by Vertonghen & Alderweireld's high RelSC%.
Eric Dier has been linked to a Manchester United on a reported £40 million bid.  His versatility makes him an appealing player, but if Jose Mourinho wants him to play center back,  these numbers are a red flag.  They don't necessarily mean he's a bad center back but when teams generated scoring chances against Spurs they were coming on his side of the pitch.  His RelSCS% is among the worst in the league.  *These results only include his time at center back.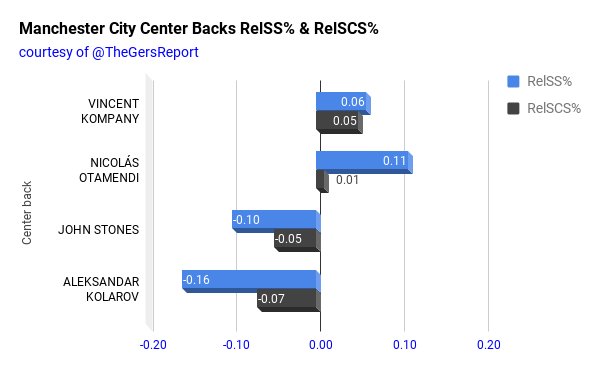 Otamendi is the best shot suppressor in the league, while Kompany proved that he can still be a top defender albeit in limited minutes.
Kolarov just signed with AS Roma for £5.25 million & these results suggest it was a good bit of business for Man City to say goodbye to the 31 year old.  His RelSS% was the worst in the EPL…the second worst?  John Stones
This does not mean Stones is a bad defender….but it's a red flag.  Like I mentioned before, it should be an entry point for further analysis to see if these results are an accurate evaluation of Stones' defensive play.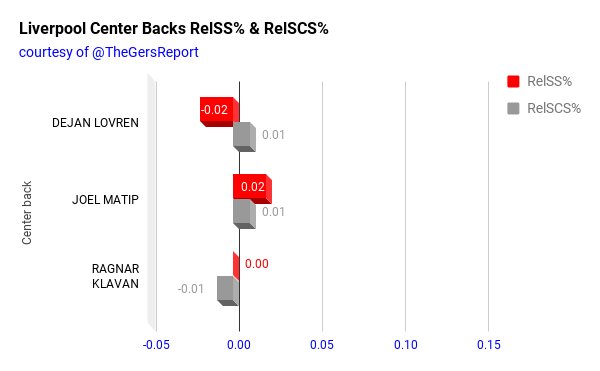 There are no real outliers here.  Each defender's rates are very close to the league average at each of their positions (left center back or right center back).
Only four teams allowed less goals than Liverpool & given that there are no outliers here  suggests teams were unable to identify center backs to exploit in their match planning.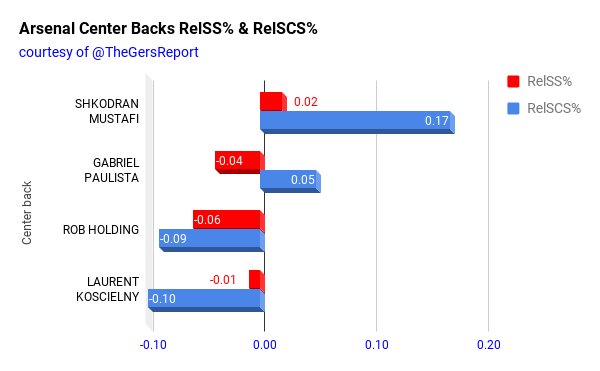 This has been the eye opener for folks & has generated some thoughtful analysis of why Laurent Koscielny's results are so….<whisper>….bad.  See the comment from Stewart in the previous post.
The fact is that 55% of the shots & 63% of the scoring chances occurred on Koscielny's side of the pitch last season.  When he played as a left sided center back, 69% of the scoring chances came against him, which is a RelSC% of -0.14.  In the same role, 70% of the goals came from his primary zone of influence (the league average is 62% of goals coming from the attacking team's right side of the pitch).
Mustafi had the highest RelSCS% in the league last season.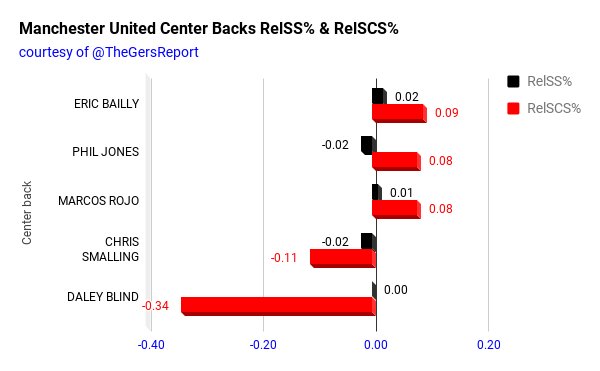 Blind's numbers are only when he played as a center back…which is something Mourinho probably shouldn't do anymore.
Beyond that, Bailly, Jones & Rojo were all excellent at suppressing scoring chances.
Smalling was an outlier in the other direction & it helps explain why his playing time was limited last season.  West Brom has been linked to Smalling in a potential £10 million transfer.  He's a player still in his prime but Tony Pulis may want some of his performance analysts to do some late night video work to see if Smalling is really worth that investment.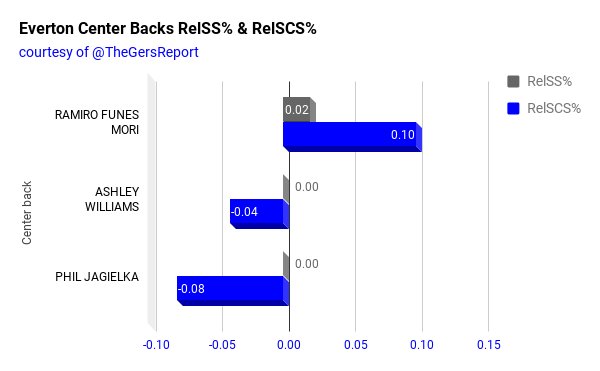 Remember how I said to look for outliers….well here you go.  There is little to no difference when it come to simply suppressing shots between Everton's three main center backs.  However, when Ramiro Funes Mori was on the pitch teams were getting their best chances on  the other side of the pitch.  The fact that he is out 6-9 months with another injury should be a real concern.
All signs are pointing to Jagielka's Everton career being over & he turns 35 in August.  He has had a great career but probably isn't an EPL quality center back anymore.
Oh…if you're curious – Michael Keane's RelSCS% was the second best in the league last season for Burnley.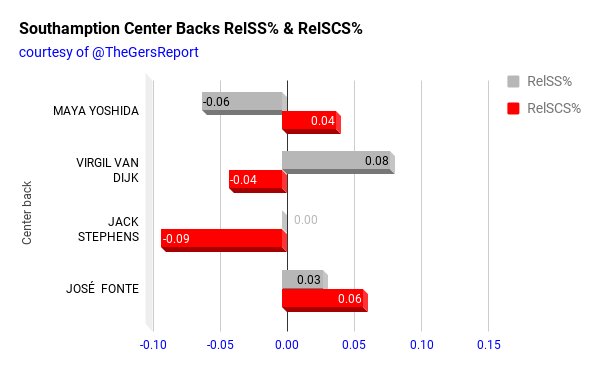 Jose Fonte's results include his time with West Ham & are curious considering how much criticism he received last season.
Virgil van Dijk has been one of the most discussed players this summer & has been valued at about £50 million.  Those shot suppression numbers highlight part of the reason why he is in such demand.  He had the third highest RelSS% for center backs who played at least 700 minutes & if you bump the minimum up to 1,000 minutes he has the second highest.  However, his RelSC% isn't all that good.  He doesn't allow many shots on his side but when he does 31% end up being scoring chances.
What adds to van Dijk's value though is that 95% of his minutes were as a left sided center back, which statistically is a much more difficult task then being a right sided center back.  The fact that the majority of shots came on his partner's side is almost unheard of for left sided center backs.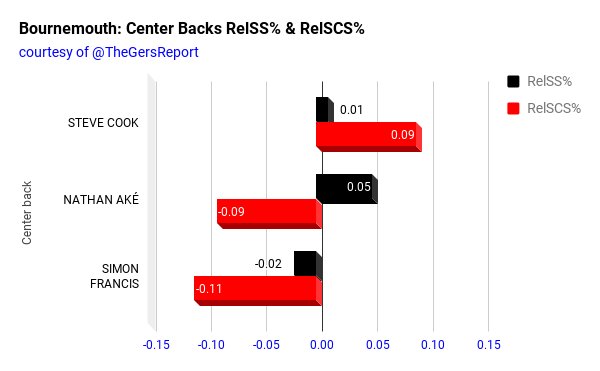 Nathan Ake officially joined Bournemoth on a £20 million transfer & his RelSS% shows why (6th best in the EPL last season).  His RelSCS% is a concern though & is another example of something the team's performance analyst needs to dissect in order to identify the reasons why that trend developed.
Simon Francis was the only Bournemouth defender with a negative RelSS% & his scoring chance suppression is among the worst in the EPL (fifth worst RelSCS% in EPL).  Given that Francis is the team's captain, Eddie Howe has an interesting decision to make with Ake now available from the outset of the season.  Steve Cook played every minute last season & these stats suggest he was much better defensively than Francis.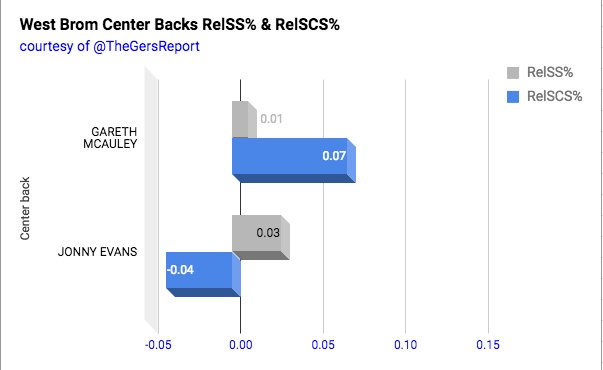 Defense wasn't West Brom's problem last season (9th fewest goals conceded) & these stats basically support that.  Both Evans & McAuley had positive RelSS%, while McAuley had the 7th highest RelSC% in the league.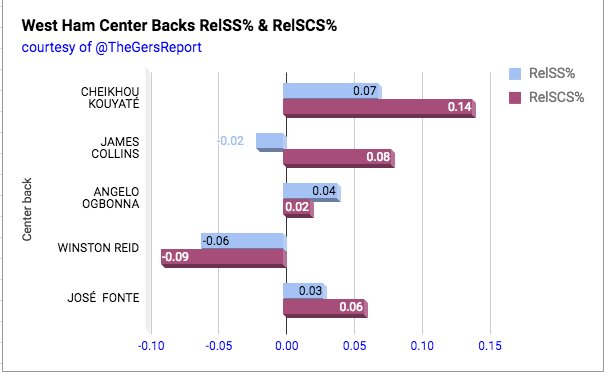 West Ham allowed the sixth most goals last season & these results shine a pretty bright spotlight directly on Winston Reid.  The Hammers probably tried the highest number of pairings last season, but the one consistent was that Reid was the weak link when it comes to shot suppression.  Additionally, 59% of the goals allowed came from Reid's side of the pitch.
Kouyate is predominantly a midfielder, but you can see when was dropped back into the backline he did really well.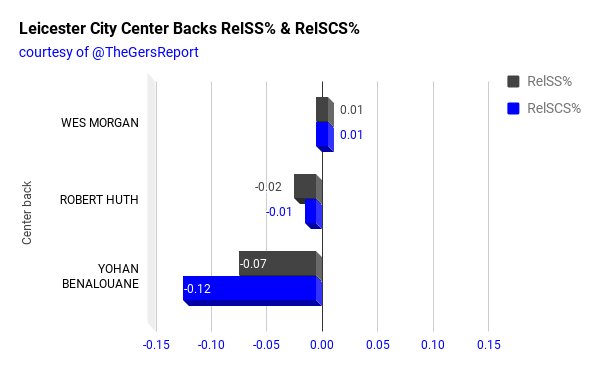 Huth & Morgan were the primary paring for Leicester last season & there was little difference between them
Hello, Yohan.  Outlier be your name.  Benalouane doesn't get on the pitch all that much for Leicester but when he does…it's not good.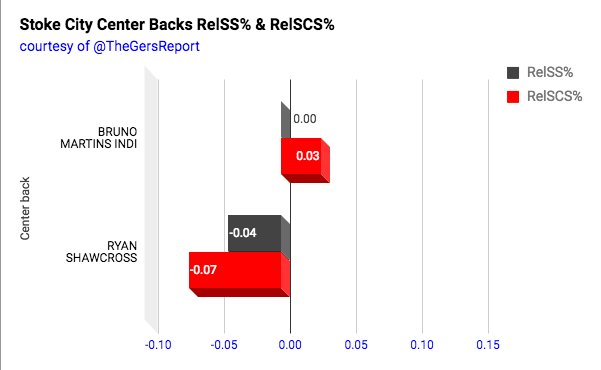 Stoke relied on two center backs for most of the season & well, one was the clear weak link.  If you are an opponent, you'd be smart to look to exploit Shawcross. Stoke are looking to re-sign the 29-year old & the team's defense was pretty decent last season, but his shot suppression numbers really aren't very good.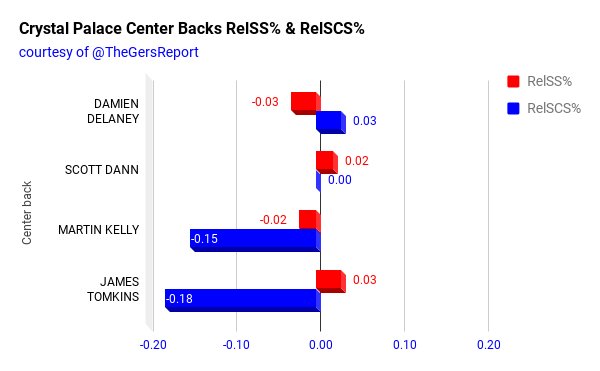 Yikes, that just looks weird.  Palace's three main center backs last season were Tomkins, Delany & Scott Dann.  For the most part there isn't that much difference between them until "daaaaaaaamn!  look at that RelSC%" (something that literally nobody has ever said before).  Tomkins was good at suppressing shots, but wow…team's sure found it easy to generate scoring chances against him.   Of the shots generated on Tomkins' side of the pitch, 34% of them were scoring chances.  That's not good.  For a comparison, 22% of the shots on Delany's side were scoring chances.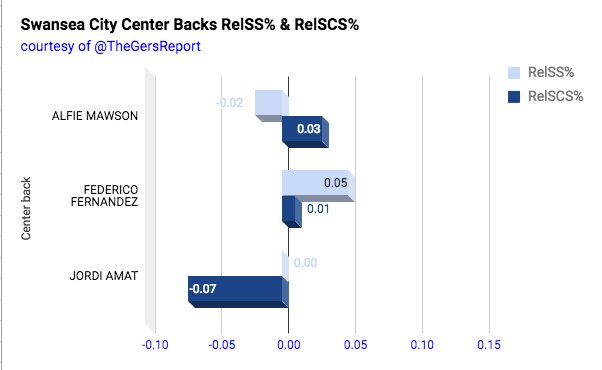 As a team, Swansea's defensing was pretty bad.  You can see that Mawson's shot suppression wasn't great, while Federico Fernandez actually had a very respectable RelSS%.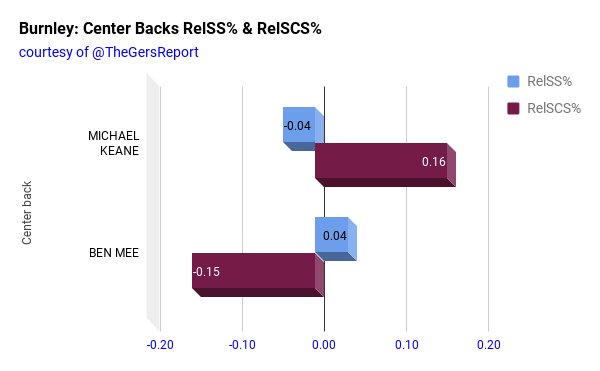 That's a pretty bizarre split.  Keane's shot suppression wasn't very good but his ability to limit scoring chances was sensational when compared to Ben Mee. Of the shots allowed on Keane's side only 15% were scoring chances, so 85% of the shots were kept to the outside.  Meanwhile, 35% of the shots Mee faced were scoring chances.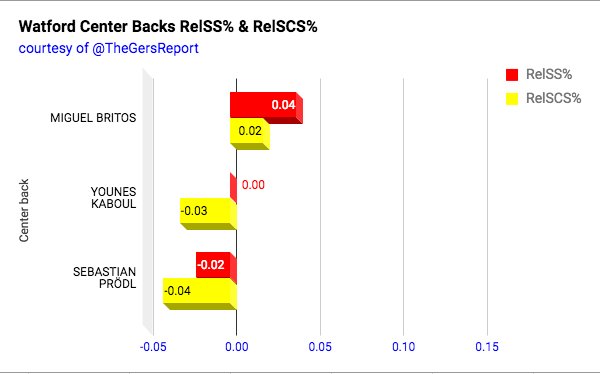 Well, Britos was pretty decent.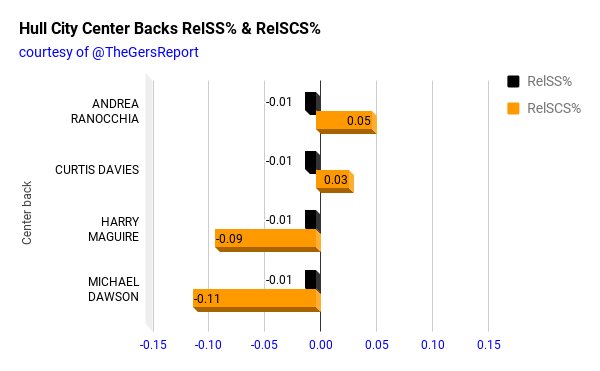 Nobody gave up more goals than Hull last season & you can see that two of their three main center backs had abysmal RelSC%s.  Dawson had the fifth worst RelSCS% in the league, while Maguire had the seventh worst.  They combined for 4,000+ minutes.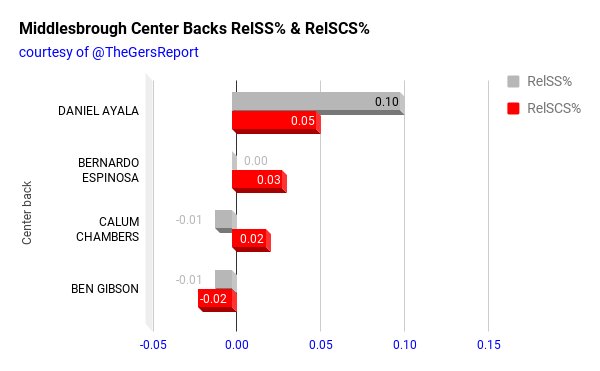 Middlesborough allowed the 10th fewest goals last season – not great but not necessarily the typical recipe for relegation.
Daniel Ayala saw limited minutes but when he was on the pitch, he was one of the best in the league at suppressing shots.
All of the center backs were pretty good at limiting scoring chances….expect for the guy West Brom is trying to purchase for £21 million.  Hmmmm….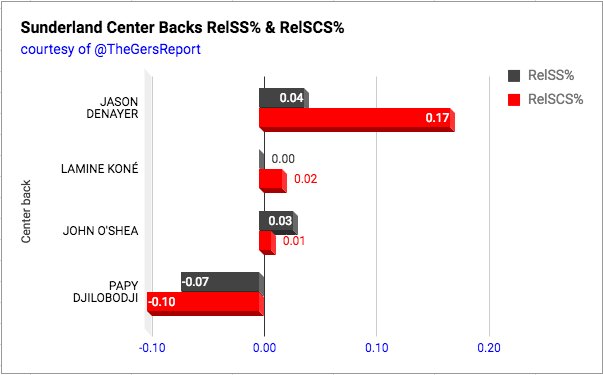 Denayer played just a little less than 900 minutes but was a significant upgrade over the regular left sided center back, Papy Djilobodji.
Kone & O'Shea were serviceable, but they're stats are probably bumped up a bit by the fact their partner was really, really bad.
Again you can find all of the data here.