written by – Rangers Report   photo courtesy of – Getty Images
The stats used in this post come from a database of nearly 100 statistical categories that I'm collecting this season for the SPFL.   Access to updated stats will only be made available to people who contribute a one-time fee of £15.  If you are interested, read more here.  
Only five league matches have been played so far in the Scottish Premiership, which is what we call in the business "a super silly small sample size"; however I am a big believer that teams should be measuring trends in play over five match segments.  Chunking out the season into these segments can highlight if the results are matching the performances & whether play is improving, staying steady, or getting worse.
My goal is to publish the data highlighted in this post after every five matches to see what the trends are telling us for clubs in the Premiership.
The first will be aligning Expected Goal Differences with actual goal differences.  How are teams performing in relation to what the Expected Goals suggest they should be.
Hamilton's actual goal difference is zero.
For the most part you see that most teams' actual goal difference is relatively aligned to their Expected Goal differences.
Hamilton is the biggest exception.  They have the second lowest xG for in the league (only Partick is worse) & their Expected Goals Allowed is the highest.  In real life, they've scored nine goals & allowed nine for a differential of zero.  Their goals allowed is pretty similar to their xGA of 10.89, however,  they have scored nearly four more goals then their xG total of 4.62.  The biggest difference is the fact that they have scored three penalties.  That really skews the results here (pens aren't included in the xG model I use).  However, I don't think they'll be getting penalties at this kind of rate all season.  Most teams have zero or one, Motherwell has two.  Don't be surprised if Hamilton's goal differential begins to sag into the negatives over the next month or so.
St. Johnstone is an anomaly.  They have seemingly duped the analytics system & just continue to outperform what the data suggests.  If this continues, it will be time to do a deep dive into how their style of play is consistently leading to enhanced results.  I have a feeling you could apply studies done of Leicester a couple of seasons ago to St. Johnstone to see if there are any similarities.
Of course, it should be again noted that in only five games – whom you're playing has a real impact on some of these numbers.  The only top five team that Rangers have played was Motherwell (a match in which Rangers were very much outplayed).  What will happen to their stats after they have played Celtic, Aberdeen & St. Johnstone?
So…you know take all of this with a grain of salt.  It's still only September.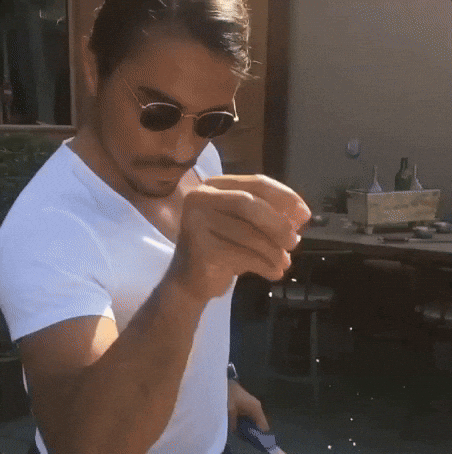 Yes, that's me…..
No, it's not.
Let's look at how Expected Goal Differentials are correlating to the actual results on the pitch.  This time we'll compare each team's Expected Goals Ratios with their points earned per match.  xG Ratio is the rate of total Expected Goals in the matches played that are xG for the team. For example, there have been 15.45 xG in Rangers matches & Rangers offense accounts for 10.00 of those & the defense has allowed 5.45 xG.  That equates to a ratio of 65%  [10.00/15.45].  By the way, 65% is very good.
The trend line gives you a sense of which teams are earning more or less points per match than their performance suggests they should earn.  For example, Celtic's xG% suggests they should have a perfect record & that the one draw was likely a fluke.  They generate 83% of the xG in their matches which is just surreal.
Again you see Hamilton & St Johnstone are getting better results than the data suggests they should be.  For example, St. Johnstone's xG% indicates that they should be earning closer to 1.25 points per match & instead they earn 2.20 a match.  That's a pretty big difference.
Kilmarnock is really bad, but their xG% suggests they should just be kinda bad.  They should be closer to Hearts in the table, but instead sit four points behind them.
For the record, the R-squared for this data isn't very high (0.62), so don't overreact to much of what I just wrote.  That's part of why I want to do this all season, is a stat like xG ratio really the best measure of how teams should be slated in the league table?
My hypothesis that a stat like Scoring Chance Ratio may be a much better barometer to use when assessing whether teams are earning results that are aligned to their play on the pitch.
Scoring Chances?  What…are…those?
I define Scoring Chances as being:
Kicked shots that come from the red shaded area.  Headers are only included if they come from vicinity of the six yard box
Below you'll find the Scoring Chance Ratio for each team (same concept as xG Ratio) & their points per match.
Kilmarnock "shares" the same dot as Dundee.
The R squared value here is 0.71, so it is a slightly better measure of how many points should be earning.  As the season goes on, if that number gets higher than this kind of data will be a real valuable tool for teams to, quite frankly, use while assessing the job their managers are doing.  Right now, after five matches, it's only highlighting a trend rather than a set in stone tool of evaluation.
You can see that St. Johnstone's points per match is getting closer to the trend line than in the xG% graph.  They generate 55% of the Scoring Chances in matches, but only 47% of the xG in games.  Defensively they are ranked fifth in Scoring Chances allowed, but seventh in xG allowed.  That would indicate that even if they are allowing a high volume of shots, they are doing a decent job of limiting those shots to less dangerous areas.  Offensively, they are fourth in Scoring Chances created, & sixth in Expected Goals For.  Even though they are not generating a high volume of shots (they are 8th in total shots) they are creating a relatively high volume of Scoring Chances.  Their low number of shots drags down their xG but only Celtic, Aberdeen & Rangers generate more Scoring Chances.
You can see that both Celtic & Aberdeen are closer to the trend line here as well.  Scoring Chances are suggesting that their place in the league table is pretty aligned to their performance on the pitch.
Rangers points earned are slightly less than their Scoring Chance Ratio suggests they should have.  Again the real test will come after they have played the teams they are chasing in the table.
Two former Rangers players may be in the hot seat soon if the results don't start coming for Neil McCann & Lee McCulloch.  Both should be way closer to Hearts in the table according to this data.