written by – Rangers Report   photo courtesy of – Rangers Football Club
Teams in any sport should be constantly looking for an edge over the competition.  It's what has propelled statistical analysis to the forefront in multiple sports across the world & it has even reached the backwoods of Scottish football.
The main entry points for analytics influencing managerial decisions in football are:
recruitment
tactical adjustments
lineup decisions
opponent analysis
There's more obviously, especially when it pertains to sports science & youth development…but my work has mostly focused on the four categories mentioned above.
Given this year's project of compiling data for the Scottish Premiership season, my focus has recently only centered on recruitment & lineup decisions…(& I must admit, I haven't done much writing on either of those).  But I've been sitting on an idea for a while that could have a pretty significant impact on how a manager tactically prepares his team for success.
The Central Channel
The idea of the Central Channel is borrowed from The Royal Road in ice hockey.  Steve Valiquette is a former NHL goaltender who only started 32 games in his nine year career.  He is also among the biggest influencers on how many NHL teams (the smart ones) are deliberately finding greater success.  His ideas & research on The Royal Road has changed how the game is played & how it is coached.
Valiquette explained that pucks that cross the Royal Road leading directly to shots create much more dangerous scoring situations – largely because the goalie has to quickly change his positioning laterally & then loses his ability to cut down the angle & depth on the shooter.  The Royal Road basically splits the attacking zone in half using the goal as the starting point.
Ryan Stimson took Valiquette's theory to a whole other level through his passing project which has been compiling data for the past few seasons.  It's Stimson's findings that have forced the hands of many NHL coaches to drill their players on how to take advantage of this situation.  In a published study from 2016, Stimson highlighted the fact that 28% of shots on target that came from passes that crossed the Royal Road beat the goalie.  Shots that came from other kinds of passes has success rates of 12%, 8%, 4% & 2%.  Ever since then, whenever you watch a NHL game you can see teams deliberately looking for ways to complete a Royal Road pass.
I've been wondering if a similar study in football would see comparable margins of success.  I don't have firm conclusions yet..because this kind of study would have to track hundreds of games over multiple seasons & this post is not that.
The purpose of this post is to be transparent with the idea that this could & should be studied & the early indicators are that this kind of work could be a real game changer.
The image above represents how I identified the Central Channel for this brief study.  The white space reflects the channel, whenever a pass crossed it leading to a shot (within 1-2 seconds of getting the ball) I counted it as a Central Channel Pass.  The red shaded area is the danger area I base my Scoring Chances off of (more later).  I then created 14 zones to help identify trends in where passes & shots are coming from.
The Disclaimer
I only looked at three teams:  Rangers, Motherwell & Hamilton.  I wanted to see if there were any tangible reasons to take this study to a bigger level without burning myself out first.
Fenwick Adjusted Stats?
All of the shot statistics in this post are Fenwick Adjusted…basically, I will only be looking at unblocked shots.  So, Conversion Rates, Shot Accuracy, shot totals, etc…will only include unblocked shots.
The Results
Imagine walking into a manager's office & laying this out:
Rangers, Motherwell, & Hamilton have combined to score on 25% of shots that came from Cross Channel passes.  That's one out of every four shots.  All other shots?  14% (one out of every seven shots).
Also, notice that there isn't much difference in the Shot Accuracy (the rate of shots that are on target) – 47% & 45%.  This kind of pass doesn't help the shooter become more accurate but….when he gets it on target that's where shit gets serious.
Of the shots on target that came after Cross Channel passes, 53% beat the keeper for a goal.  The Shooting Percentage on the rest of the shots is 32%.
That gets you thinking, right?  What if those numbers were consistent across the league?  Scottish Premiership teams average 3.92 shots on target per match.  If all of those shots came from Cross Channel passes (not realistic, but stay with me) that would translate to 2.08 goals per game.  If the shots on target came from non-Cross Channel passes it would equate to 1.25 goals a match.
Look, I know it's not feasible for every shot on target to come from a certain kind of pass, that's not how a fluid sport like football works.  I'm simply using those generalized numbers to prove a point.   Any critical thinking observer would want to dig deeper, within the context of this small study & beyond.
How did each team breakdown?
Interestingly, Rangers actually dragged down the results.  Rangers have had 30 shots from Cross Channel passes this season & have scored on 17% of them.  That Conversion Rate is higher then the overall league average of 14%, but you can see that overall, Rangers have been finishing at a higher rate then the rest of the league (despite public opinion saying they can't finish).
The Shooting Percentage is higher on Cross Channel shots, but I wouldn't be writing this post if this was all I had…
Ok, now we're talking.  I chose Motherwell because I was curious on what types of balls the likes of Chris Cadden & Craig Tanner were playing that has made them so effective this season.  I assumed they were a cross heavy team, but wondered if crosses that passed the Central Channel were part of what made them so dangerous.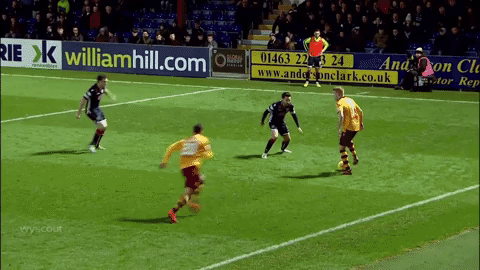 Notice that Motherwell's Conversion Rate more than doubles from 12% to 25% & even more eyeopening is the difference in Shooting Percentage.  It is a small sample size but that's one of those numbers that makes me want to conduct a much larger version of this project.
Regarding the sample size:  only 12% of Motherwell's shots came via a Central Channel pass, but 22% of their goals came from a pass that crossed that Central Channel.
It should also be noted that half of their Central Channel passes came from set pieces.  Their numbers on those set piece plays?
Conversion Rate:  40%, Shooting %:  80%
If this approach has been intentional, then kudos to Stephen Robinson for finding a way to maximize the impact of set pieces, if it hasn't been intentional…well, it's worked…so they may want to do more of it.
Note:  According to data from The Backpass Rule, Motherwell's Conversion Rate on all of their set pieces is 14% (Partick Thistle has the highest rate at 20%).
Central Channel Free Kicks If your first corner fails…go across the Central Channel Overall, the three teams combined for a Conversion Rate of 29% on set pieces & a Shooting Percentage of 64%.
Earlier this week I tweeted out this totally awesome graph & later in the thread put a spotlight on Hamilton & the fact that they somehow had a better than average Conversion Rate, despite generating a low rate of Scoring Chances.
I think we may have found the answer of how & why Hamilton is sitting on the second highest Conversion Rate in the league.  Look at those rates of success on Central Channel shots:  a 35% Conversion Rate, compared to a middling 11% on other shots; a 53% Shooting Percentage compared to 27%.
Want to take this another level?  Of Hamilton's non-penalty goals this season, 33% have come from Central Channel shots, despite the fact that only 14% of their total shots have come from Central Channel plays.
If you think the goalie looked uncomfortable in some of those Motherwell clips, watch the goalie on this one as he tracks the ball across the box: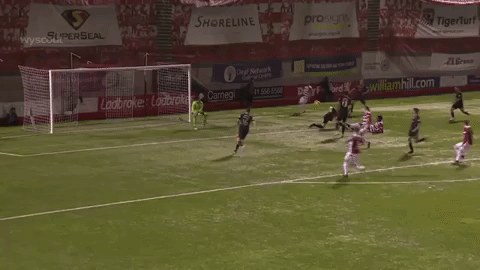 Again, even the misses tend to be dangerous… But this next one…may be among my favorites & one I'd like to see teams look to replicate.  From the back pass from Longridge, to that first-time "extra pass" from Docherty across the Center Channel…the defense is left in shambles trying to track where the ball will go next. Also, when in doubt, fling the ball across the Central Channel & see what happens.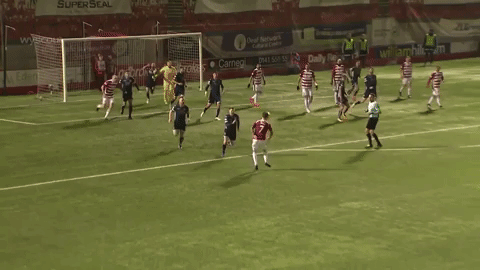 I'm no tactical expert (far from it), but it seams like these kinds of balls can open up runs from behind the play for 'backdoor' shots. Impact on Scoring Chances
I define Scoring Chances as kicked shots from the heart of the penalty box & headed or kicked shots from within the six yard box.  I do not include headers from the heart of the box as Scoring Chances…because they do not lead to goals at a high rate.  The Conversion Rate on these kinds of headed shots is only 11% in the Scottish Premiership this season.  The shots that I have labeled as Scoring Chances have had a Conversion Rate of 30% this season (again…I'm only including unblocked shots in this post).
Below you can see in the importance of Scoring Chances in the league this season.  Comparing the Conversion Rates really highlights the impact of good shot selection has in this league, along with having playmakers who can get the ball into these dangerous areas.
So what's the impact of Central Channel shots on Scoring Chances?
Here are the results from the three teams combined:
You can see that the results aren't as eyeopening as the overall results from all shots combined.  Scoring Chances score at a high rate but  there is little difference between the two Conversion Rates.
Here are how each team's results compare in isolation.
Rangers have had 17 Central Channel Scoring Chance shots & each of them, except for one, have been headers from within the six yard box & they really have missed some amazing chances. If Rangers get 17 more chances like these…you'd assume the success rates will get a boost, right?
Again, there's nothing here to get all that excited about.  Like Rangers, these Scoring Chances came from headers within the six-yard box (8 of 12).
Then there was Hamilton…
The difference?  Nine of the twelve Scoring Chances from Central Channel passes were kicked shots.  This is a real entry point that could provide some genuine insight if a larger scaled study of this kind happens.  What impact would Central Channel passes have on Scoring Chance shots that come from kicked shots?
In this isolated case of Hamilton, the difference is significant.  On Central Channel Scoring Chances from kicked shots, Hamilton's Conversion Rate was 56% & they had a Shooting Percentage of 83%.  On non-Central Channel kicked Scoring Chances, the Conversion Rate was 14% with a Shooting Percentage of 21%.
Ummm…wow…both of those rates are 4x higher on Central Channel shots.
So while we saw little difference from Motherwell & Rangers on Cross Channel Scoring Chances, was that because most of those chances were headers?  If this study were to be expanded & if the impact on Central Channel Scoring chances from kicked shots came anywhere close to Hamilton's results…well it's a cliche but, that would be a real game changer.
Let's hit pause for now…in the next few days I will highlight:
How Central Channel Passes may have helped transform a specific kind of shot that tends to have a relatively low rate of success into a legitimate threat
What are the most common kinds of Central Channel Passes?
Who were the players who made the most Central Channel Passes?
And we'll wrap things up by looking at what the next steps may be